On the road again
Nokia 6210 Navigator review: On the road again

Connected
Data transfers are duly covered in the Navigator. Almost every common data transfer medium is supported, Wi-Fi the single exception. USB 2.0 and Bluetooth 2.0 with A2DP are supported. All kinds of network connectivity are also on board - from quad-band GSM/GPRS/EDGE to dual-band HSDPA 3.6 Mbps support.
The memory card slot comes in handy if you have a card reader at your disposal.
Browsing the internet
Web browsing with the phone is a pleasure as with all Nokia smartphones. No matter how elaborate the web page, it fits perfectly on screen and looks almost exactly like on a PC. A mini-map can be activated to help finding your way around large sites where lots of scrolling is required. Zoom levels are also adjustable at the expense of only a few key presses.
Auto screen rotation is another benefit in web browsing. The in-page search looks up text, phone numbers, VoIP address or email. Sadly, the web browser does not support fullscreen view mode.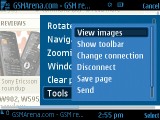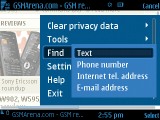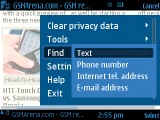 Some of the options of the web browser
Of course, if you prefer a third party web browser, you can easily install it on the Symbian smartphone.
Organizer
The time-management skills of Nokia 6210 are really top-notch. Just name the application and you can count on it that the handset has it.
We start exploring the rich application package with the calendar. It has three different types of view - monthly, weekly and to-do view, and four types of events available for setting up - Meeting, Memo, Anniversary and To-do. Every event has its own unique fields, and some of them allow an alarm to be activated at a preset time to act as a reminder.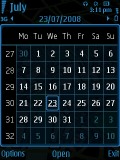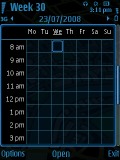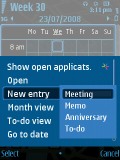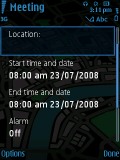 The Calendar month and week view modes • setting up a to-do
The mobile office is also very well geared, with preinstalled applications able to open Word and Excel and PDF files seamlessly. Unluckily, editing documents is not supported by the included version of the Quickoffice. If you would like editing enabled you will have to purchase the complete application at the Nokia Download center. The final ingredient here is the included ZIP manager, which allows extracting archived files straight on your phone.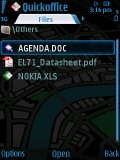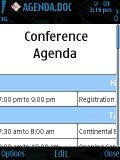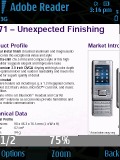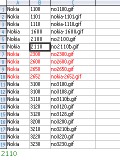 The mobile office handles .doc .xls and .pdf files seamlessly
Nokia 6210 Navigator has a dictionary preinstalled. You can choose a source and target language for a word to be translated. Other options include setting the font size and turning on word pronunciations.
Some of the other included organizing and time-management applications are a great unit converter, calculator and voice recorder, as well as the Notes application. We are not going to get into detail with them, as their functionality and performance are familiar or at least self-explanatory.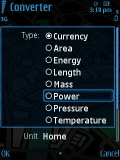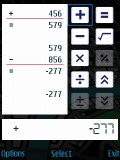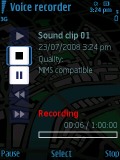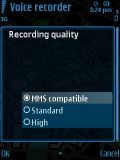 Unit converter, calculator and voice recorder
The Alarm application allows a huge number of alarms to be set, each with its own name, trigger day and repeat pattern.
Games
The Navigator has three games preinstalled: Marble, Jelly chase, and Brain Champion.
Jelly Chase is an accelerometer-based game, which honestly confused us with the chaotic movements of the Jelly that seems to be the main game character.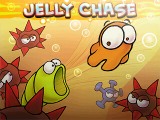 We didn't fall in love with the Jelly Chase game
The third game is Brain Champion, which is our favorite. It's a series of quizzes in different areas and that's definitely our kind of stuff.