On the road again
Nokia 6210 Navigator review: On the road again

Music to go
The music player is another noteworthy Nokia 6210 application. It has a huge number of supported audio formats, including MP3, AAC, eAAC+ and WMA. The M3U playlists are also managed flawlessly and files are added to the music library by simply choosing the Refresh Music Library option.
Sorting your songs by artist, album, genre and composer is automatic and searching tracks by gradual typing of the desired name is also available. Tracks are transferred to the phone via Bluetooth, USB or by simple download. You can also use a card reader for that purpose and transfer them directly to your memory card.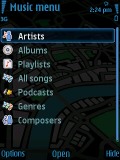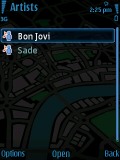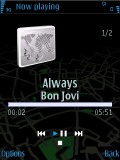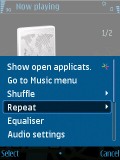 The music player user interface
Upon completing a USB transfer, the phone automatically prompts scanning for new music tracks and, if allowed to do so, adds the new ones to the music library. The player comes with five equalizer presets. If they still seem insufficient, you can edit them or create new ones in a matter of seconds.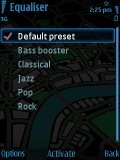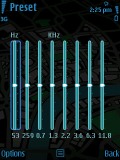 The five equalizer presets, plus the option to create a new custom one, complete the player options
Quite naturally, the player can also be minimized to play in background. In this case a tab appears on the stand-by screen indicating the currently running track.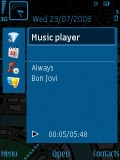 The player can also be minimized to play in background
Nokia 6210 Navigator also comes complete with the A2DP profile support. This means that you will be able to listen to your music on a Bluetooth stereo headset. We had no problem pairing the phone with a set of third-party headphones.
Video player
Nokia 6210 Navigator features a Real player for video playback. The video player works in both portrait and landscape mode, which are switched automatically thanks to the built-in accelerometer, and can also display fullscreen. When in full screen, the softkey functions are hidden so that they don't spoil the viewing experience and only pop up when a key is pressed.
FM radio
The FM radio on Nokia 6210 Navigator has a nice simple interface and can automatically scan and save the available stations in your area. It also has RDS support, as well as the proprietary Nokia Visual Radio service.