Snappy image gallery
The gallery on the Nokia XL lists all of your photos organized by folder, but it can sort them by Time or Location too.
Images are shown in a grid of three by four that is vertically scrollable. You can use pinch or double tap zoom on individual photos, but you can't change the size of the thumbnails. Editing options include rotating, flipping, cropping, lighting and contrast adjustment and adding color effects.
You can set images as wallpapers, add them to favorites, see details and start a slideshow from the pull-up context menu.
Asha-like music player
The Nokia XL music player has a tabbed interface with tabs for songs, artists, albums and playlists. It has a customizable equalizer with presets and a user setting, plus Bass boost and 3D effect sliders (available only with headphones).
The now playing screen shows the usual controls - shuffle, repeat, play/pause, next and previous songs. There is a scrubber, which you can use to skip parts of the song. Album art is available too.
When you exit the music player you get a widget in the Fastlane (with only a play/pause button) and on the lockscreen (with play-pause-skip controls). The lockscreen wallpaper gets is by the song's album art while the player is working.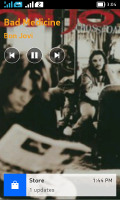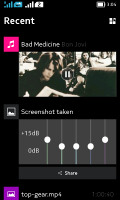 Music controls in lockscreen and Fastlane
Nokia MixRadio is available, just like on the company's Lumia phones. It features playlists, both automatically generated and handcrafted, and will stream music over the Internet. It has an offline mode too, so you can load the playlist over Wi-Fi rather than use your data connection.
Nokia MixRadio also doubles as an MP3 store.
Video player can't handle HD
There is no dedicated video app, but all of your videos get listed in the gallery instead. You can share, delete or view detailed information from the swipe-able menu at the bottom of the screen.
The Nokia XL is technically capable of playing 3GP, AVI, MP4 and MKV videos up to 1080p resolution, but even 720p results in lots of jerkiness and dropped frames, so we'd stick to SD if we had to use this one as a portable player. AC3 audio codec are supported, which is nice, but DTS and DD are not. Also note that some videos with supported codecs refused to play.
The Now Playing screen offers very basic user interface with just a Play/Pause button and a scrubber.
Stereo FM radio with RDS
The FM radio on Nokia XL comes with a neat and simple interface. It supports manual tuning and automatic scanning for channels (you can bookmark seven of them). The radio will place a widget in the Fastlane just like the music player (except it has no controls whatsoever), but not on the lockscreen.