Connectivity
The Nokia X supports quad-band GSM/EDGE on both SIM cards and dual-band 3G networks on its primary SIM card. Either SIM can be used for a data connection, but you can't use both.
Again, note that only the SIM1 slot has 3G, so it's best to put the card with the data plan there. There you get HSDPA speeds up to 7.2Mbps and HSUPA up to 5.76Mbps. With SIM2 you're stuck at EDGE speeds. If you have the single-SIM version, you don't need to worry about card placement, of course.
Then there's Wi-Fi b/g/n, which will get you fast data speeds and it doesn't eat into your data plan. Bluetooth 3.0 with EDR handles things like wireless hands-free dongles but also local file sharing.
The Nokia XL uses a microUSB port for both data connections and charging. There is no USB on-the-go support, though. Both USB and Bluetooth can be used to share the phone's data connection with a PC, the usual Wi-Fi hotspot option is available too.
And finally, there's the standard 3.5mm audio jack.
Customized web browser lacks options
The Nokia XL has Wi-Fi and 3G connectivity comes with the Nokia Browser, instead of the stock AOSP browser (it's still based on Chromium though). Note that unlike the Xpress Browser on other platforms, this one doesn't compress web pages to save on data and speed up load times.
The browser is fairly fast and fluid, loads web pages really fast and provides great experience for such a low-end device. There's tabbed browsing but no private mode.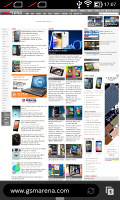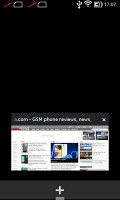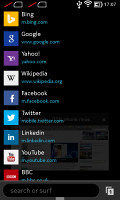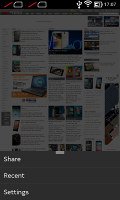 Browsing GSMArena.com on the Nokia XL
There are other important options missing - no favorites (strange, this was available on the Nokia X) find on page, tab syncing, request desktop page. There is only one setting in the advanced menu - turn on/off saving passwords. Flash is not supported.
We recommend looking into a third-party browser that does offer those features (Opera is available).
Basic organizing skills
The organizer on the Nokia XL is decently stocked though it lacks any kind of document viewer. As for the file manager, Astro File Manager is available for free in the Nokia Store and works great.
The Calendar starts off in month view. Day and week view are also available. Adding an event is very easy - you can set start and end time, reminder, location and repeat interval. The app will sync with multiple online calendars, some of which you can hide to avoid the clutter.
The alarm app uses two rotation rings, making it easy to set the time and you can make it go off only on specific days. Multiple alarms are available as well.
A calculator is also on board.
There are also a number of social networking clients - Facebook and Twitter, Vine too. The major chat apps are represented too (Skype, WhatsApp, Viber, LINE, WeChat) so you can stay in touch with your friends regardless of which service they use.