MIUI 12 for Poco
The Poco F2 Pro runs MIUI 12 based on Android 10. We're going to summarize what MIUI 12 is all about here, but if you are interested in a deeper dive, check out the Software section of our Mi 10 Pro long-term review. For all intents and purposes, the OS is exactly the same between these two devices, so we don't want to repeat everything we've already mentioned.
While MIUI 12 isn't a massive departure from MIUI 11, it is a significant evolutionary step aesthetically. It also marks a great improvement in the user experience. We love the new gentle vibration 'nudges' that you encounter throughout the UI, providing feedback for your interaction with the software. This is far from perfect still, especially on the Poco F2 Pro, with its less than outstanding vibration motor.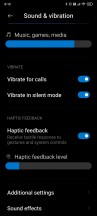 Haptic feedback level customization
The implementation could probably be improved further in MIUI 13, but even at this stage, no other Android skin goes this far in giving your phone interactions a tactile, physical feel.
Going back to aesthetics, overall, MIUI 12 just looks cleaner and fresher than its predecessor, with richer animations and more use of white space.
Compared to MIUI 11, the newer MIUI 12 changes enough to make things appear more modern, but not so much that you'd stress about having to re-learn things. That's the best balance for a software update in our book.
Launcher
Because this is a Poco phone, it ships with "MIUI 12 for Poco", which basically means that the Poco Launcher is built-in, just like it has been on all Poco devices since the Pocophone F1. The Poco Launcher has an app drawer and a bunch of neat customization options without going overboard. It's probably flexible enough for 99% of people while not getting bloated with too many different settings.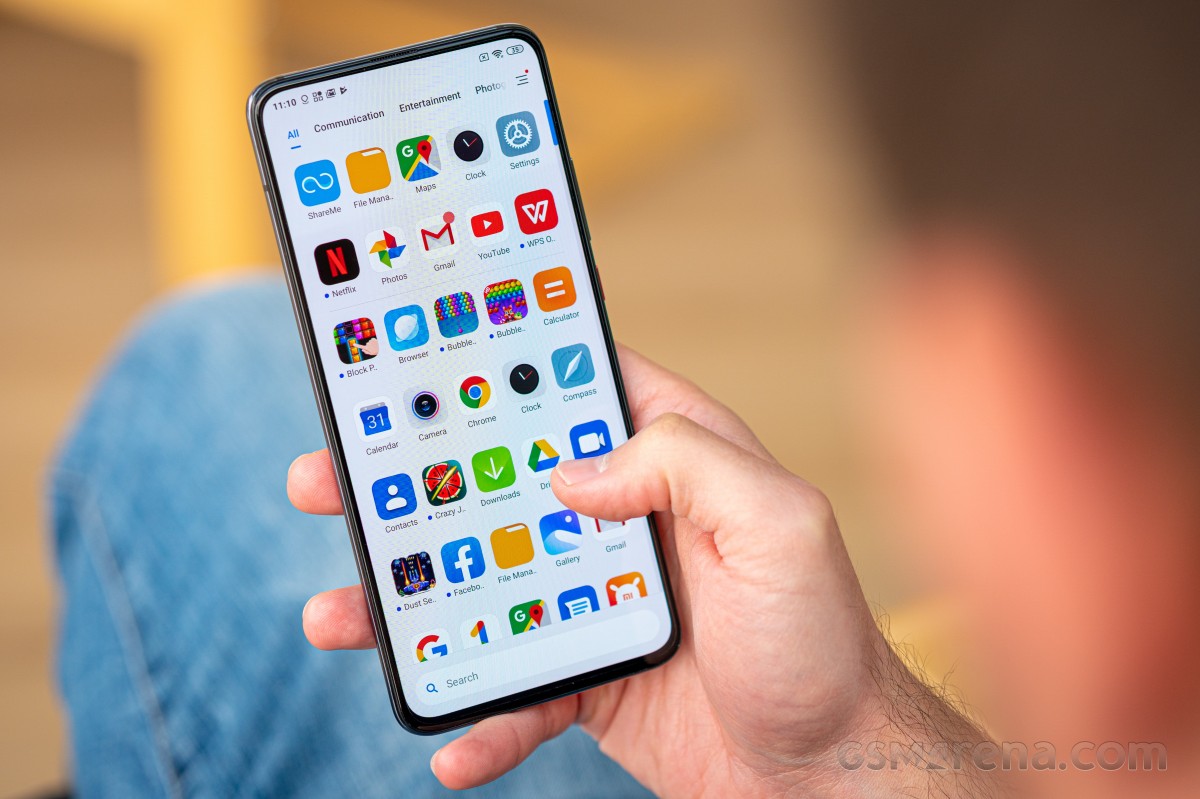 We like it a lot, and we have, in the past, resorted to using it when faced with a Xiaomi device that didn't have an app drawer from the get-go. We don't feel like the Poco Launcher is missing any essential features, and so it's easy to recommend even for people who don't have Xiaomi devices and want to try a different launcher. It's fast and bug-free, too.
One last thing to mention about the Poco Launcher version that ships on the Poco F2 Pro - the App Vault is gone, and instead, you can opt-in to see the Google Feed to the left of your leftmost home screen. This is a massive win in our book, but you may obviously disagree if the App Vault was something you used a lot.
Dark mode, gestures, Recent apps
MIUI 12 has a dark theme, of course, and this time the entirety of the UI is darkened when you turn it on. You can also schedule it and even force it on apps that don't have one of their own. The biggest offender here has to be Facebook. The forced Dark theme courtesy of MIUI 12 worked really well. Your mileage may vary with other apps, of course, but it helps that this feature is entirely optional.
As we keep saying, Xiaomi's gesture navigation system is among the best out there, and that's true on the Poco F2 Pro as well. There are no needless complications. Going back requires a swipe from the side in the lower two-thirds of the screen. Swiping higher than that triggers an app's drawer if it has one. You can also get rid of the useless 'pill' at the bottom, unlike on 'stock Android' phones.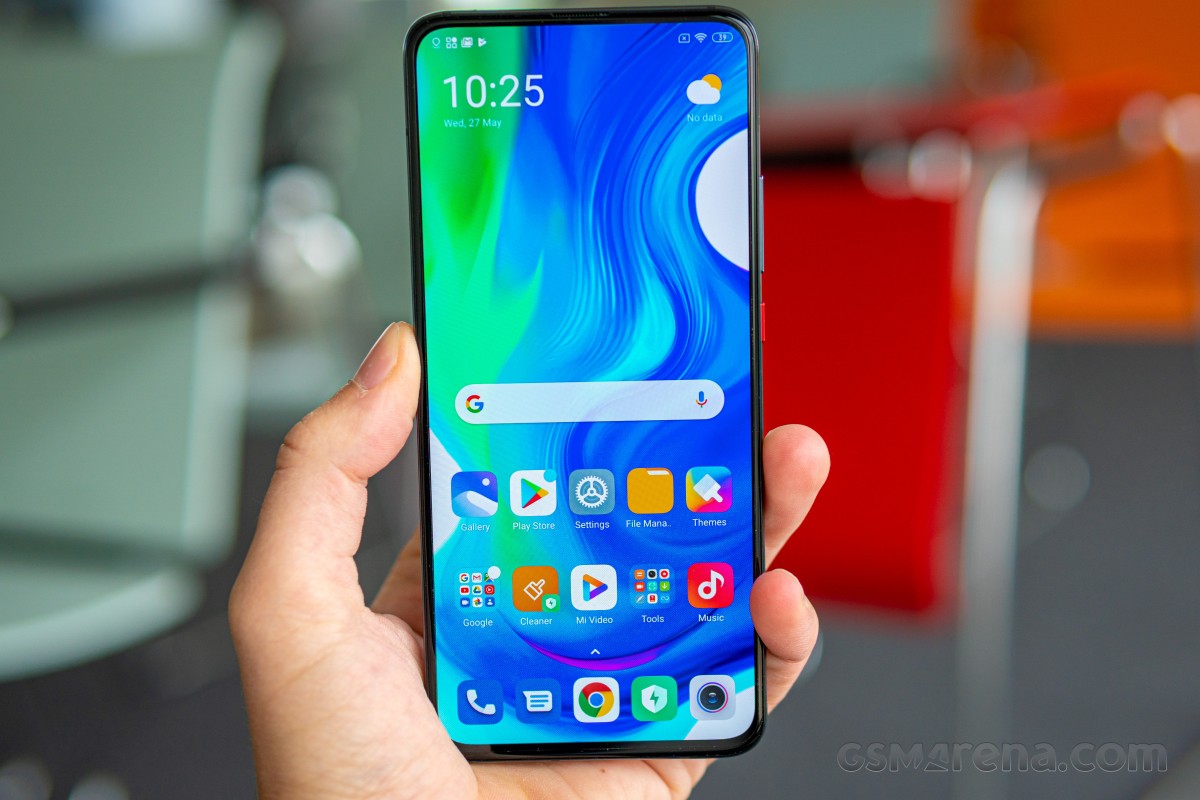 MIUI 12 didn't bring about any change in the Recent apps menu's logic, so it's still a vertically scrolling two-column list of app screenshots in a world where every other company is doing this horizontally. We've used so many Xiaomi devices recently that we've gotten used to this particularity of its skin, but we can't say we've ever been able to fully grasp what the point of it is.
Bugs
Although the status bar isn't interrupted by any unsightly hole-punch on the Poco F2 Pro, you can't see more than three notification icons at a time. If you have more than three notifications, you get three icons and then a dot to their right to signify that there's more stuff waiting for you in the notification panel.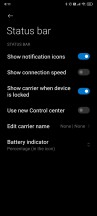 "Show notification icons" doesn't suggest there is a limit
While we're talking weird behavior in MIUI 12 on the Poco F2 Pro, let's also mention text size. In MIUI 12 on the Poco F2 Pro, the difference in size between the S and the L text sizes is the biggest we've ever seen in one such increment.
It's so big that we're almost sure there should have been an M size in between these, but for whatever reason, it's not there. For this reviewer, the choice was either to go with S where everything was too small or go with L and make everything too large. You may disagree, of course, and that's fine, but the point here is that such huge jumps between sizes shouldn't be a thing.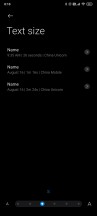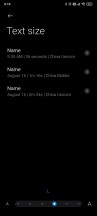 The jump in text size from S to L
We're not sure if this is software related or not, but we'll mention it here - Bluetooth on the Poco F2 Pro is frustrating. Don't get us wrong, it's consistent, but not in a good way. Nine times out of ten, this phone does not automatically reconnect to a Bluetooth audio accessory. So what you need to do, almost every time, is go into the Bluetooth menu in Settings and manually tap on whichever accessory you want to reconnect to.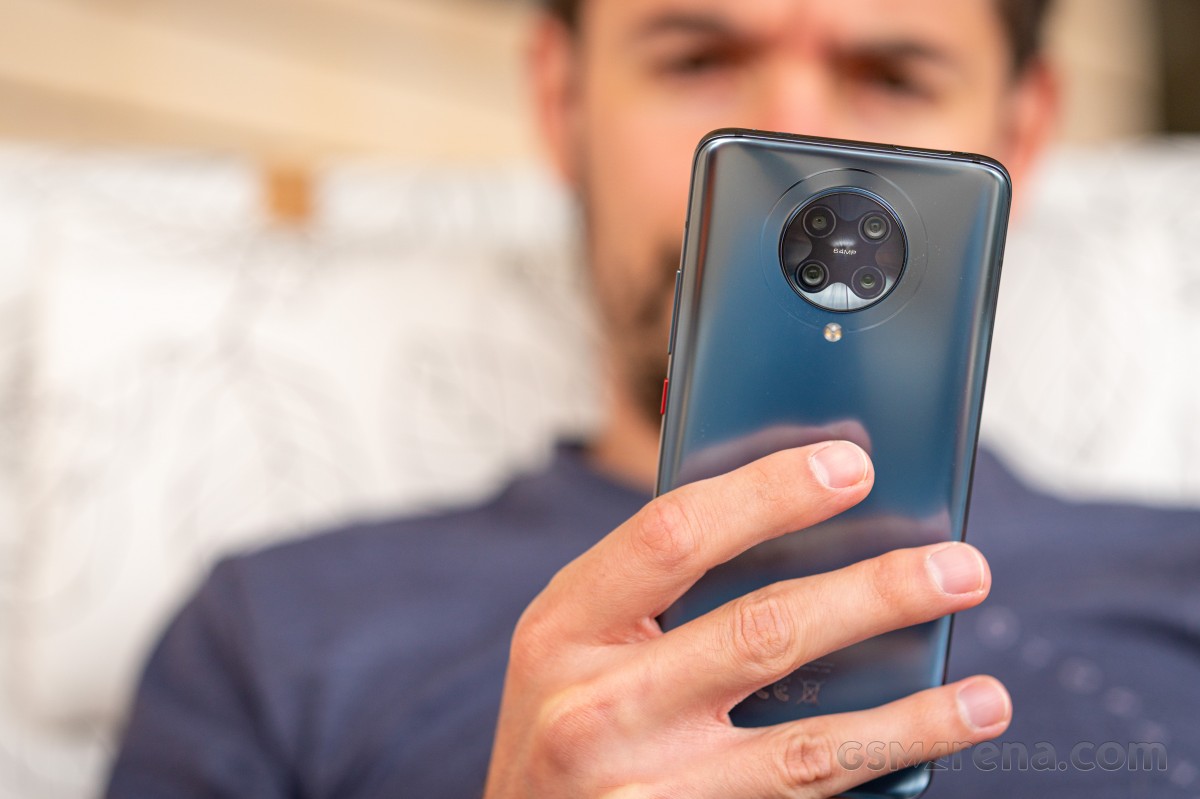 This shouldn't happen. Not just that, but this doesn't happen, at all, on the Mi 10 Pro. Since these have the same chipset, our assumption is that software is somehow to blame - maybe there's some overly aggressive battery protection feature on the Poco F2 Pro or something. We don't know, but it's been a very long time since we had to deal with something as frustrating as this. Of course, if you don't have a bunch of Bluetooth speakers and headphones around and don't use them all the time, you won't even notice. But we did.
Finally, not a bug per se, just a current limitation to keep in mind. While the Poco F2 Pro has dual-SIM support, if you want to use 5G, you'll have to disable one of the SIMs.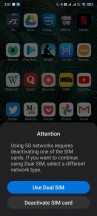 5G requires deactivating a SIM card
Right now, you get either 5G or dual-SIM functionality, not both at the same time.
Updates
Xiaomi is definitely not the fastest out there with updates for its smartphones. And we are referring to both the monthly security patches and the significant Android version upgrades. When it comes to the latter, there's a case to be made that most user-facing changes actually ship in new iterations of MIUI, and those aren't tied to the underlying Android base. So you can have MIUI 12 on top of Android 11, or Android 10, or even Android 9, and 99% of it will look and feel the same. Some people may take this at face value. Others still might prefer faster Android updates even so.
But we're talking security updates. Xiaomi really has no excuse for being one of the worst at issuing them. Its patches are rare and anything but monthly, even for its thousand-euro flagship Mi 10 Pro. The Poco F2 Pro is no exception, of course. At the moment, our review unit is still stuck on the July 1, 2020 security patch level. That's just unacceptable in October, and it was just as unacceptable in September.
Many of Xiaomi's competitors right now are much better at pushing security fixes to their phones, and the company really needs to improve here. As for an update to Android 11 for the Poco F2 Pro, we're almost sure that will happen, but can't tell you when. It could take a month or two. It could take even more. There's never a consistent pattern in such updates for Xiaomi, so there isn't really a way for us to infer when it will drop.