Bigger, better, faster
Samsung Galaxy Note 3 vs. Nokia Lumia 1520: Bigger, better, faster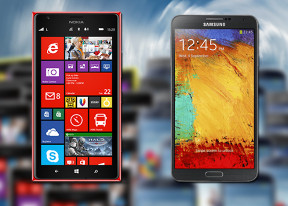 Camcorders
Let's run the numbers and specs first. The Nokia Lumia 1520 can do 1080p video capture at either 30, 25 or 24 frames per second. The Snapdragon 800-powered Samsung Galaxy Note 3 supports a myriad of shooting modes - starting from top to bottom there's the premiering 3840 x 2160 px video capture (a.k.a. 4K, UHD or 2160p) at 30 fps, 1080p video capture at 30 fps and super-smooth and fast 60 fps. Finally, there are slow motion 720p videos at 120 fps.
In contrast, the Nokia Lumia 1520 has the advantage of OIS which should keep things much steadier and smoother while shooting video, compared to the Galaxy Note 3.
The Nokia Lumia 1520 has a total of four mics (two at the front, two on the back) with the company's proprietary Rich Audio Recording for distortion-free sound recording in loud environments. These can be used for another intriguing feature as well - it's dubbed Directional stereo. When you enable it, the sound in front of the camera is recorded clearer than the rest, potentially dealing with unwanted noises in your video and enhancing a subject's voice.
The Samsung Galaxy Note 3 has dual microphones for stereo audio capture during videos.
As for the field of view, again, an image is worth a thousand words - check it out below. As you can see, like the Lumia 1020, the 1520 has a very wide field of view, and on the other side the Galaxy Note 3 not so much.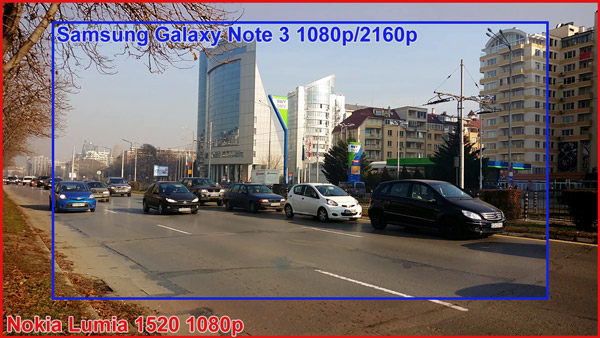 Both devices offer lossless zooming during video recording to some extent. The Lumia 1520 can go a full 3x, while the Galaxy Note 3 only reaches 2x without losing detail (though digital zoom will go a far as 4x magnification).
Before we start you off here's a comparison of just how important it is to have optical image stabilization for video recording. We've lined up footage from both devices side by side so you can see how well the Lumia 1520 handles shakes with OIS and the Galaxy Note 3 without.
While neither device looks all that great while shaking uncontrollably, the Lumia 1520 footage is obviously much smoother.
The 1080p videos by the Nokia Lumia 1520 have a bitrate of around 19 Mbps with a steady 29 fps rate. Audio comes in at two channels (read stereo) with an impressively high 263Kbps framerate and 48 kHz sampling rate.
The 1080p videos of the Samsung Galaxy Note 3 have a steady 16-17 Mbps bitrate, 30fps framerate and stereo audio capture at 121 Kbps with a sampling rate of 48 kHz - lower than those of the Nokia Lumia 1520. As for 2160p videos - they carry a high bitrate of around 47 Mbps with stereo audio capture, 48 kHz sampling rate and 122 Kbps audio bitrate. Again - the audio on the Lumia 1520 is far superior in quality.
Let's look at the quality of the videos at 1:1 magnification. First off, the Galaxy Note 3 delivers much more detail in the 1080p mode than the Nokia Lumia 1520 - the image is sharper, colors look more pleasing and natural and there seems to be much less noise. Considering that the 2160p crop has twice the pixels of the 1080p one there's really no need to get that far. The Samsung Galaxy Note 3 absolutely crushes the Nokia phablet in this test.
Here's a 1:1 crop, showing the quality of videos when using the lossless zoom. Even when its field of view is equal or less than the Galaxy Note 3, the Lumia 1520 just cannot resolve as much detail.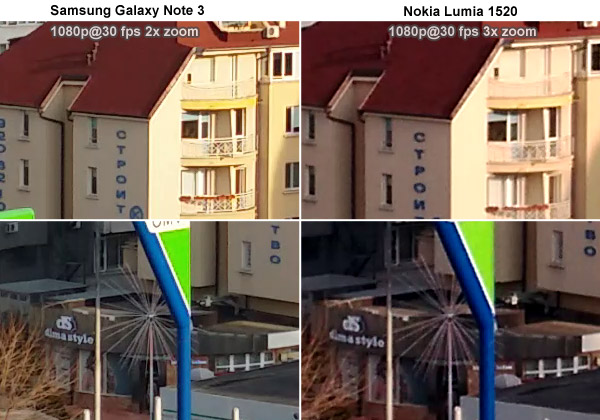 And finally you can check out our dedicated video comparison tool, where you can pit both devices against a full array of foes.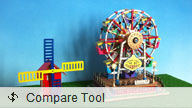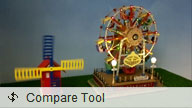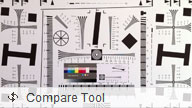 Nokia Lumia 1520 vs the Samsung Galaxy Note 3
Winner: Samsung Galaxy Note 3. Great audio aside, the Nokia Lumia 1520 fails to impress as much as a camcorder, while the Samsung Galaxy Note 3 dominates the entire smartphone world with great video quality. It is still the only smartphone to offer smooth 4K videos without breaking a sweat. But it doesn't end there, as it also offers stellar fast and slow motion video capture