OneUI 2.1
Update, Dec 30: One UI 3 update is out for many Galaxy phones. Here's what's new there.
Frankly, we're not exactly sure where Samsung is going with this new-found numbering convention of its. Honestly, it doesn't really matter all that much, since OneUI has maintained a pretty impressive level of consistency. Even the "major" redesign that 2.0 brought about remained mostly familiar in terms of general layout and even muscle-memory friendly. It just polished everything up nicely, all the while bumping the UI size up just a slight bit, for extra comfort.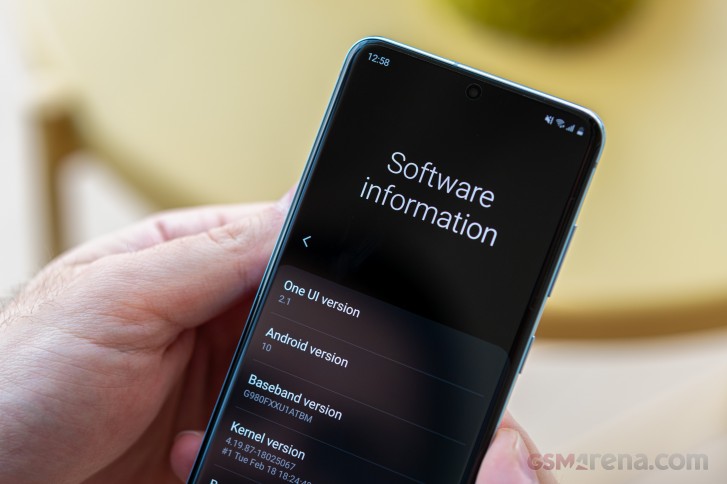 All of this is very much true for OneUI 2.1. The decimal version change, as you can imagine, translates into very slight actual UI changes. Honestly, the most major tweaks we noticed are an extra-large Dark mode setting, now on the top of the Display setting menu and a quick shortcut to the power menu in the quick toggles area.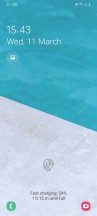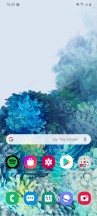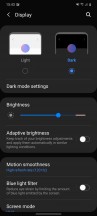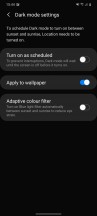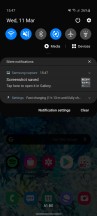 Home, launched, dark mode and new power button in toggles
OneUI 2.0 brought in gesture navigation options for Samsung devices. There are a few different variations to choose from - the newer method has a swipe-in from the sides act as 'Back' and a swipe up from the bottom take you Home. You can also choose to swipe up from the left, middle, and right sides of the bottom of the screen to mimic the respective buttons that would have otherwise been there with traditional navigation. Which, by the way, is still an option you can opt for if you prefer the old-school nav bar better. The latter does feature a quick keyboard swap shortcut, which is missing from the gesture schemes.
Biometric security on the S20 comes in one of two variants - fingerprint authentication and facial recognition. We mentioned our subpar experience with the ultrasonic fingerprint reader, but let's just say that it if doesn't work for you, the face recognition will offer a more convenient (if not as secure) access to your home screen.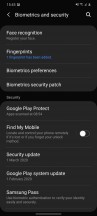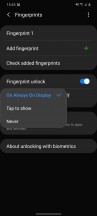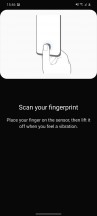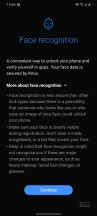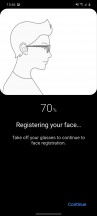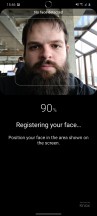 Security and biometrics, face unlock
The basics of the UI are the same as on any other Samsung rocking One UI 2 and very similar to One UI One ones. We couldn't help but notice the recent relocation of the all-important option of having the brightness slider visible on the first pull of the notification shade to the 'Quick panel layout' menu inside the toggle settings. The brightness settings screen remains unused as seen on the last screenshot below.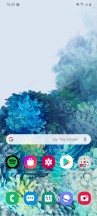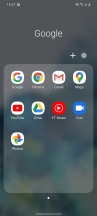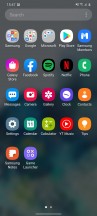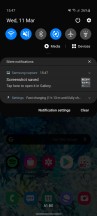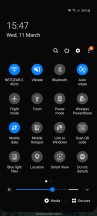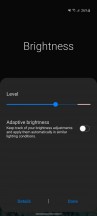 Home screen • Folder view • App drawer • Notification shade • Quick toggles • 'Show on top' setting moved
Gone are the days of good multi-window UI with Android Pie ruining it for everybody by requiring extra taps for something that used to take a long press on the task switcher button. Anyway, Samsung's trying to find a working solution and between v2.0 and v2.1 has relocated the menu next to the app icon you need to tap anyway - it's on the bottom of the screen in the previous version of the UI. Neither is great.
'Edge panels' is a well-known, long-standing feature that's gotten a minor redesign for the S20s, getting more rounded corners, but it still offers the same functionality. It gives you quick access to apps, actions, tools, etc. with a single swipe from the side. You can choose which side the handle is located on, as well as adjust its position along the edge of the phone. In the Edge screen sub-menu, you will also find Edge lighting - a feature that can light up the outline of the UI in an ever-growing selection of glow types to gently alert you of any new notifications.
Some small changes in software include the addition of Google Duo to the Phone app, letting you initiate video calls straight from the dialer. Quick Share is Samsung's latest name for the company's sharing solution based around Bluetooth for device discovery and Wi-Fi direct for actual data transfer that works with Samsungs only (all the way to the Note 3 we had on hand, where it's called Quick Connect).
One of the more intriguing 'sharing' options brought by the S20is Music share. Enabled by Bluetooth 5, it lets you connect the S20 to a BT speaker and use the phone as a hub for other phones to connect to the speaker. Yet another example of a feature that could have easily slipped under the radar on the vanilla S20, but Samsung went the extra mile to include it as well. To reiterate - great job on the feature parity.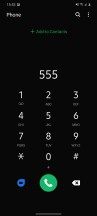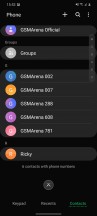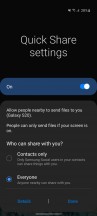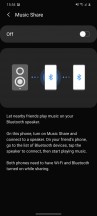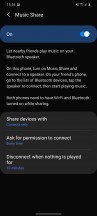 Google Duo baked in • Quick Share • Music Share
Synthetic benchmarks
As per the typical Samsung flagship setup, the S20 is available in two distinct chipset flavors - one courtesy of the Korean giant, while the other - a Qualcomm product. The latter is most commonly found in the US, while the former gets the Global badge and worldwide availability. In this particular case, just like its bigger siblings, the vanilla S20 comes equipped with either an Exynos 990 chipset or a Snapdragon 865. Both made on an efficient 7nm+ process, but, on the flip side, both also hooked-up to external cellular modems and lacking internal ones.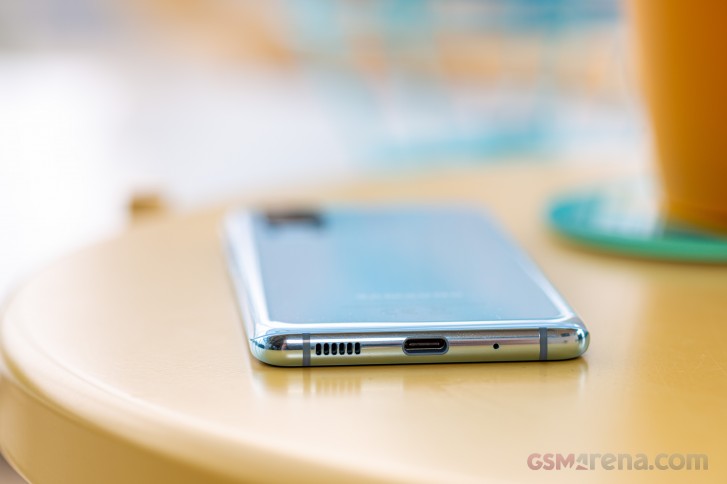 This does hurt battery efficiency quite a bit. The unit we ended up testing has the Exynos 990. We would have loved to check out the Snapdragon 865 instead, but it seems that we will have to wait for another day. That doesn't mean, however, that the particular Exynos 990 setup inside this Galaxy S20 is boring since it is identical to the one inside the S20 Ultra, we already rested. The similarities are there and overwhelming, but there is the small matter of the particular modem setup, since, unlike the S20+ and the S20 Ultra, the regular S20 is not available in a "true" 5G version. Meaning Sub6 support only and no mmWave. There is also a 4G-only S20 version. This definitely raises questions as to its network modem and antenna setup.
We did quite a bit of snooping around on that front, and frankly, the clues were already there, but we can now say with a fair amount of confidence that the Galaxy S20 is equipped with the exact same Exynos Modem 5123, as found in the S20+ and S20 Ultra. The modem is very-much capable of full-featured 5G, but disassembling the S20 reveals that it is definitely lacking some of the bulky and expensive 5G antenna hardware. In other words, Samsung's approach to delivering a 4G-only Galaxy S20, with an Exynos 990, was to use the same modem, just for its 4G LTE connectivity. Definitely a sensible approach in terms of overall development costs, but not really ideal, given the lower power efficiency of an external modem solution. Which, in the particular case of the LTE S20 we are testing, is devoid of the potential 5G benefits. That being said, we can only assume that using the Exynos Modem 5123 in LTE mode, as opposed to 5G mode is a less power-hungry setup. But, even so, we can't help but feel a little annoyed that from an internal engineering standpoint, this solution is not the optimal one in power or space efficiency.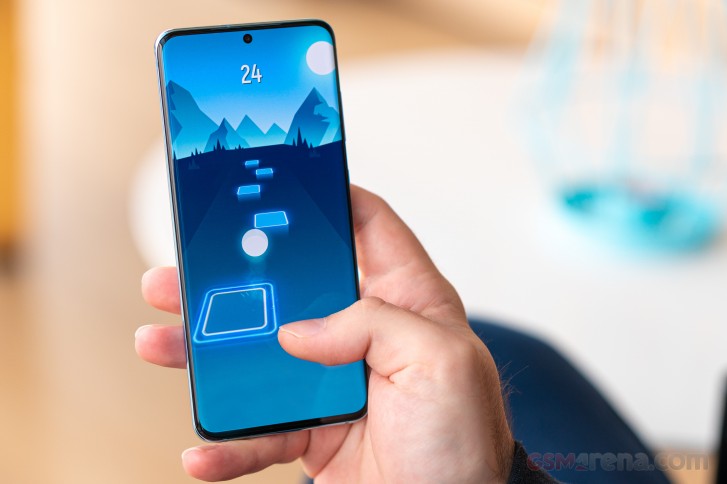 The flip side to that argument is that you are still getting the cream of the crop of Exynos chipsets right now in every Galaxy S20. If Samsung had, say, decided to step down to the Exynos 980 instead, for the sake of its integrated modem, it would also mean stepping down to slower LPDDR4X RAM speeds, a noticeably less-potent GPU (Mali G76 MP5, instead of the Mali G77 MP11) and forego the two customized high-performance Exynos M5 cores, clocked at 2.73GHz. Just to name a few potential compromises. Make of that as you will.
GeekBench 4.4 (single-core)
Higher is better
Apple iPhone 11 Pro
5483
Samsung Galaxy S20 Ultra 5G
5005
Samsung Galaxy S20
4958
Samsung Galaxy Note10
4544
Samsung Galaxy S10
4543
OnePlus 7T
3644
Huawei P30 Pro
3270
Xiaomi Mi Note 10
2536
GeekBench 4.4 (multi-core)
Higher is better
Apple iPhone 11 Pro
13829
Samsung Galaxy S20
12557
Samsung Galaxy S20 Ultra 5G
12191
OnePlus 7T
11394
Samsung Galaxy Note10
10353
Samsung Galaxy S10
10174
Huawei P30 Pro
9649
Xiaomi Mi Note 10
6737
And speaking of CPU cores, it is high time we start discussing the S20's performance under synthetic loads. We are happy to report that, as far as these figures go, the smaller form factor of the vanilla S20 doesn't seem to be choking the internals and numbers are just as impressive and even a smudge better at times than those scored by the Galaxy S20 Ultra.
GeekBench 5.1 (single-core)
Higher is better
Apple iPhone 11 Pro
1333
Samsung Galaxy S20
931
Samsung Galaxy S20 Ultra 5G
910
Samsung Galaxy Note10
819
OnePlus 7T
776
Google Pixel 4
623
GeekBench 5.1 (multi-core)
Higher is better
Apple iPhone 11 Pro
3466
OnePlus 7T
2858
Samsung Galaxy S20
2750
Samsung Galaxy S20 Ultra 5G
2728
Google Pixel 4
2542
Samsung Galaxy Note10
2241
AnTuTu corroborates these findings. The Galaxy S20 is perfectly capable of rubbing shoulders with the best of them. We are looking at what are essentially 10-17% better CPU numbers than the Exynos 9820, inside the Galaxy S10+. Perhaps even higher than that, depending on which version of GeekBench you choose to believe.
AnTuTu 8
Higher is better
Samsung Galaxy S20 Ultra 5G (60Hz, 1440p)
528631
Samsung Galaxy S20 (120Hz, 1080p)
525029
Samsung Galaxy S20 (60Hz, 1440p)
515538
Samsung Galaxy S20 Ultra 5G (120Hz, 1080p)
514485
OnePlus 7T
485585
Samsung Galaxy Note10
452400
Google Pixel 4
395351
Xiaomi Mi Note 10
256717
GFX 3.1 Car scene (1080p offscreen)
Higher is better
Apple iPhone 11 Pro
66
Samsung Galaxy S20 Ultra 5G (120Hz, 1080p)
51
Samsung Galaxy S20 Ultra 5G (60Hz, 1440p)
51
Samsung Galaxy S20 (60Hz, 1440p)
51
Samsung Galaxy S20 (120Hz, 1080p)
51
OnePlus 7T
48
Samsung Galaxy S10
43
Google Pixel 4
39
Huawei P30 Pro
29
Samsung Galaxy Note10
28
Xiaomi Mi Note 10
17
GFX 3.1 Car scene (onscreen)
Higher is better
Apple iPhone 11 Pro
57
Samsung Galaxy S20 (120Hz, 1080p)
44
Samsung Galaxy S20 Ultra 5G (120Hz, 1080p)
43
OnePlus 7T
41
Google Pixel 4
31
Samsung Galaxy Note10
28
Huawei P30 Pro
27
Samsung Galaxy S20 (60Hz, 1440p)
26
Samsung Galaxy S20 Ultra 5G (60Hz, 1440p)
25
Samsung Galaxy S10
23
Xiaomi Mi Note 10
15
No surprises in GPU prowess from the Mali G77 MP11 either. For the sake of thoroughness, we did run all the benchmarks with a GPU component in both QHD display mode at 60Hz and FullHD at the new 120Hz. Take that into consideration when looking at the on-screen numbers.
Aztek Vulkan High (onscreen)
Higher is better
Samsung Galaxy S20 (120Hz, 1080p)
27
OnePlus 7T
27
Samsung Galaxy S20 Ultra 5G (120Hz, 1080p)
26
Samsung Galaxy Note10
19
Google Pixel 4
17
Samsung Galaxy S20 (60Hz, 1440p)
15
Samsung Galaxy S20 Ultra 5G (60Hz, 1440p)
14
Samsung Galaxy S10
13
Aztek OpenGL ES 3.1 High (onscreen)
Higher is better
Samsung Galaxy S20 (120Hz, 1080p)
33
Samsung Galaxy S20 Ultra 5G (120Hz, 1080p)
32
Samsung Galaxy Note10
29
OnePlus 7T
28
Google Pixel 4
22
Samsung Galaxy S20 Ultra 5G (60Hz, 1440p)
19
Samsung Galaxy S20 (60Hz, 1440p)
19
Samsung Galaxy S10
16
One thing that needs to be noted, though, is that the Galaxy S20 has a tendency to get toasty under load. A bit toastier than its S20 Ultra sibling, which isn't exactly cool under pressure either. Not a huge surprise, considering the size difference.
Running a throttling test on the S20 showed that its throttling behavior is far from the worst we have seen and follows a gradual and controlled decline. Remember, every passively-cooled smartphone will eventually thermal-throttle. What separates the overachievers from the rest is how gradual that effect is going to be on frequencies and, conversely, things like real-world gaming experience during prolonged sessions. We have little beef with the S20 in this regard. Samsung did its best to cool its internals within the given size limitations, which also meant driving away a bit more heat from the components and to the surface of the unit. The unfortunate consequence being hotter hands.
3DMark SSE OpenGL ES 3.1 1440p
Higher is better
Samsung Galaxy S20 (60Hz, 1440p)
6723
Samsung Galaxy S20 Ultra 5G (120Hz, 1080p)
6713
Samsung Galaxy S20 (120Hz, 1080p)
6610
Samsung Galaxy S20 Ultra 5G (60Hz, 1440p)
6593
OnePlus 7T
6296
Samsung Galaxy Note10
4889
Google Pixel 4
4294
Samsung Galaxy S10
4263
3DMark SSE Vulkan 1440p
Higher is better
Samsung Galaxy S20 (120Hz, 1080p)
6398
Samsung Galaxy S20 Ultra 5G (120Hz, 1080p)
6308
Samsung Galaxy S20 Ultra 5G (60Hz, 1440p)
6249
Samsung Galaxy S20 (60Hz, 1440p)
6248
OnePlus 7T
5540
Samsung Galaxy Note10
4862
Samsung Galaxy S10
4238
Google Pixel 4
3760
That being said, we reiterate that in real-world use, in our tests, the S20 handled temperature increases with impressive grace, scaling performance back gradually. So, unless you are running benchmark tests back to back on it, you likely won't notice the thermal-throttling battle going on behind the scenes during daily use.