Combat ready
Samsung Galaxy S5 Active review: Combat ready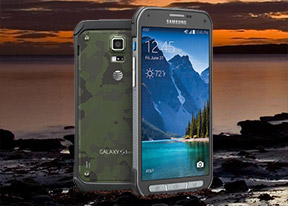 Unboxing
The Samsung Galaxy S5 Active ships in a white/orange box with AT&T branding. Inside you will find the smartphone, stereo headphones, USB cable, charger, as well as a couple of booklets.





The AT&T retail package • the EU package
Overall, the handset has you covered in terms of extra accessories. This is hardly a surprise considering its stature in both Samsung's and AT&T's product lineup.
Design, build quality, handling
Design-wise, the Samsung Galaxy S5 Active follows the same path as its predecessor. The handset looks like a tougher version of the corresponding flagship - despite the extra armor it is undeniably a member of the Samsung Galaxy S family.




Typical Samsung design with added armor
To make its ruggedness even more prominent, the smartphone is available in eye-popping color schemes. They include Ruby Red, Titanium Gray, and Camo Green like our test unit. We found the latter to be a great conversation starter, though, we reckon, it will certainly not appeal to everyone.




Samsung Galaxy S5 Active for Europe
One downside of the newcomer's design that we found is the overwhelming mix of different textures throughout its body. While we do understand the necessity of extra protection, we reckon that some uniformity would have been welcome by many.
Build quality of the Samsung Galaxy S5 Active is exceptional. The smartphone is literally built like a tank (it kinda looks like it belongs in one too in Camo Green). Thanks to its construction, IP67 and MIL-STD-810G ratings, the handset is part of the small club of devices which can be used comfortably without a protective case.
The physical measures of the S5 Active are 145.3 x 73.4 x 8.9mm, at a weight of 170.1 grams. Unsurprisingly, the Active is thicker and heavier than the regular S5 (8.1mm and 145 grams). However, considering the added layers of protection, we believe the extra bulk is well worth it.




Galaxy S5 Active sized up against the regular S5
Handling the Samsung Galaxy S5 Active is a pleasant experience. The handset is one of the grippiest we've encountered in a long time. Every surface save for the display has a pleasant texture to it, so accidental drops are extremely unlikely. But even if you do let it slip off your grasp, there'll be no damage done.



Handling the Galaxy S5 Active for Europe
The handset has one major handling advantage over its regular sibling. Its hardware back and recent apps buttons cannot be pressed accidentally like the capacitive ones of the SM-G900.
Display
The Samsung Galaxy S5 Active features the same 5.1" FullHD Super AMOLED display as the regular version. Its pixel density is 432ppi.



The display of the Samsung Galaxy S5 Active
Cinema mode offers true to life colors that were thought impossible on AMOLED. The Galaxy S5 Active's display really makes the "LCD offers more natural colors" argument useless. And, as usual, Samsung offers more saturated screen modes if you prefer your images punchy rather than accurate.
It's true that unlike most of its competitors, the display still employs a PenTile matrix, rather than a conventional RGB, but the diamond arrangement makes sure that results in no visible artifacts and, with pixel densities north of 400ppi, you can't take away points for sharpness either. You can only spot differences if you compare two panels side by side and look from so close that your eyes hurt, which is hardly ever going to be the case.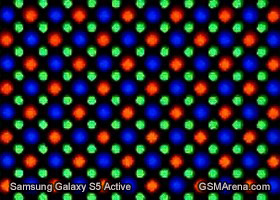 The brightness levels of the Samsung Galaxy S5 Active are slightly lower than on the regular Galaxy S5, though on par with the previous generation Galaxy S4. However, due to their low reflectivity, this doesn't affect outdoor performance. Keep in mind that enabling the auto tone setting in the screen option limits the maximum brightness to under 300 nits, so if that matters to you, you better keep it off.
Display test
50% brightness
100% brightness
Black, cd/m2
White, cd/m2
Contrast ratio
Black, cd/m2
White, cd/m2
Contrast ratio
Samsung Galaxy S5 Active
0
208
∞
0
422
∞
Samsung Galaxy S5
0
274
∞
0
529
∞
Samsung Galaxy S5 mini
0
226
∞
0
432
∞
Sony Xperia Z3
-
-
-
0.65
866
1333
LG G3
0.14
109
763
0.72
570
789
HTC One (M8)
0.2
245
1219
0.46
577
1256
Samsung Galaxy Alpha
0
228
∞
0
456
∞
Samsung I9505 Galaxy S4
0
201
∞
0
404
∞
The sunlight legibility, quite expectedly, is top-notch and the Galaxy S5 Active is a s a solid performer outdoors. The sunlight contrast ration is very close to the traditional Galaxy S5 display.
Sunlight contrast ratio
Nokia 808 PureView
4.698
Samsung Galaxy Note 4
4.033
Samsung Galaxy Note 3
3.997
Apple iPhone 5
3.997
Apple iPhone 6
3.838
Samsung Galaxy Note Edge
3.799
Samsung Galaxy K zoom
3.675
Nokia Lumia 930
3.567
Apple iPhone 5s
3.565
Samsung Galaxy S5
3.549
Nokia Lumia 735
3.547
Alcatel Idol X+
3.527
Apple iPhone 5c
3.512
Samsung Galaxy Alpha
3.509
Samsung Galaxy Note 3 Neo
3.487
Motorola RAZR MAXX
3.42
Samsung I9300 Galaxy S III
3.419
Samsung Galaxy S5 Active
3.406
Nokia Lumia 925
3.402
Gionee Elife S5.5
3.386
Samsung I9505 Galaxy S4
3.352
Samsung Omnia W
3.301
Samsung Galaxy S5 mini
3.174
Samsung I9000 Galaxy S
3.155
Samsung Ativ S
3.129
Samsung I9190 Galaxy S4 mini
3.127
Samsung Galaxy S4 zoom
3.118
Nokia N9
3.069
Apple iPhone 6 Plus
3.023
Samsung Galaxy Note
2.97
Samsung Galaxy Premier
2.958
Sony Xperia Z1
2.95
HTC One S
2.901
Samsung I8730 Galaxy Express
2.861
BlackBerry Q10
2.856
Samsung I9100 Galaxy S II
2.832
HTC Desire Eye
2.815
Gionee Elife S5.1
2.812
Samsung Galaxy S II Plus
2.801
BlackBerry Z30
2.79
Sony Xperia ZR
2.672
Huawei Ascend P1
2.655
Sony Xperia Z3
2.618
Sony Xperia Z3 Compact
2.616
Sony Xperia T3
2.609
BlackBerry Passport
2.595
Nokia Lumia 900
2.562
Motorola Moto G 4G
2.546
HTC One Max
2.537
Nokia Lumia 720
2.512
HTC One
2.504
Motorola Moto G
2.477
Sony Xperia Z
2.462
Xiaomi Mi 4
2.424
Samsung Galaxy S III mini
2.422
Lenovo Vibe Z2 Pro
2.416
LG G Flex
2.407
HTC One (M8)
2.371
Motorola RAZR i
2.366
Meizu MX4
2.366
Sony Xperia ZL
2.352
Samsung Galaxy Note II
2.307
HTC One (M8) for Windows
2.291
Oppo Find 7a
2.279
Alcatel One Touch Hero
2.272
Apple iPhone 4S
2.269
HTC Desire 600 dual sim
2.262
Nokia Asha 311
2.25
LG Nexus 5
2.228
Nokia Lumia 820
2.193
HTC One (E8)
2.185
Nokia Lumia 920
2.17
HTC One X
2.158
Nokia N8
2.144
Nokia Lumia 620
2.142
Nokia 515
2.134
HTC Desire 500
2.129
Xiaomi Redmi Note
2.119
Sony Xperia acro S
2.119
Nokia Lumia 1020
2.103
Oppo Find 5
2.088
Sony Xperia SL
2.078
Nokia Lumia 630
2.056
BlackBerry Z10
2.051
Huawei Ascend Mate7
2.024
Samsung I9295 Galaxy S4 Active
2.022
Apple iPhone 4
2.016
HTC One mini
2.003
Xiaomi Mi 3
2.001
Huawei Ascend P7
1.992
LG G2
1.976
OnePlus One
1.961
Oppo R819
1.957
Sony Ericsson Xperia ray
1.955
Sony Xperia Z2
1.944
Sony Xperia E3
1.943
Nokia Lumia 1320
1.941
HTC One mini 2
1.94
Samsung Galaxy Camera
1.938
Sony Xperia J
1.932
Acer CloudMobile S500
1.931
LG Nexus 4
1.926
LG G Pro 2
1.922
Samsung Galaxy Mega 6.3
1.913
Nokia Asha 308
1.911
HTC Butterfly 2
1.905
Sony Xperia T
1.894
Nokia Lumia 830
1.887
HTC Desire X
1.878
HTC Butterfly
1.873
HTC Windows Phone 8X
1.873
HTC Butterfly S
1.867
Huawei Ascend P6
1.865
Huawei Ascend Mate
1.845
LG G2 mini
1.838
LG G3
1.82
Nokia Lumia 1520
1.813
HTC Desire 616 dual sim
1.797
Sony Xperia V
1.792
HTC Desire 816
1.783
Sony Xperia Z1 Compact
1.772
HTC Desire 700 dual sim
1.769
Sony Xperia U
1.758
Meizu MX3
1.754
LG Optimus G
1.753
Sony Xperia T2 Ultra
1.74
Sony Xperia Z3 Tablet Compact
1.735
Sony Xperia SP
1.733
LG Optimus 4X HD
1.691
Oppo Find 7
1.691
HTC One V
1.685
BlackBerry Q5
1.682
LG Optimus Vu
1.68
Xiaomi Mi Pad 7.9
1.672
LG Optimus GJ
1.666
LG Optimus 3D Max
1.658
HTC Desire V
1.646
Samsung Galaxy Xcover 2
1.632
Samsung Galaxy Ace 3
1.622
Jolla Jolla
1.605
Sony Xperia Z Ultra
1.578
Sony Xperia go
1.577
Samsung Galaxy Ace 2 I8160
1.566
Samsung Galaxy Core
1.563
LG Optimus G Pro
1.552
Motorola Moto E
1.545
LG Optimus 3D
1.542
Nokia Asha 302
1.537
BlackBerry Curve 9320
1.488
Sony Xperia M
1.473
Oppo N1
1.47
Meizu MX 4-core
1.462
Nokia Lumia 610
1.432
Samsung Galaxy S Duos
1.4
Sony Xperia M2
1.393
Microsoft Lumia 535
1.393
Samsung Galaxy Grand Neo
1.393
Samsung Galaxy Grand 2
1.38
Sony Xperia E1
1.372
Nokia Lumia 625
1.371
Gigabyte GSmart G1355
1.361
Sony Xperia L
1.351
Samsung Galaxy Mega 5.8
1.35
Xiaomi Redmi 1S
1.35
HTC Desire 510
1.34
Sony Xperia M2 Aqua
1.331
Sony Xperia miro
1.324
Samsung I9082 Galaxy Grand
1.321
Samsung I8530 Galaxy Beam
1.315
HTC Desire C
1.3
Nokia X
1.291
Sony Xperia C
1.283
Nokia Asha 503
1.281
Nokia Asha 501
1.27
LG Optimus L7
1.269
Nokia Lumia 510
1.268
Samsung Galaxy Fame
1.245
LG Optimus L9
1.227
Meizu MX
1.221
Samsung Galaxy Young
1.22
Sony Xperia E
1.215
Nokia XL
1.204
Sony Xperia E dual
1.203
Asus Memo Pad 7 ME176C
1.198
Samsung Galaxy Pocket
1.18
Nokia Asha 305
1.178
Nokia Asha 306
1.175
Sony Xperia neo L
1.169
Sony Xperia tipo
1.166
Nokia Lumia 520
1.161
Samsung S6802 Galaxy Ace Duos
1.148
Samsung Galaxy mini 2
1.114