Combat ready
Samsung Galaxy S5 Active review: Combat ready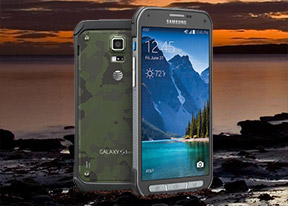 Web browser
The Samsung Galaxy S5 Active comes with both the stock Android browser (customized by Samsung) and Google's Chrome. Both support Multi-window, but only the stock browser supports Air View.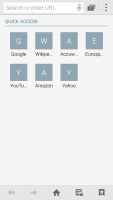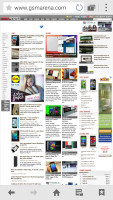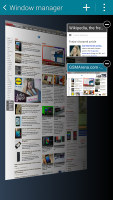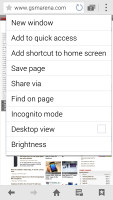 Browsing GSMArena.com on the Samsung Galaxy S5
Anyway, the interfaces of both browsers are virtually identical. Both show favorite web sites on their new tab page and can sync bookmarks and open tabs across devices. The browsers handle multiple tabs (with Incognito mode), but in Chrome you can switch between tabs by horizontal swipes from the side, which is pretty handy.
Voice input is available if you don't feel like typing up a query.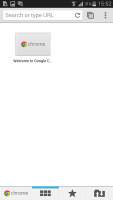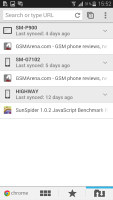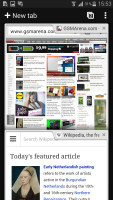 Chrome is also available out of the box
Air view, Smart scroll and Smart stay all work in the browser, the first of which lets you simply hover your finger over a web element and it will act like mouse-hover, which is great for websites not optimized for mobile devices.
Note that Chrome has an option to reduce traffic by compressing web pages on Google's servers before they are sent to the device, similar to how Opera's Turbo mode (and Opera Mini) work.
Flash is no longer welcome as even the stock browser has dropped support for plug-ins.
S Apps
The Samsung Galaxy S5 Active has a number of features that enhance the security of your data. There are basics like encrypting the phone and the external memory card in addition to the more selective Private mode option.
There's also Find my mobile out of the box. It has remote controls so you can reset and lock the device if you lose it and check its location on a map. Once reset, you can prevent the phone from being reactivated. The phone can send out a message the moment a new SIM card is inserted.
There's also a backup function that keeps your phone logs, messages, wallpaper and several other settings backed up in the cloud.
S Health has gotten even more advanced. The step counter is always working in the background, keeping track of how many calories you've burned. For more accurate measurements, the Galaxy S5 also features a heart rate monitor.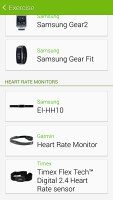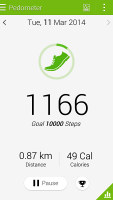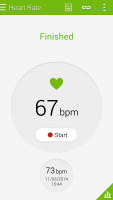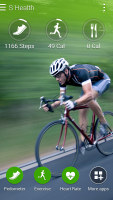 S Health tracks your exercise and heart rate
You just press the tip of your finger against the sensor (below the camera, next to the flash) and in a few seconds you see the reading. For continuous readings, you can pair the phone with a Gear smartwatch or a dedicated sensor made by Samsung, Timex or Garmin.
Besides the basic pedometer, S Health can also track running, cycling and hiking. Goals can be set based on distance, time or calories. During an exercise the app can play music and report your progress out load.
Having burned up some calories, you can tell the app what you've had to eat in great detail. The app has extensive lists of various foods and their energy value. Calories - both eaten and burned - can be tracked on graphs by hour, day and month.
You can share your workouts with friends (including photos) if you're the competitive type. You don't have to take the Galaxy S5 on a run with you either, a Gear device can take the readings, which will be synced with S Health.
While S Health is quite advanced, third party apps can integrate with it and provide even more comprehensive exercise tracking though there are none as of yet.
Standard organizer
While it wasn't preinstalled, the Polaris Office 5 is available as a free download from Samsung Apps. Just go to the Galaxy Essentials category (there you'll find other useful apps too). Anyway, Polaris has a clean interface and does both viewing and editing of Office documents.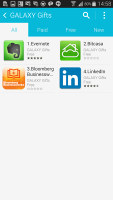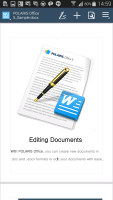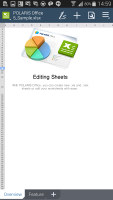 The Polaris Office editor hands Word, Excel and PowerPoint documents
The Android calendar has been replaced by S Planner (as usual). It features six different views: daily, weekly, monthly, yearly, list and tasks. For the month view, events on the selected day are listed in a panel on the right.
Adding a new event is quite straightforward and you can also set an alarm to serve as a reminder. Multiple online calendars are supported and they can be color-coded for easier recognition.
A calculator, voice recorder and a memo app are available out of the box.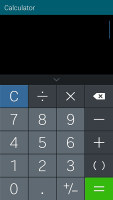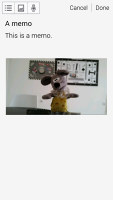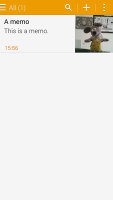 Calculator app • memo taking app
The Alarm app is quite advanced too. Each alarm has its own tone, snooze and repeat settings. It also features Smart alarm, which rings quietly, slowly turning the volume up for a less stressful wakeup. The app also features a world clock, stopwatch and a timer.