Combat ready
Samsung Galaxy S5 Active review: Combat ready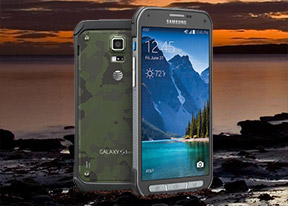 User Interface
The Samsung Galaxy S5 Active runs on Android 4.4.2 KitKat customized by the most recent incarnation of TouchWiz for smartphones. Samsung has added multiple features that increase productivity and enhance security.
The lockscreen has no widgets aside from a few special controls.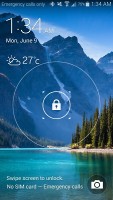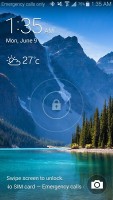 The lockscreen
The homescreen features the My Magazine that displays both news articles and social networking updates. This is powered by Flipboard and you can enjoy your reads in a clean interface and send links to your friends or post social updates straight from the app.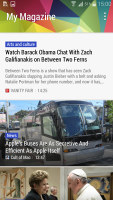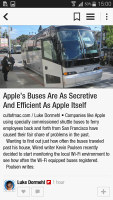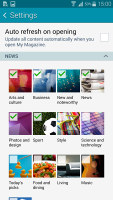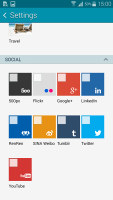 My Magazine keeps you up to date with news and social networking updates
Categories (e.g. News, Business, Facebook) are displayed as tiles, each displaying its top article. You can reorder and hide the tiles. Once inside an article, you can browse more articles in that category with the familiar Flipboard effect.
There are regular homescreens too, with shortcuts, widgets and folders. If you want just those, My Magazine can be disabled completely.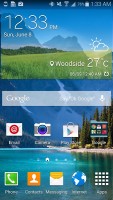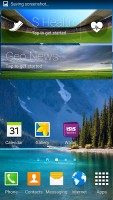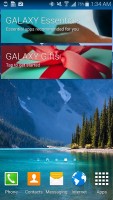 The regular homescreens
The notification area is similar to what we've seen on Galaxy Pro tablets with its flat design and circular icons. The toggles work as usual and below them are two buttons (S Finder and Quick connect) and below that is the brightness slider, which can be hidden to save space, but you're stuck with the two buttons.
There's a new feature called Recommended apps, which adds relevant shortcuts when an accessory is plugged, like the headphones.
In the app drawer, icons are presented as a customizable or alphabetized grid and you can also view only the ones you've downloaded yourself. You can also disable some of the pre-installed apps so they won't take any RAM or appear in the app drawer. You can also hide icons to keep the drawer from getting cluttered.
The Galaxy S5 Active has an App Switcher button that calls up a custom switcher UI. As usual, you can go into the task manager for more advanced controls.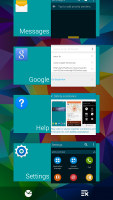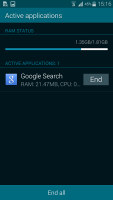 The app switcher and task manager
The Galaxy S5 comes with the Multi-window multitasking feature, which allows you to run two apps side by side. You can copy text between apps or snap a screenshot of one app and paste it in the other.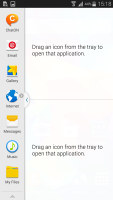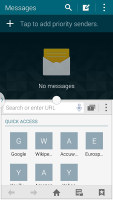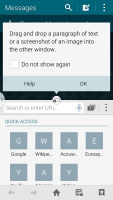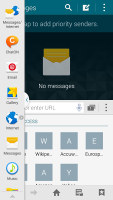 The new tray for Multi Window apps
If a pair of apps works well together (e.g. the browser and the email client) you can create a shortcut that launches both. Note that only select apps work with Multi-window but more can be found in the Play Store.
There are no floating apps here, but there's something called Toolbox - a floating icon that shows a list of shortcuts once tapped. This is a quick way to get to some of the most commonly used apps.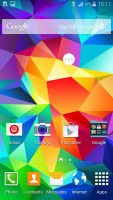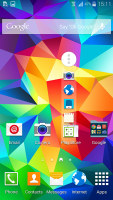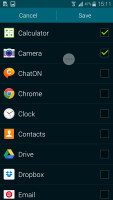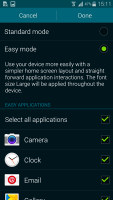 Toolbox is a floating drawer of favorite shortcuts
Pressing the shortcut button above the volume rocker reveals the Activity Zone menu which contains several outdoor-specific features. They include compass, barometer, flashlight with different modes, as well as (oddly) a stopwatch.
Long press of the shortcut button can be programmed to open an app of your choice. It can also act as dedicated camera button - a long-awaited and welcome addition to the device's set of features.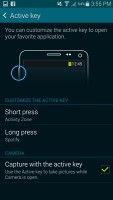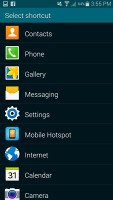 The ability to program the shortcut button and use it as camera key is sweet