Pros and gones
Samsung Galaxy Tab Pro 10.1 review: Pros and gones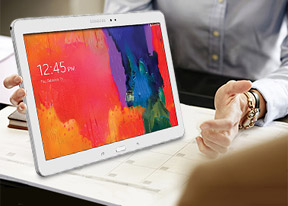 Disappointing 8MP snapper
The Samsung Galaxy Tab Pro 10.1 features an 8 megapixel main camera and a 2 megapixel front-facer, and you can shoot 1080p videos with both.
The user interface is based on the new generation Samsung camera UI. A single viewfinder handles both still and video capture, so you don't have to switch modes. However, this is certainly not the most convenient solution as, if you're shooting full resolution 8MP photos, you'll have to frame your videos using a 4:3 ratio viewfinder, which doesn't match the screen's wide aspect ratio.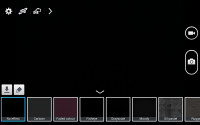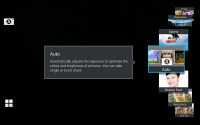 Color effects • camera modes (carousel view)
There is a wide variety of settings but they are spread out in different places. For starters, color effects (with a live preview for each) are at the bottom of the screen. You can download more effects from Samsung Apps.
Another place with cool options is the Mode button, which brings out a carousel of advanced features (you can switch to grid view, but we find the carousel easier to use with the thumb). The features include major shooting modes such as HDR (called Rich tone) and Panorama, along with proprietary Samsung features such as Eraser (removes objects), Drama (duplicates objects), Sound & shot (capture ambient sound to go with the photo), Best photo, Best Face and Beauty Face. Dual shot is also available - it combines the feed from both the front and back cameras on a single photo.
There are even more options, some of which are visible in the top left corner. For the rest, you'll have to go into the full settings menu. These include burst shot, face detection, manual ISO setting, Smart stabilization and so on. Voice controls are enabled if you want to take a shot hands-free (e.g. a group shot).
Fresh off the Galaxy Note Pro 12.2 and Tab Pro 8.4, we expected the 8MP shooter of the Tab Pro 10.1 to be virtually identical. This wasn't the case, however. The level of fine detail is subpar, lost between noise reduction and jaggies. The white balance feels off and colors are a mix of over and under saturation.
Overall, a pretty disappointing camera - normally we wouldn't care (this is a tablet after all), but somehow this tablet's smaller sibling got the better camera.





Samsung Galaxy Tab Pro 10.1 camera samples
As a small consolation, the HDR mode did a great job of bringing in more detail in the highlights without ruining the contrast. The level of fine detail overall is still subpar though.
Photo quality comparison
The Samsung Galaxy Tab Pro 10.1 has an 8MP camera, but comparing it to other 8MP shooters from the Galaxy Pro family makes it pretty clear this is effectively a 5MP camera.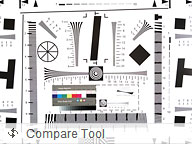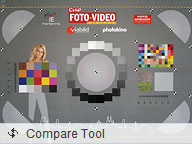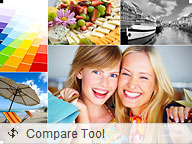 Samsung Galaxy Tab Pro 10.1 in our Photo Compare Tool
Redeeming 1080p video
Samsung Galaxy Tab Pro 10.1 shoots 1080p videos at 30 fps. It can't capture 2160p videos (unlike the Galaxy Note 3), even though it is powered by the almighty Snapdragon 800 chipset.
Anyway, the Tab Pro 10.1 stores videos in MP4 files with 17Mbps bitrate on average. Stereo audio is recorded at a bitrate of 128Kbps and 48kHz sampling rate. Those are the same basic numbers as the videos taken by the Samsung Galaxy S4 for instance.
The video camera doesn't have many fancy shooting modes like the still camera, but dual shot is available and you can do time-lapse videos. Those can speed things up to 8x, with resolution and frame rate remaining at 1080p @ 30fps.
Touch focus is available before and during video recording and you can switch back to continuous autofocus if you prefer. You can capture 6MP (16:9) photos during recording as well, their image quality seems decent too.
The camcorder washes off some of the disappointment from the still camera. It actually produces very good 1080p videos, with plenty of detail and no visible noise. Colors are still on the dull side, but the framerate is kept at a consistent 30fps for a smooth video.
Here goes a 1080p sample that we uploaded to YouTube.
You can also check out the untouched 1080p@30fps sample that we captured with the Galaxy Tab Pro 10.1.
Video quality comparison
While the still camera was no match for 8MP smartphone cameras, the video camera will give 1080p shooters a run for their money. We wouldn't rely on the Galaxy Tab 10.1 for still photos (unless we have absolutely no other electronic devices on us), but we'd shoot a video with it.