Pros and gones
Samsung Galaxy Tab Pro 10.1 review: Pros and gones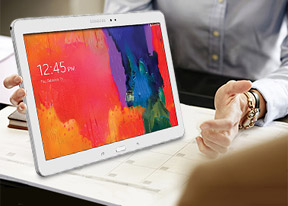 Only missing NFC
The Samsung Galaxy Tab Pro 10.1 can be had with either Wi-Fi only or LTE connectivity. The LTE model features quad-band GSM and 3G support with HSPDA up to 42Mbps. The LTE support covers six bands and is category 4, which means you get up to 150Mbps of downlink and up to 50Mbps of uplink speeds.
Both tablet versions feature Wi-Fi a/b/g/n/ac support, with 2.4GHz and 5GHz band compatibility. Wi-Fi Direct and DLNA support are also available as well as GPS and GLONASS receivers. Bluetooth 4.0 is also available for local data transfer.
There is a microSD card slot as well, on top of the 16/32GB of internal storage.
The Samsung Galaxy Tab Pro 10.1 also supports USB-on-the-go, but you will need to buy an additional adapter for that. The tablet can work with USB storage, USB mice and keyboards. Of course, you can always hook up a Bluetooth mouse or keyboard to the slate without relying on the cable connection.
You can also buy an MHL adapter and connect the tablet to your HDTV using a regular HDMI cable.
An IR blaster on the right of the tablet allows it to control TV's and other devices using the Samsung WatchON app.
The last piece of the connectivity puzzle, NFC, is missing as it is on all recent Samsung tablets. There's no FM radio (the Snapdragon 800 chipset does not support it), but that's less crucial than the NFC connectivity.
The Samsung AllShare feature is integrated with Samsung's default apps - the Video Player app, the Gallery, and the Music Player - and it allows you to wirelessly stream all sorts of multimedia content to your connected stereo or HDTV.
Thanks to AllShare you can also mirror your mobile device screen on the bigger HDTV via Wi-Fi Direct and the widely supported Miracast protocol - that would even allow you to play mobile games on the biggest screen in your living room. You don't need to have a Samsung TV for that to work, but it needs to have Wi-Fi connectivity and support Miracast.
Excellent web browsing experience
The Samsung Galaxy Tab Pro 10.1 comes with both the stock Android browser (customized by Samsung) and Google's Chrome, both supporting Multi-window.
The interfaces of both browsers are virtually identical. Tabs are kept in a bar on top, much like on a desktop browser, and the address bar and search bar are incorporated in a single field (with a voice input shortcut).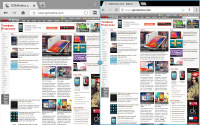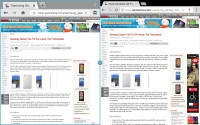 Browsing GSMArena.com on the Samsung Galaxy Tab Pro 10.1
Both browsers feature incognito tabs and request desktop view. Chrome has a Google-powered feature that syncs open tabs across devices that run Chrome, but Samsung has integrated a similar feature into the stock browser (this one goes through your Samsung account).
The new tab for each browser is centered around thumbnails of the sites you visit most often. Bookmarks are also viewed as thumbnails.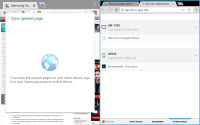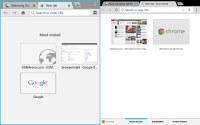 Tab syncing solutions • the new tab interface
Flash is no longer welcome as even the stock browser has dropped support for it.
Organizer and navigation
The Android calendar has been replaced with S Planner (as usual). It offers a good-looking and user friendly interface and does an excellent job of keeping your events organized. Multiple online calendars are supported and they can be color-coded for easier orientation.
Both the Wi-Fi-only and LTE versions of the Samsung Galaxy Tab Pro 10.1 come with a GPS receiver. A-GPS can speed this up quite a bit, but requires Internet access. Cell-ID and Wi-Fi positioning is another quick (but less accurate) option.
The Galaxy Tab Pro 10.1 comes with Google Maps and Google Maps Navigation. Google's voice-guided navigation app is a viable solution available in many markets. Not that there are easy ways to attach a 10.1" tablet to your car's interior but it's doable.
Even if you don't intend to do that, the tablet is still great for reviewing routes you can later navigate with your phone. Also, the public transit option and street view can be very useful on the go.