Design
Sony has historically put a lot of emphasis on its phone designs. Even going as far as to create design language guidelines, with names like "OmniBalance" and "Unified Design". You can read a short overview of that chapter of the company's history here.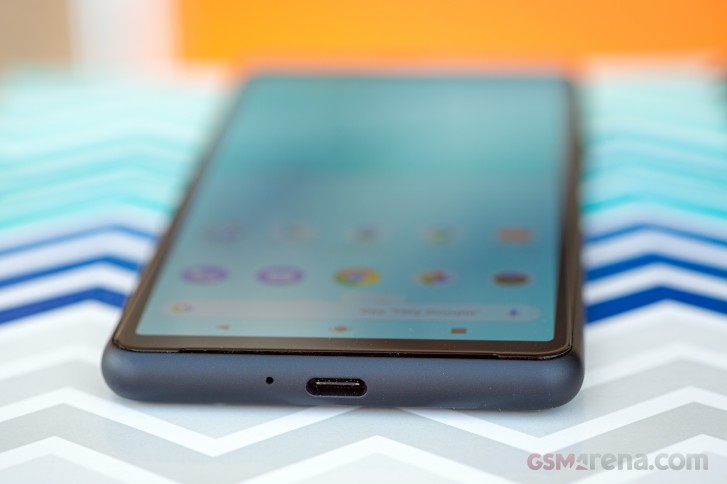 Since 2019 and phones like the Original Xperia 1 and Xperia 10, Sony has consistently maintained yet another one of its distinctive and recognizable looks. No fancy design language name this time around, but a clear continuity in the retro, yet modern, extra tall and skinny look.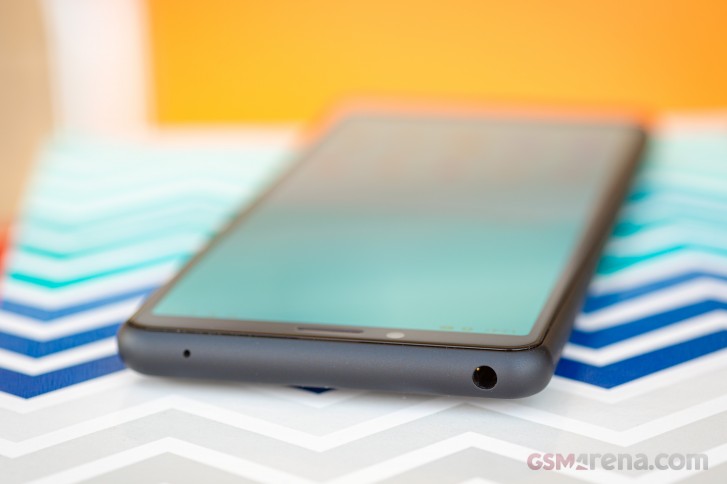 In an age of curvy, edge-less panels and punch-hole cameras, the Xperia 10 II provides a retro-inspired alternative - flat glass on both sides and plenty of bezels. For some, this will surely be too old-school, yet others can easily appreciate some of the ergonomic and functional benefits of such a design. The phone's narrow 69mm body makes for a comfortable grip and easy reaching.
As for the sizeable bottom and top chins on the front - one is great for thumb-resting and keeping the bottom of the UI at a comfortable height, while the other allows for such nice creature-comforts like the dedicated white notification LED in the top right corner.
Disappointingly, however, despite the extra room on top of the display, there is no second speaker, and the earpiece is not part of a hybrid stereo setup. You only get a single loudspeaker in the bottom grill.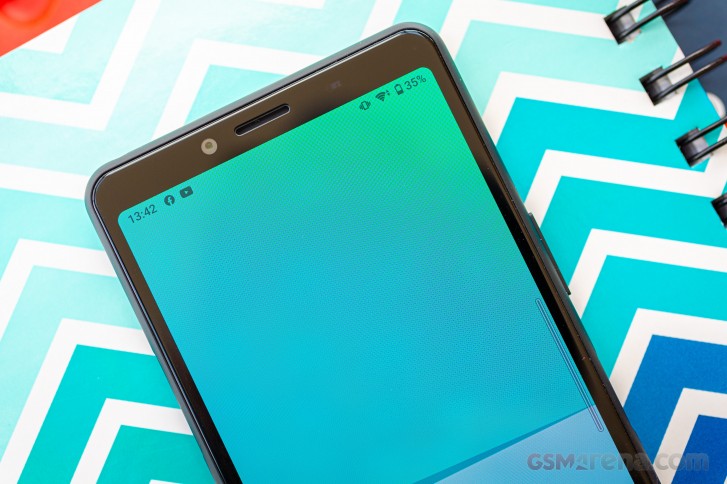 Despite our initial instinct to simply label the Xperia 10 II as a carbon design copy, or at least, very close match to some of the company's older handsets, it manages to offer a spin of its own on the shared aesthetic.
In place of the big, flat metal sides of the Xperia 1 II, it gets a curvy plastic middle frame, which isn't trying to pull off any trickeries to pass as something else. Also gone is the unibody design of the original Xperia 10. Also absent from that original 21:9 Xperia design - the lack of a bottom chin on the front, which used to bring the UI down to uncomfortable levels. Taking all of these details into consideration, the Xperia 5, from last year, might just be the closest design sibling to the new Xperia 10 II, thus far.
Controls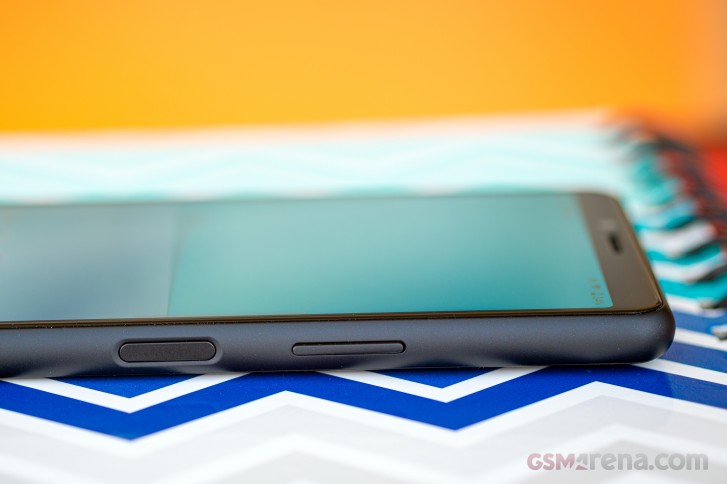 There is plenty to love about the Xperia 10 II controls. Having the power key and fingerprint reader together is great.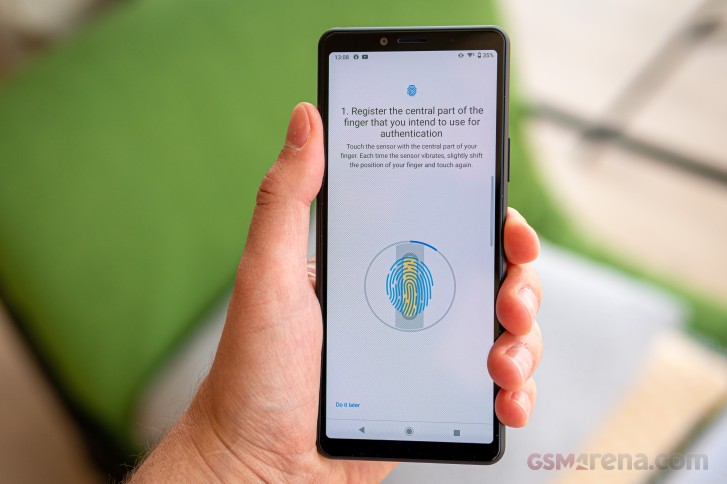 The power button/fingerprint reader combo on the Xperia 10 II is positioned at the perfect height and is very accurate and nearly instantaneous. Also, the module is always-on, so you don't even have to press down on the key if you don't feel like it. No trendy in-display reader, but perfect marks all around for the side-mounted solution on the Xperia 10 II.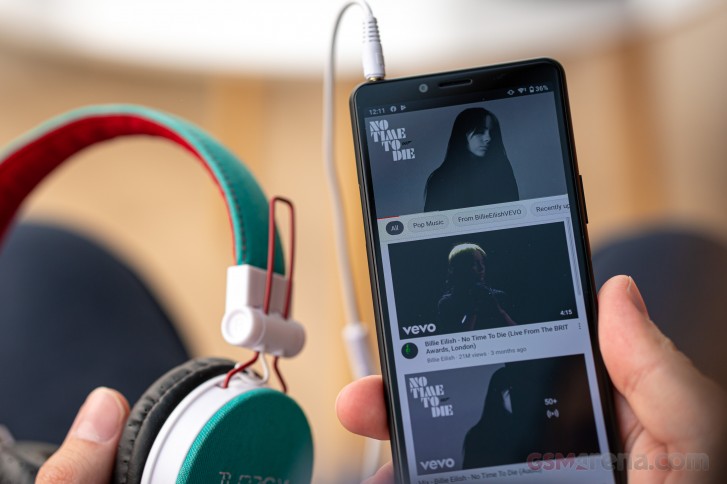 Sony has mostly had a stellar track record when it comes to preserving the 3.5mm audio jack. With the notable exception of the original Xperia 1, that is. Thankfully, the Japanese giant hears its fans loud and clear and the trusty old jack is alive and well on the Xperia 10 II. Just like it was on the original Xperia 10.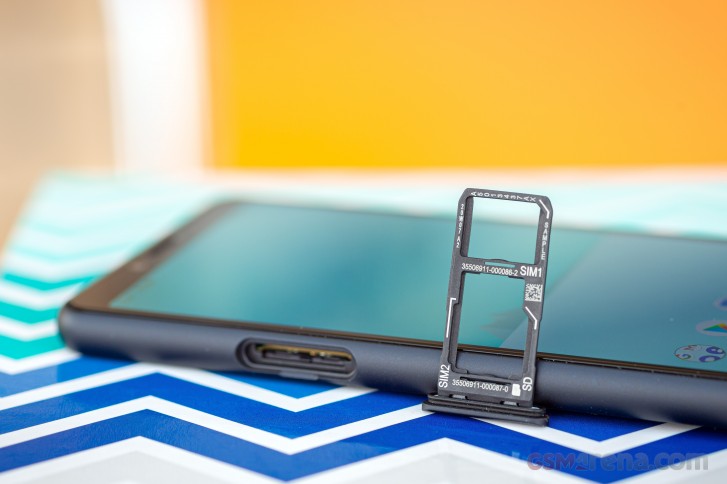 Fans are also bound to appreciate the inclusion of a microSD card slot. It shares a space with the second Nano SIM card on the tray in a hybrid setup.
Build quality
Name-brand mid-range models, rocking a certified ingress protection rating are hard to come by nowadays. In a new move for the Xperia 10 line, the Xperia 10 II has passed IP68 tests, guaranteeing survivability after one, up-to 30-minute dip in no more than 1.5 meters of fresh water. As a bonus, just like its bigger brother, this year the Xperia 10 II has also passed IPX5 tests, which should give it a chance to not only survive an unexpected dip, but also water jets. We're not sure whether most other manufacturers don't run IPX5 test or simply don't advertise them. Either way, we can't fail to mention the IP65/IP68 rating on the Xperia 10 II - a rare sight in this price segment and potentially a major draw for some prospective buyers.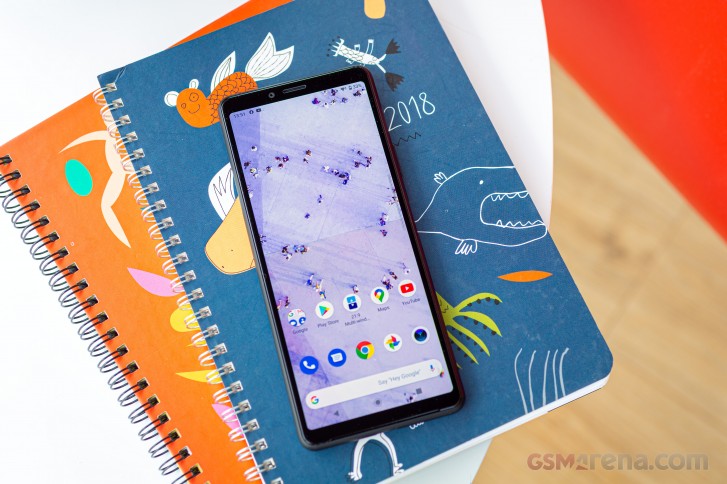 We've said it before, and we'll say it again - there is nothing intrinsically wrong with using plastic on a phone, even in 2020. It is both light and durable in its own way. It doesn't scratch or dent in the same nasty fashion as metal. Plus, the Xperia 10 II owns up to it fully, without trying to hide it underneath fancy paint, which we can respect.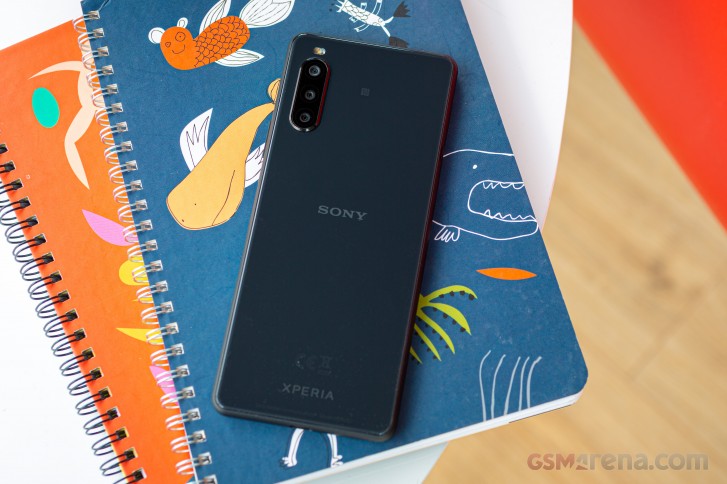 Gorilla Glass 6 on both the front and back of the phone is another respectable trait. However, we can't fail to note that the back of the Xperia 10 II has a very hollow feel to it. The backglass has some give, and you can indent it a bit with your finger before bumping-up against what, according to this disassembly video is the battery. This is not necessarily a sign of structural weakness, though, in fact it can even provide some flexibility of the design.
As a whole, the Xperia 10 II feels well put together and solid. Its narrow profile makes it very easy to grip, maneuver, and reach around, and it fits snugly in hand. At 6-inches and with a 21:9 aspect ratio, it is also a surprisingly compact phone. More surprising, still, is its weight. 151 grams is on the light side of smartphones this year. However, it's the extra tall form factor, and the weight distribution that it brings about that makes for a light in-hand feel.