Final words
The ZTE Blade S6 is definitely an eye-catcher but the iPhone looks may be doing it more harm than favors at some markets. Apple is a natural target for replicas - there are blatant copycats and then there are phones like the Blade S6, which manage to retain an identity if their own. Still, brands like ZTE and Lenovo don't have to go there to get noticed.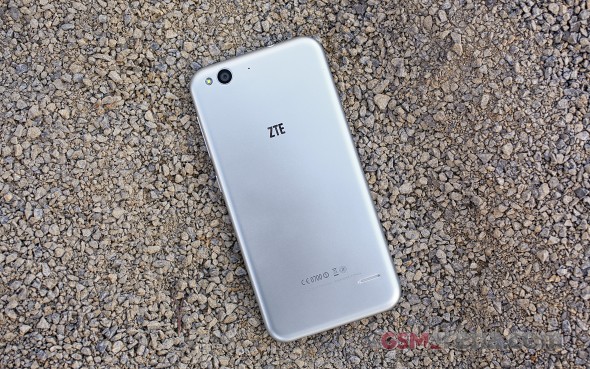 The exterior may be inspired by Apple, but using the phone is a genuine Android experience and that appears to be ZTE's intention. With bright blue buttons and a slick and colorful Android Lollipop interface, ZTE has created a reasonably-priced phone that looks good and also breezes through every-day tasks.
There is nothing really too fancy about the device, but that is definitely not a bad thing, as a true assistant really needs to blend in rather than stand out and the Blade S6 fits the bill perfectly. Well, if you don't mind it declaring it was "designed in California".
This is not to say that the phone is free of fault. Despite being based on upper-midrange hardware it seems to be outperformed by a couple of equally equipped rivals. ZTE might have skipped on some optimization and development time and we can't help but feel the phone could have performed even better with a few tweaks here and there. A few applications also need a total overhaul, especially the camera to make for a more unified and fluent user experience.
As a whole, the ZTE Blade S6 has a lot of potential and offers an impressive package for a price tag of $250, but it leaves the impression that there is still a lot to be refined.
ZTE Blade S6 key test findings:
Great design, but certainly not original; materials and execution could have been better.
The HD display is good, but colors are a little washed out and the finish is a little too glossy.
The display looks fairly sharp indoors, but contrast and sunlight legibility are quite poor. Colors are a little washed out as well.
Battery life is adequate, but only average (51h rating). Will get you through a full day easily though.
The preloaded ZTE launcher is nice and clean with a lot of stock Lollipop elements and flat design.
Performance is very good, especially for the price range. Equally spec'd alternatives tend to perform better in some areas, some further optimization may go a long way.
The speaker is fairly loud, but positioning is a little odd and it could get covered easily.
Video player handles all video and audio codecs, save for AC3 sound and subtitles.
The proprietary gallery and music apps have a lot of advanced features. The phone is packed with applications out of the box, including some made exclusively by ZTE.
Audio output quality is superb.
Camera interface is confusing. Image quality is generally ok, but occasionally, photos have blurry areas, could be a lens issue. HDR mode is unusable, overexposing every shot outdoors.
1080p videos turn out ok, but auto focus tends to hunt more aggressively.
The midrange market is becoming extremely competitive with major players doing all they can to offer as much screen estate, resolution and processing power in a budget-friendly package. The ZTE Blade S6 does have one of the attractive spec sheets in its price bracket. Android 5.0 Lollipop is the definite highlight and it comes with reasonable performance and solid imaging and connectivity credentials. But as we already said, it doesn't always live up to them. Let's check out some of the closest rivals in term of hardware.
The HTC Desire 820 is powered by the same Qualcomm MSM8939 Snapdragon 615 SoC only with a lower clock speed on four of its A53 cores, 1.5GHz as opposed to the Blade's 1.7GHz. GPU and RAM are the same. Yet the Desire managed to outperform the Blade S6 in a lot of our tests. The screen couldn't be the culprit, as the HTC also has a 720p HD screen, just a little bit bigger at 5.5-inches. Maybe the Blade S6's chipset and Android 5.0 are just not a perfect match.
It is important that the Desire 820 is a good $100 more expensive than the ZTE. For the extra cash you get a better front-facing camera at 8MP as well as a pair of front-facing speakers. Another important note is that LTE coverage is way better on the HTC. The Blade can potentially be having trouble with certain US networks, while the Desire 820 should be perfectly OK on any LTE network in the world.
Another notable device with the same basic hardware is the super-slim Oppo R5. We are way out of the price bracket with this one, but it is powered by the same Qualcomm silicon. It offers a much more premium experience, including build quality and finish as well as an improved Full HD AMOLED display. It is by no means an economical choice and you can probably find better hardware at its price tag.
Lenovo has and equally spec'd device coming out soon as well, but again it should be in an entirely different league, pricewise.
Now let's take a look at what else there is in ZTE's price range. First up is the Motorola Moto G (2014). It costs about as much as the Blade S6 (can even be found for as little as $200), with a dual-SIM version, available as well. Despite its humble appearance and less impressive spec sheet (based around an S400 chipset), the small Moto packs quite a punch (save for the camera) and is a solid performer. The Moto G also offers a stock Android experience, second only to that offered by the Nexus devices.
Another new contender in the budget price bracket is the Acer Liquid Jade S. It costs roughly the same as the Blade S6, perhaps even $10 to $15 less and offers a Mediatek MT6572M SoC with eight Cortex A53 cores, clocked at 1.5 GHz. This might be a little slower that the Snapdragon 615 in multi-core performance, but single-core all but balances things out.
The Liquid Jade S is equipped with a Mali-T760MP2 GPU, which is arguably a little better than the Adreno 405. Other specs are mostly the same: 2GB of RAM, a 13MP main and a 5MP front-facing camera and both are LTE-enabled Dual-SIM handsets.
The Sony Xperia C3 is Sony's first attempt at a selfie-centered phone. Its hardware is very similar to Moto G's (2014), but it comes with a slightly bigger 5.5-inch 720p display. This, coupled with a spectacular endurance rating of 91 hours, makes the C3 a formidable rival to the ZTE Blade S6.
The Lenovo S90 Sisley is a natural pick here, powered by a less powerful but equally new Snapdragon 410 chipset. The second-biggest difference is a higher-res selfie cam on the Sisley. The rest is pretty much on par - an LTE-enabled Dual-SIM 720p five-incher. iPhone 6 clones, both of them.
Going by specs alone, the ZTE Bade S6 is more than a solid choice in the price range. The Dual-SIM support combined with LTE and Lollipop do work in its favor and ZTE seems to think there can't be right and wrong reasons to get the Blade S6. They are certainly aware that brand recognition isn't their strongest asset and they tried to do something about it. They just could've done better than simply copying Apple.
If you don't mind that, the ZTE Blade S6 has the potential to make it quite far given proper backing from your carrier. So keep an eye out for it.