Performance
The ZTE Blade S6 sports the Qualcomm MSM8939 Snapdragon 615 chipset equipped with four Cortex-A53 cores, clocked at 1.7 GHz and another four at 1.0 GHz. It is backed up by 2GB of RAM and comes with 16 GB of onboard storage, which is extendible through a microSD card. The accompanying GPU is the modest Adreno 405.
This particular hardware setup is quite good, especially for a sub $300 phone. It does not seems to be particularly popular, with only a few other adopters, like the Oppo R5, HTC Desire 820 and soon the Lenovo Vibe X2 Pro. It does, however offer an impressive price to performance ration and brings current technologies and standards in a budget package.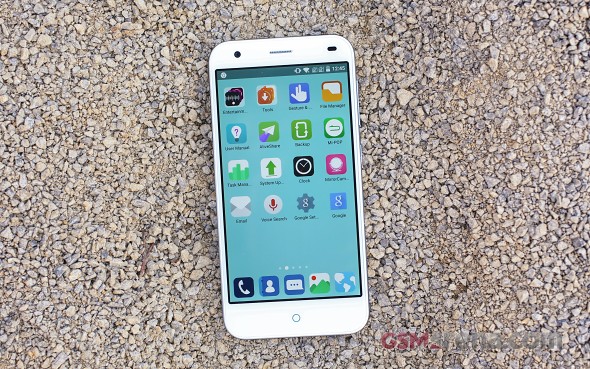 The Snapdragon 615 offers a quite capable octa-core CPU setup which might not be up to par with the advanced features of the recent 800 series Qualcomm chips, but is nonetheless, the top offering from the 600 series. It has 64-bit support, which is a must, given Android's recent move towards the generally better-performing architecture, so it is pretty much an investment in the future.
The Adreno 405 will also happily handle most current graphics-intense game you can throw at it and comes fully equipped to handle LTE ant Cat. 4 speeds of up to 150 Mbps. Few budget-friendly devices can boast such an impressive package, but let's look at benchmark scores and let the numbers speak about the internals of the Blade S6.
First up, we have the raw CPU performance test with GeekBench 3, so things should be pretty straight-forward in this department. Unsurprisingly, the Xiaomi Mi 4, the Samsung Galaxy S5 and the Huawei Honor 5 steal the show with their Snapdragon 801 and HiSilicon Kirin 920, respectively. Interestingly enough, the HTC Desire 820 outperforms the Blade significantly, despite having much the same hardware and so does the Oppo R5. This might be due to some optimization issues with Android Lollipop, but overall, it seems ZTE could have done a better job optimizing the otherwise capable hardware.
This however does not meant that the Blade S6 is not doing well, especially in its own price gap, where the Sony Xperia C3 and Motorola Moto G (2014) are lacking behind in number-crunching capabilities.
GeekBench 3
Higher is better
Xiaomi Mi 4
3175
Huawei Honor 6
3135
Samsung Galaxy S5 (5.0)
3120
Samsung Galaxy S5 (4.4.2)
3011
Oppo R5
2806
HTC Desire 820
2586
HTC Desire 616
2125
ZTE Blade S6
2086
Samsung Galaxy A5
1460
Lenovo S90 Sisley
1377
Sony Xperia C3 Dual
1181
Motorola Moto G (2014)
1171
Antutu 5, however is a whole different story. In it the Blade S6 shows a significantly higher score and takes its rightful place among the Oppo R5 and HTC Desire 820.
Keeping this in mind, the previous underwhelming GeekBench results might be an app-specific issue as all other benchmarks do the Snapdragon 615 justice.
AnTuTu 5
Higher is better
Samsung Galaxy S5 (5.0)
45348
Samsung Galaxy S5 (4.4.2)
43164
Oppo R5
31417
ZTE Blade S6
27198
HTC Desire 820
27070
Samsung Galaxy A5
21581
Lenovo S90 Sisley
19690
Sony Xperia C3 Dual
18466
Motorola Moto G (2014)
18245
Advancing further to the slightly broader Basemark OS II test, we see much the same. The overall score places the ZTE Blade S6 around the middle of the table with only slight deviations from its direct competitors. Interestingly enough, its single-core performance is quite impressive, even surpassing the Oppo R5.
Basemark OS II
Higher is better
Xiaomi Mi 4
1324
Samsung Galaxy S5 (5.0)
1147
Samsung Galaxy S5 (4.4.2)
1082
Oppo R5
772
ZTE Blade S6
741
HTC Desire 820
725
Samsung Galaxy A5
555
Motorola Moto G (2014)
526
Lenovo S90 Sisley
513
Sony Xperia C3 Dual
466
HTC Desire 616
378
The Blade S6 did get rather hot during testing and a lot of the performance drops might be due to throttling, which might explain the slightly lower-than-expected scores.
Single core performance on the other hand king of disproves this hypothesis, as the phone did a lot better, so the only culprit seems to be Android 5.0. After all, it is only natural that the new ART virtual machine and the enormous amount of changes in APIs and behavior result in some difference in benchmarking applications. This might be the reason behind some of the odd scores.
Basemark OS II (single-core)
Higher is better
Xiaomi Mi 4
2573
Samsung Galaxy S5 (5.0)
2510
Samsung Galaxy S5 (4.4.2)
2415
HTC Desire 820
1812
ZTE Blade S6
1721
Oppo R5
1657
HTC Desire 616
1533
Samsung Galaxy A5
1217
Sony Xperia C3 Dual
1203
Lenovo S90 Sisley
1187
Motorola Moto G (2014)
1123
Basemark OS II (multi-core)
Higher is better
HTC Desire 616
12986
Samsung Galaxy S5 (4.4.2)
10063
Oppo R5
10000
Samsung Galaxy S5 (5.0)
9646
Xiaomi Mi 4
9508
HTC Desire 820
8453
ZTE Blade S6
6064
Sony Xperia C3 Dual
5234
Motorola Moto G (2014)
5001
Samsung Galaxy A5
4880
Lenovo S90 Sisley
4208
As already mentioned, the ZTE Blade S6 comes equipped with an Adreno 405 GPU which delivers decent performance at a budget price. Looking at the graphics tests, everything looks nice and straightforward. The device puts out almost identical frame rates to the Desire 820 and Oppo R5, which share its GPU, just as expected. Onscreen performance on the Oppo is around half of the other two, which is also absolutely in line with the fact that it has a Full HD screen, whereas the others offer only HD resolutions.
Unsurprisingly, the Galaxy S5 and Xiaomi Mi4 dwarf the Blade with their Adreno 330 GPU, but interestingly enough, looking at other offers from the sub $300 range it seems that the ZTE easily surpasses the competition in both onscreen and offscreen performance. All and all, the Adreno 405 is a rare find on a sub-$300 device, which deserves an honorable mention.
GFX 2.7 T-Rex (1080p offscreen)
Higher is better
Samsung Galaxy S5 (4.4.2)
27.8
Xiaomi Mi 4
27.6
Samsung Galaxy S5 (5.0)
27
Oppo R5
15.1
ZTE Blade S6
15
HTC Desire 820
15
HTC Desire 616
8.7
Motorola Moto G (2014)
5.8
Sony Xperia C3 Dual
5.8
Lenovo S90 Sisley
5.4
Samsung Galaxy A5
5.3
GFX 2.7 T-Rex (onscreen)
Higher is better
Xiaomi Mi 4
28.2
Samsung Galaxy S5 (4.4.2)
28.1
Samsung Galaxy S5 (5.0)
28
HTC Desire 820
26
ZTE Blade S6
24
Oppo R5
14.8
HTC Desire 616
13.4
Sony Xperia C3 Dual
11
Motorola Moto G (2014)
10.8
Samsung Galaxy A5
9.6
Lenovo S90 Sisley
9.3
GFX 3.0 Manhattan (1080p offscreen)
Higher is better
Samsung Galaxy S5 (5.0)
12
Samsung Galaxy S5 (4.4.2)
11.8
Xiaomi Mi 4
11.6
ZTE Blade S6
5.8
Oppo R5
5.8
HTC Desire 820
5.7
Lenovo S90 Sisley
1.8
Samsung Galaxy A5
1.8
GFX 3.0 Manhattan (onscreen)
Higher is better
HTC Desire 820
12
Samsung Galaxy S5 (5.0)
12
Samsung Galaxy S5 (4.4.2)
11.7
Xiaomi Mi 4
11.3
ZTE Blade S6
11
Oppo R5
5.8
Motorola Moto G (2014)
4.1
Sony Xperia C3 Dual
4
Lenovo S90 Sisley
3.9
Samsung Galaxy A5
3.9
The ZTE Blade S6 punches well above its league in terms of browser performance. It pretty much towers above the competition, with the notable exception of the Oppo R5. It however has Chrome as its default browser, which might just give it the extra edge. The Blade S6 also has Google's browser preloaded, but uses the Android one by default, so testing was done using it.
Kraken 1.1
Lower is better
Samsung Galaxy S5 (5.0)
5968
Samsung Galaxy S5 (4.4.2)
6043
Xiaomi Mi 4
6137
Oppo R5
11656
ZTE Blade S6
12865
Samsung Galaxy A5
13083
HTC Desire 820
13568
Lenovo S90 Sisley
14488
Sony Xperia C3 Dual
15737
Motorola Moto G (2014)
15988
HTC Desire 616
16953
BrowserMark 2.1
Higher is better
Samsung Galaxy S5 (5.0)
2066
Samsung Galaxy S5 (4.4.2)
1398
Oppo R5
1319
ZTE Blade S6
1271
Samsung Galaxy A5
1171
Motorola Moto G (2014)
1085
Lenovo S90 Sisley
1076
HTC Desire 820
991
Xiaomi Mi 4
744
HTC Desire 616
683
Performance-wise the ZTE Blade S6 is definitely a neck above its competition. It packs quite the punch for a $250 phone and is almost without competition as far as price to performance is concerned. While the device has its shortcomings, performance is definitely not one of them.
Equipped with a 64-bit octa-core Snapdragon 615 CPU and 2GB of RAM, it is more than safe for any android update in the foreseeable future. And if having Lollipop out-of-the box is any representation of ZTE's Future support plans, then it should be able to stay relevant on the market for quite some time.