Good camera with weird software
The ZTE Blade S6 features a 13MP camera with a single LED flash and a maximum resolution of 4128 x 3096 pixels in 4:3 mode. It can also shoot in 16:9, but photos are cropped to 4096 x 2304 pixels.
The front-facing shooter is nothing really impressive at 5MP, but gets the job done. It does go all the way up to 1080p in terms of video resolution and pictures come out fairly clear. The Blade S6 is rather surprisingly poor on selfie features and gesture controls that have become so popular lately. The front camera only has two options to pick from. Beauty face, which smooths out colors and, but not in a particularly natural way and also smile detection, which was hit and miss for most of the time during or tests.
The user interface of the S6's camera app is confusing to say the least. It seems ZTE has decided to apply its simple basic features with more options hidden away ideology here too, but might have taken things a bit too far. If you are content with just aiming the phone and shooting on auto, with an occasional panorama or HDR, then the so called "simple mode" will be all you even need.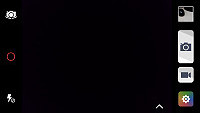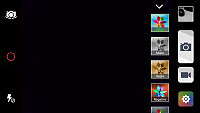 Simple mode is clean with only a few buttons and a filter option
If, however, you wish to tinker with some more advanced settings, they are all there, but hidden away in the expert mode. Switching to it definitely requires an inside tip. Honestly, we almost missed it during our testing and it was completely by chance that we decided to press an ambiguous red circle positioned on the left hand side of the interface.
Once tapped, it goes blue and spawns a toast notification informing you that you are among the select few who have stumbled upon the secret. Expert mode changes almost every app menu completely. Most notably, it displays toggles for the level meter, screen guidelines and allows for fine tuning of ISO, exposure and white balance.
It also swaps out the settings menu with one that actually lets you adjust the resolution of your photos and features like geotagging. A nasty consequence is that in expert mode you can no longer reach the special shooting modes or the image filters, so it's definitely a tradeoff. On the plus side camera options are plentiful.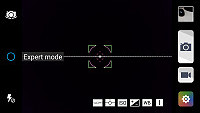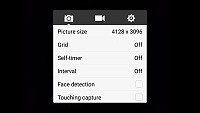 Expert mode offers a lot more options
The Blade S6 comes with a few special shooting modes. There are, of course, Normal and Auto, but also Panorama, Beauty, Smile, Photo clear, Group and Straighten. Most are self-explanatory. Photo clear is used for fast-moving objects and Group takes a few quick snaps and stiches them together for the best possible group shots. Straighten allows you to straighten images horizontally.
The Blade S6 does come with an HDR option, bet there appears to be a significant software bug with it, as despite our best effort, the phone failed to shoot a nice-looking HDR image, but more on that later.
Capture quality on the ZTE Blade S6 is far from spectacular. Most photos came out quite noisy. Even worse, quite often the exposure and the colors were off, too.
Many of our test samples came out with a part of the image blurry, which suggests a lens-specific issue on our review unit. Surprisingly, the rest of the samples were just fine with excellent edge-to-edge sharpness.
At times, the camera app froze on us when attempting to capture consecutive shots quickly. We guess, you would be better off using a third-party camera app. Coincidentally or not, ZTE has preloaded the phone with Camera360, which is definitely a solid alternative.
The 5MP front-facing camera produced a nice looking photo.
The Blade S6 managed to get close to subjects and offers detailed macro images. Quality is pretty good but manual focus seems to be playing a trick or two to the background.
Each manufacturer has their own way of dealing with HDR photography. High dynamic range shots aim to expose both the highlights and the shadows of a scene correctly.
The ZTE snaps multiple images with different exposures and merges them to create its HDR shots - but that's on paper. As already mentioned, the Blade S6 suffers from what we presume is a software bug which renders HDR all but useless. When shooting outside, it was only able to produce extremely over-exposed all-white snaps. We had better luck indoors, but the HDR effect is too extreme for our liking.
We also tried out other camera applications, hoping that the default camera app was to blame, but it seems that the low-level software of the camera is the culprit. In any case it should be fixable fairly easy, so ZTE just needs to act on the problem and while they're at it, perhaps give the camera UI a much-needed reorganizing.
The ZTE Blade S6 can shoot panoramas in both portrait and landscape mode. Shooting one is easy and straightfoward. Results are also very pleasant with almost no noticeable stitching or any other artifacts.
Naturally, we shot our test posters with the Blade S6 and here's how it fared, compared against the Samsung Galaxy A5 and the HTC Desire 820. Of course, our tool allows you to compare it against any other smartphone that we've shot with.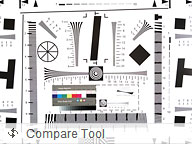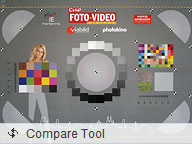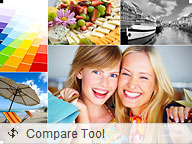 ZTE Blade S6 in our photo compare tool
1080p video is fine, but nothing spectacular
The ZTE Blade S6 can record 1080p videos at around 30fps. There is also a High Frame Rate option as well as Time lapse.
There's not a whole lot you can adjust in terms of video settings. Actually the options only go as far as resolution and toggling the two aforementioned special modes. The Blade S6 also offers the option to shoot video in HDR mode, but the final result is indistinguishable from a normal video so perhaps it's again the camera software to blame.
1080p videos taken with the ZTE look good, but are not spectacular in any way. The level of resolved detail is ok, the white balance and colors are fine too. The videos look smooth with a framerate of about 29-30fps. Edge-to-edge sharpness is good, too.
Videos have a bitrate of 20Mbps and their stereo audio track in encoded in 96Kbps 2 channel AAC.
The video camera auto focus kept hunting which got annoying at times. High framerate videos are captured at 720p resolution, which is fine, but despite our best efforts, we could not get the Blade S6 to focus properly in this mode.
Below you can find the 1080p video sample along with a video sample shot with HFR enabled.
You can also download an untouched 1080p video sample - 0:10s, 26.3MB.
And finally, you can check out our video comparison tool to see how the 1080p videos compare in resolution, color rendition and more to any of the numerous phones and tablets we've tested.