Web browser
The ZTE Blade S6 comes with its own version of the stock Android browser, as well as Google's Chrome browser and the relatively popular UC Mini browser.
The stock browser packs the usual features: Incognito tabs, Bookmarks, Find in page and Desktop view. There is no Flash support. Pages can be saved locally to read offline, but videos cannot. There is nothing really extraordinary to see here.
Google Chrome is becoming the most popular mobile browser and should be fairly familiar. It has some advantages over its vanilla-flavored buddy, including switching between tabs from the Lollipop's Task Switcher interface.
Thanks to your Google account, Chrome can sync the tabs you have open on other devices (desktops, tablets) with the phone. This feature also syncs your bookmarks and favorite sites and can remember passwords and login data across different platforms.
Other pre-installed apps
ZTE has crammed a lot of software into the Blade S6 out of the box. A lot of it, as already mentioned, is stock Android, like the dialer, contacts, calendar, alarm and others, but there are a few third-party apps on board. Some even appear to be designed specifically for the S6.
An example of this is the ZTE-exclusive AliveShare social networking app. Once launched, it presents a simple and tidy interface, which allows you to connect to other app users and partake in all sorts of mutual activities.
It is quite an interesting concept actually. You can create groups of users both locally, if you are on the same network, or over an internet connection. Once gathered in a group, users can easily share files with each other, chat, and even play supported multiplayer games.
Another interesting feature within the app is the ability to easily migrate your things from one phone to another with a single click. All and all, the AliveShare application offers an intriguing array of features, especially if you know a lot of people who use ZTE Android smartphones.
Rather oddly, ZTE has also included another dedicated Backup and Restore app with mostly the same features as mentioned above. It can migrate your contacts and application data across phones quite easily.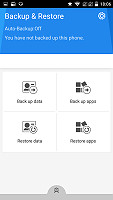 Dedicated Backup and Restore app
Another quite interesting app found on the Blade S6 is Mi-POP. Launching it places a bubble with quick access controls, which stays present hovering on the screen across the entire phone's interface. It is quite convenient for one-handed operation and offers a lot of customization options.
By default clicking the bubble once acts like a Back button, but it can also be set to mimic a press on a home button. Holding it down reveals a few buttons for quick access to stuff like locking the screen, muting and powering off the device.
Holding and swiping the bubble brings out three more controls for even quicker access to the navigation controls without having to reach for the physical buttons at the bottom of the device.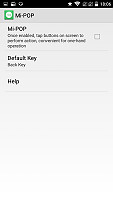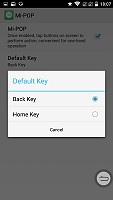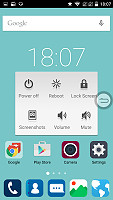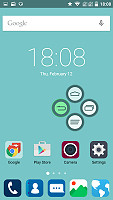 Mi-POP application is very convenient for one-handed operation
The ZTE Blade S6 comes with a fairly advanced task manager. It allows you to easily manage active processes as well as get a comprehensive view of system resources and their current usage. There is a shortcut to close all active apps for quickly clearing up the memory.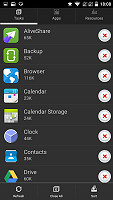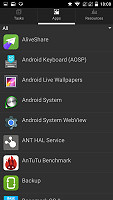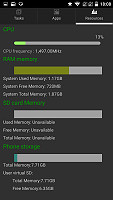 Task manager app is quite comprehensive
The clock app is taken straight from stock Android Lollipop and definitely looks nice. The clean flat design with nice solid colors really creates a classy, refined feeling.
The Calculator also looks nice with big round buttons. So do other productivity apps, like the Calendar and NotePad. They even share most of their color scheme, but again their look and feel is more retro, HOLO-style, than modern Material Lollipop.
In terms of handling documents the ZTE Blade S6 comes equipped with WPS Office. It is not the most popular office application out there, but is fairly capable and can easily handle Word, Excel, PowerPoint as well as PDF's, so it's an all-in-one solution.
The phone comes with a very intuitive file manager. It automatically groups things according to type, but also allows traditional folder browsing, as well as searching.
Google Maps is the default navigation app, but it's most useful when used while you are online. It allows you to download offline maps of an area and even plan routes without a data connection but you can't search for addresses or POIs without an internet connection.
Once online, it can plan driving, public transport, cycling and walking routes. It can also display pretty accurate traffic alerts as well (though it doesn't always take them into account when routing you).
Another great support tool available on all Android smartphones is the Android Device Manager. It's available for all Android devices linked to your Google account. It can help you find your misplaced ZTE by making it ring or showing you its location on a map. If it's stolen, you also have the option to lock the device and even wipe all data. You need to enable this option on the device however.
And finally, Google's Play Store hardly needs any description. It the biggest catalog of apps and also features movies, TV, music and even devices but device availability is region-dependent.
Opening the store brings you highlighted apps based on recommendations and your usage. Different categories and app rankings will make app discovery easier.