Full throttle
ASUS Transformer Pad TF701T review: Full throttle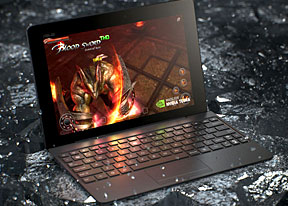 Phonebook
The Phonebook is the stock Android app, which has undergone a cosmetic surgery from ASUS to look the part on a 10.1" tablet.
It's made up of three tabs that you can switch between with side-swipes. The first tab is the default one, listing all of your contacts. Contacts are listed with a name and a picture to the right. They can be sorted by first or last name, and viewed as first name or last name first.
There's a permanent scroll bar available that you can grab and jump straight to contacts starting with a certain letter. There's regular search as you type too.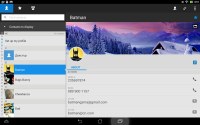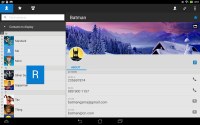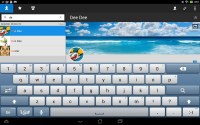 The phonebook • Alphabet scroll • Searching for a contact
Since the landscape view of the Transformer Pad offers a lot of space, the quick contacts feature is kind of redundant. Tapping on a contact displays its details on the right pane, that takes 2/3 of the screen. The tabs are phone and email with a list of the available numbers or addresses. These tabs can be navigated with sideways swipes as well.
The single contact view displays the contact's name along with a star to favorite a contact and a Settings button that lets you edit, share or delete a contact, as well assign custom ringtones to them or set the phone to redirect calls from that contact straight to voice mail.
Under that is a list of all contact info sorted by category - phone numbers, emails, events, notes and so on.
While editing a contact, you can add new fields of different types to fill in more info for the contact. You can link contacts too, if you've added the same person on multiple services.
The contacts that the phonebook displays can be filtered by service (e.g. hide all Facebook contacts) and even group (so you can hide all contacts that don't belong in a group, for example).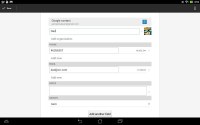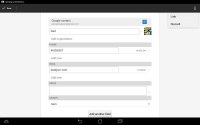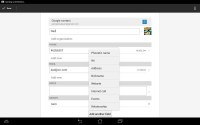 Editing a contact • Joining contacts • Adding an extra field
The other two major tabs in the phonebook are Groups and Favorites. Groups are listed by service (e.g. your Gmail account), while favorites are a listed as a grid of large contact photos, which is readily thumbable.
Speakerphone loudness
We put the Transformer Pad through our traditional loudspeaker test and it earned a Below average score. Despite ASUS boasting its SonicMaster technology that it feature in its single speaker on the Transformer Pad, it's not the loudest around.
You can find out more about the test here.
| | | | | |
| --- | --- | --- | --- | --- |
| Speakerphone test | Voice, dB | Pink noise/ Music, dB | Ringing phone, dB | Overal score |
| Amazon Kindle Fire | 66.6 | 63.7 | 66.9 | Below Average |
| Apple iPhone 5 | 66.8 | 66.1 | 67.7 | Below Average |
| Microsoft Surface RT | 61.7 | 60.2 | 64.2 | Below Average |
| Sony Xperia Tablet Z | 66.0 | 64.6 | 70.1 | Below average |
| ASUS Transformer Pad TF701T | 59.3 | 64.6 | 67 | Below Average |
| Google Nexus 10 | 68.3 | 66.1 | 67.8 | Average |
| LG G Pad 8.3 | 66.9 | 66.6 | 75.7 | Good |
| Asus Google Nexus 7 | 68.6 | 65.9 | 75.8 | Good |
| Samsung Note II N7100 | 70.0 | 66.6 | 80.5 | Good |
| Apple iPad mini | 68.2 | 65.7 | 75.7 | Good |
| Apple iPad 4 | 67.2 | 66.1 | 75.9 | Good |
| Samsung Galaxy Note 3 | 70.5 | 66.6 | 78.0 | Good |
| Samsung Galaxy Note 10.1 2014 | 75.7 | 66.6 | 77.2 | Very Good |
| LG Optimus G | 74.6 | 71.3 | 82.7 | Excellent |
Email and messaging
The Gmail app offers a split-screen interface similar to that of the People app. You can add multiple Gmail accounts, but there's no combined inbox.
Along the top, there're shortcuts to compose, search or refresh, along with a contextual menu. The top menu changes when you have multiple emails selected, allowing you to perform batch operations such as archive, delete, create labels, or mark as read/unread.
A cool feature in Gmail is that you can swipe left or right to move between messages in your inbox.
There is also a generic email app for all your other email accounts and it can handle multiple POP or IMAP inboxes. You have access to the messages in the original folders that are created online, side by side with the standard local ones such as inbox, drafts and sent items.
Unlike its Gmail counterpart, this app supports a combined inbox view. It color codes the inboxes so you can easily tell where each message came from. Unfortunately, there's no moving between messages with sideways swipes here.
Text input
Android 4.2 Jelly Bean on the Transformer Pad tablet comes with a ASUS customized looking Android keyboard. It's quite wide in landscape mode, so you might want to switch to portrait. This makes it much more manageable as you can actually reach the middle buttons with your thumbs.
Another option is to enable the so-called gesture typing and use only one hand for input. Gesture typing is similar to Swype and other third party keyboards in that you don't tap individual keys but swipe over instead.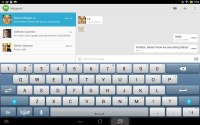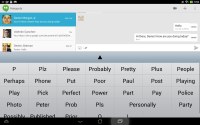 The default keyboard • Word prediction
It's very good at guessing what it is you're trying to type and a feature can be enabled that keeps a floating label above your finger with the current guess.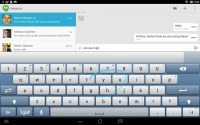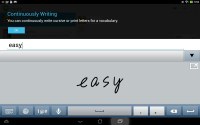 The Gesture typing mode • Handwriting
But you can go further and "type" hands-free too - Google has baked the voice recognition algorithms needed to run it into Android itself. Not only does this make Voice typing faster, but also eliminates the need for an internet connection.
Currently, you can download up to 15 localized language packs for offline voice typing, although we imagine that Google are working on adding more. The language packs are quite small in size (the default English (US) pack comes in at just 22 MB), so you don't need to worry about them using up your precious storage.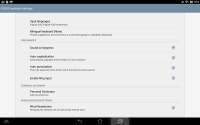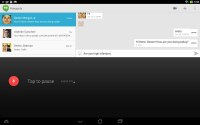 Offline Voice typing comes in several languages • Keyboard settings menu
With Jelly Bean, the Android keyboard's nuts and bolts got updated as well. It now features smarter dictionary and learning algorithms, so the more you type, the better it can predict what you're trying to say. It resembles Swiftkey's smart dictionary system, but only time will tell if it performs as well.
However, since this is the Transformer Pad, most of the typing is probably going to happen using the Mobile dock. As we mentioned earlier, it rocks a Chclet-style keyboard and is comfortable to type on.


The full QWERTY keyboard on the Mobile dock is excellent
Because of its small footprint, it can feel a bit difficult to type on at first, but ASUS has provided good spacing between the keys to make it less confusing and more natural to use.
There are specific Android keys, which we found helped with productivity. On the top row, there are quick Android function keys (Wi-Fi, Bluetooth, Touchpad on/off, brightness toggle, camera switch, Browser and setting shortcuts. On the left side of the space key there's a Search key, while on the right side sits a Menu key.