Messaging
The messaging section is business as usual but with some improvements. All SMS/MMS communication is organized into threads - each thread consists of all messages between you and one of your contacts. A cool new feature is that you can select multiple threads to mass delete them.
Each thread is organized like an IM chat session, the latest message at the bottom. You can manage individual messages (forward, copy, delete) and even lock them (to prevent deletion). You can use search to find a specific message in all conversations.
Quick contacts work here too and there's a call shortcut at the top of the screen when viewing a thread.
You can set the Nexus 4 to delete older messages (by default, it keeps 500 texts and 50 MMS). You can activate delivery reports and read reports too (they are notifications that the receiver has read the message).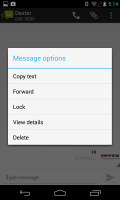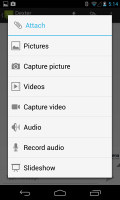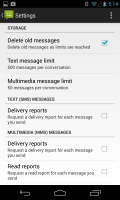 Options for a specific message • Attaching multimedia • Settings
Composing a text is still frustrating as the text box starts off as a single line and grows only up to three lines, which makes working with longer texts hard. We mostly let it slide on previous versions, but with a 4.7" screen there's no excuse not to make the text box bigger.
You can add multimedia (photos, videos, sounds, etc.), which will convert the message to an MMS. If you need multiple slides or multiple attachments, you can go to a full-blown MMS editor as well.
Moving onto email, the Gmail app has grown handy shortcuts at the bottom of the screen but is mostly unchanged. It supports batch operations, which allow multiple emails to be archived, labeled or deleted. The default app supports multiple Gmail accounts, but there's no unified inbox.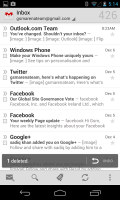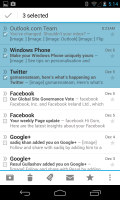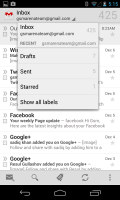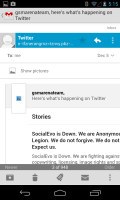 Gmail app supports batch operations and multiple (Gmail) accounts
A cool new feature in Gmail is that you can swipe left or right to move between messages in your inbox.
The shortcuts on the bottom of the screen are new email, search, labels, refresh and settings.
There is also a generic email app for all your other email accounts and it can handle multiple POP or IMAP inboxes. You have access to the messages in the original folders that are created online, side by side with the standard local ones such as inbox, drafts and sent items.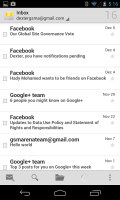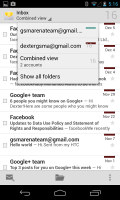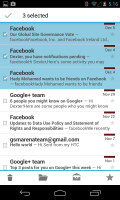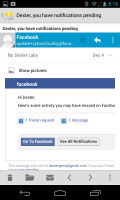 The generic email client doubles a lot of the functionality of the Gmail app but has combined inbox
Unlike its Gmail counterpart, this app supports a combined inbox view. It color codes the inboxes so you can easily tell where each message came from. Unfortunately, there's no moving between messages with sideways swipes here.
Google Talk handles the Instant Messaging department. The GTalk network is compatible with a variety of popular clients like Pidgin, Kopete, iChat and Ovi Contacts.
Text input
The keyboard has now even more room to stretch its legs on the 4.7" screen and typing is very easy. Keys get even bigger when you switch to landscape mode - the long screen becomes very comfortable for two-thumb typing.
In Jelly Bean 4.2 Google introduces a new typing method called Gesture typing. It works in a manner very similar to Swype -- you just Swipe your finger over the letters you want to type, lifting after each word is complete. Naturally, the Gesture Typing feature benefits from the already existing Android word prediction, so you can just click on the words the keyboard suggests.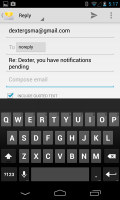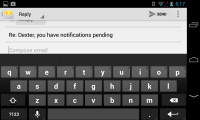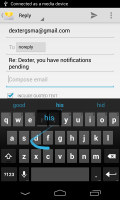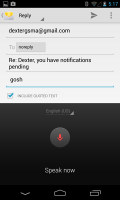 The regular keyboard • The new gesture typing feature • Voice typing works offline too
A tap on the text area will reveal a "handle" attached to the text cursor - it's easy and more accurate, which makes correcting mistakes easier. A double tap will bring up the select options - select word and select all - with two handles to adjust the start and end of the selection.
If a word has a typo, it will be underlined in red and when you tap it, the phone will offer a number of suggested corrections along with options to add the word to the phone's dictionary or just delete the word.