Managing expectations
HTC Desire 616 dual sim review: Managing expectations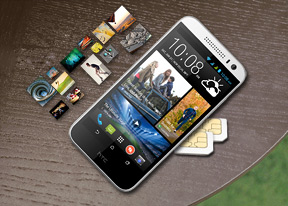 User interface: not new but not bad either
The HTC Desire 616 dual sim is lagging behind in terms of software with Android 4.2.2 Jelly Bean and Sense UI 5.5. This means you miss out on some of the latest features of Android or the latest UI polish of Sense 6. The app package isn't up to date with HTC's latest proprietary apps either. In fact, some apps are gone altogether, replaced by their stock Android counterparts.
Around version 5, Sense turned into one of the best-looking custom skins and the Desire 616 dual sim UI doesn't look bad but even entry-level phones are launching with KitKat these days. This includes phones powered by the exact same chipset as the Desire 616.
HTC dropped its custom lockscreen with version 5.5 of Sense in favor of the stock Android variety. Even the four shortcuts that were so popular at one time are gone. Widgets can be added to the lockscreen, they go on separate panes to the left, while the pane to the right launches the camera.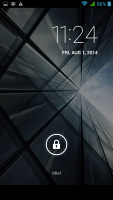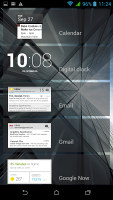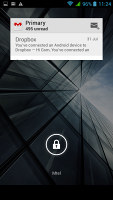 HTC Desire 616 dual sim lockscreen
The homescreen follows the typical HTC setup. The leftmost pane is the familiar BlinkFeed that resembles the Flipboard UI a lot. It can easily be disabled if you're not a fan but BlinkFeed does have its uses - it aggregates posts from your social networks and stories from over a thousand news sources.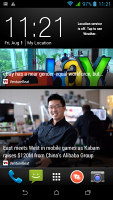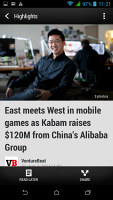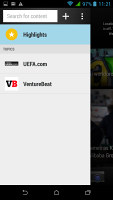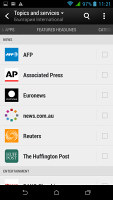 The new BlinkFeed • search through the BlinkFeed content
If you have social network accounts linked, you can post on them straight from BlinkFeed, including sharing stories that you've come across on the feed. Or you can save articles to read offline later on.
The notification area is stock Android with notifications and quick toggles split into two separate screens. Toggles cannot be reordered or hidden/added. HTC has thrown in a few toggles of its own, including Audio profiles - it's an easy way to switch between preset and custom profiles that can modify absolutely any audio setting on the phone.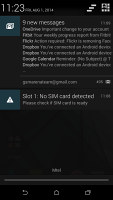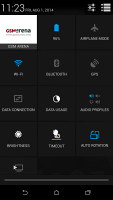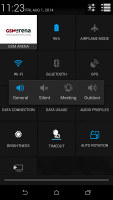 The notification area • Quick Settings pane
You can have 5 homescreen panes at most. Those are easy to rearrange, add or delete and you can set any of them as the default screen. This is where you can also add widgets. The homescreen panes themselves are nothing special, they contain widgets and shortcuts and there's a fixed dock of four shortcuts at the bottom.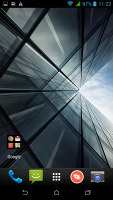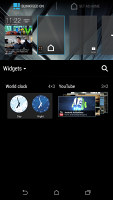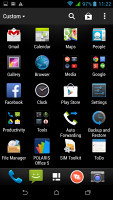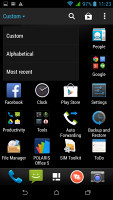 The homescreen • managing the homescreen
This dock remains visible in the app drawer too. There's no clock or weather info in the drawer, similar to more recent Sense versions. This leaves a bit more room for shortcuts, 4 x 5 fit by default. You can sort apps by most recently installed and there's a Play Store shortcut, which makes managing apps and installing new ones a breeze. The hide option lets you move any bloatware out of view.
Since Sense 5.x, HTC has been experimenting with a two button layout but the Desire 616 dual sim uses the traditional on-screen trio of Back, Home, App Switcher. It's the vanilla switcher too, not the 3 x 3 grid found in some other HTC phones.
Some goodies like Do Not Disturb, Kids and Car mode are not present on the device. The HTC Transfer Tool, the app that pulls contacts from your old phone over Bluetooth isn't available out of the box either, but can be downloaded from the Play Store.
Google Now is available and offers context sensitive information but also doubles as search field. You can look for something specific or ask it a question - either by typing it in or by saying it - and quite often it comes back with a succinct, informative answer. A widget is available too, it's great for the at-a-glance info provided by Now.
A long-press on the Home button reveals the Google Now shortcut so you can launch it from anywhere in the menu.
We'll cover performance in the next chapter, here we'll just mention that the Desire 616 dual sim crashed and rebooted twice on us even though we only had it for a week or so. We didn't test its stability longer but two crashes in a week is a sure sign of unstable system software since we hardly install any third-party apps on it (besides the usual benchmark tools).