Additional software
The HTC One is pretty unique in the mobile phone world with its Zoe gallery. The camera works in conjunction with the latest ImageChip tech, which can snap up to 20 full resolution photos and record 3 seconds of video each time you hit the shutter key.
Later, it can automatically stitch the 3 second video segments (and also still photos) into a short animation that can easily be posted on Zoe Share and reshaped on Facebook and Twitter. Those videos look pretty awesome and you get with no extra effort as the phone does it all automatically.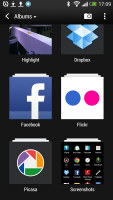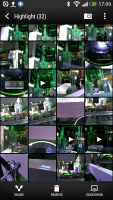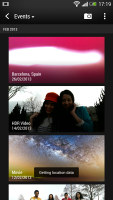 Zoe has social networking integration • Events view is where Zoe comes in
The extra photos and video have more uses too. You can, for example, remove a moving object from the scene (say, an absent-minded tourist walking into your shot), make sure no one has their eyes closed. Another cool trick is Sequence shot, it composes several copies of a moving object in the same image, making for a cool-looking dynamic shot.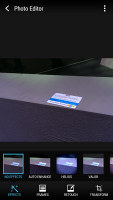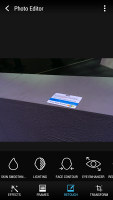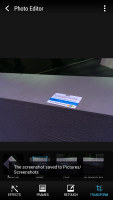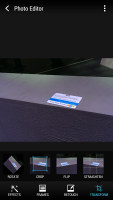 The Zoe photo editor has tons of options
But Zoe can do tons more, including moderate-level picture editing like skin smoothing, making eyes brighter and wider and so on. A slider allows you to tune the strength of the effect.
The Sony Xperia Z has an almost standard Android gallery. One Sony addition is the ability to view thumbnails of your photos placed on a map. Facebook and Picasa integration lets you view online galleries and like and comment on them (the HTC One gallery does that too).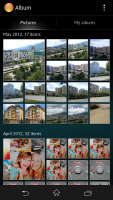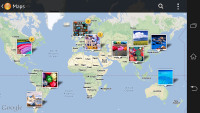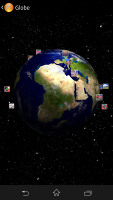 The Sony Xperia Z Album gallery
There's a photo editor (not nearly as advanced as Zoe) and a video editor (which requires manual editing).
Sony has one of the richest histories when it comes to multimedia. The company brought the iconic Walkman branding to the music player and have done a decent job of adding extra features to the player.
SensMe evaluates each song's mood and automatically creates playlists for a given mood (upbeat, energetic, mellow, dance, etc.). The Infinite button helps you find a music video on YouTube, look for lyrics or for more from the same artist. Sony's own TrackID will help find the song you're listening to.
As for sound-enhancing features, there are basic stuff like a 5-band equalizer (with presets) and Clear stereo. ClearAudio+ (different from Clear stereo), which tunes the playback to match each individual song. Then there are the loudspeaker options, xLOUD and Clear Phase.
Both the Sony Xperia Z and the HTC One have stereo FM radio with RDS if you prefer good old broadcasts over the newfangled Internet radios.
HTC is a younger company but audio is a huge part of its image. Part-owners in Beats Audio, HTC has added the Beats audio enhancement feature, which can be either on or off. There's no equalizer, you have to trust that HTC and Beats engineers have done their job well.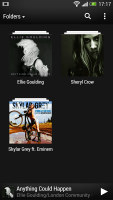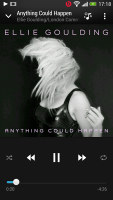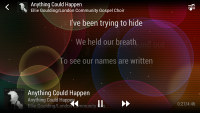 HTC's Beats-enabled music player • it automatically finds the song's lyrics
The music player will automatically find album art and lyrics (and display them karaoke style). SoundHound takes care of song recognition (but you only get 99 recognitions for free).
A big advantage is BoomSound - HTC's front-facing stereo speakers that provide better sound than most phone's single speaker. Better still, they aim the sound at you when watching videos instead of bouncing it off the table.
Sony is big in the video market and the video player on the Xperia Z is fairly nice. It handled most standard video files (AVIs with DivX and XviD, MKV files). That's better than what stock Android has to offer, but there's no subtitle support and no AC3 and DTS audio support. We do like that it automatically finds info about movies, though.
The HTC One fails to play MKV and DivX files (also no go on AC3 and DTS), but it does support subtitles. Also, it has an option to play High Frame Rate videos (including ones shot with the phone itself) in real time (i.e. 60fps) or in slow motion.
At the end of the day, if you're going to do any serious movie watching on the Sony Xperia Z or the HTC One, we'd recommend grabbing one of the excellent free third-party players. The Snapdragon chipsets are powerful enough to handle 1080p playback easily.
The HTC One does have one advantage here - its IR emitter. With the dedicated app, you can control TVs, AV receivers and disc players. So, you can turn on the TV, start the Blu-ray player (or use DLNA or Miracast to play from the phone itself) and adjust the volume of your home theater setup, all from the HTC One.
The Sony Xperia Z does not have an IR emitter.
Finally, the HTC One comes with Polaris Office, which features document editing, while the Sony Xperia Z has only a viewer, OfficeSuite 6, editing is a paid upgrade.
Winner: HTC One. Zoe alone might have been enough to win us over, but the IR remote functionality is great too. We already commended it for the speakers on the front and we'll look at the audio quality in a second.
The Xperia Z offered a slightly better video player, but not enough to stand on its own. It also gives you more freedom to control sound enhancements if you don't like the Beats singular setting.