Various brands at IFA 2014
IFA 2014 Various brands: Acer, Lenovo, Prestigio, Alcatel & more hands-on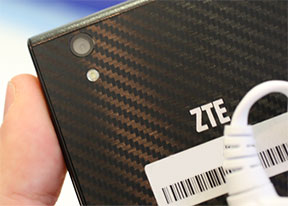 Acer Liquid Jade hands-on
Acer will be releasing the Liquid Jade in Europe as well. It's a super lightweight mid-range offering with a 5" HD display. The phone weighs just 110g and feels really thin thanks to its clever design. It measures 7.5mm thick, but makes an impression of a much slimmer device due to its tapered edges.
The screen itself is an IPS HD unit with okay viewing angles. It's quite bright, but colors looked a bit washed out. The lightning at the IFA venue is to blame perhaps, but it was also quite reflective. On a positive note, the bezels are really thin and help the phone look good.
Under the hood, there's a quad-core 1.3GHz Cortex-A7 CPU in the MediaTek MT6582 platform. There's also 1GB of RAM and 8GB of internal storage, expandable via the on-board microSD card slot.





The Acer Liquid Jade is stylish looking at just 7.5mm thick
The phone runs Android 4.4 KitKat with Acer's custom UI modifications on top. We're happy to report it's really snappy and responsive. One of the main software features of the company is its Extend app that lets you control the phone from your PC.
You can accept calls, transfer files and send/receive messages. It works as advertised, albeit a bit slow. However, this was because the floor's Wi-Fi wasn't exactly lightning fast and you will definitely experience better results in your own network.
At the back of the Liquid Jade, there's a 13MP camera with an f/1.8 aperture and LED light. The 2,100mAh battery isn't replaceable. While we're at it, we should mention the special speaker located at the bottom. It is Dolby DTS certified but we were unfortunately unable to experience it on the IFA floor.
The Liquid Jade launches in the end of September. It will cost €229 SIM-free and will be available in a dual-SIM version, too.
Acer Liquid Z500 hands-on
Acer wants to makeit big in Europe with its €150 Acer Liqduid Z500. The phone is based on a 5" IPS screen of 720p resolution (293ppi) and 900:1 contrast ratio. There are two front-facing speakers too, with DTS Studio Sound tech.
Acer has a flip cover with a window in it so it can provide both screen protection and at-a-glance info.



Acer Liquid Z500 and its flip cover
The Liquid Z500 has a metal frame that gives it a pleasantly solid feel but the back is plastic. Not that we can expect any different at this price point. The phone isn't as thin or as light as the Liquid Jade but at 8.7mm it's reasonably slim.
Speaking of the back, there is the so-called Action button located under the camera that launches Google Music. This and the stereo speakers make the Z500 a nice music-centric offer.



The Action button launches Google Music
Music isn't its only trick trick though, the camera itself is an 8MP shooter with a fast f/2.0 lens and 1080p video capture. Those are much better specs than you typically get in this price range.
The Acer Liquid Z500 runs Android 4.4 KitKat on a quad-core 1.3GHz processor. The UI felt snappy enough.
The phone will launch on Septeber 15 in Europe, the Middle East and Africa at approximately €150 (obviously the price may vary by country). There are three color options - Titanium Black, Sandy Silver and Aquamarine Green.