Various brands at IFA 2014
IFA 2014 Various brands: Acer, Lenovo, Prestigio, Alcatel & more hands-on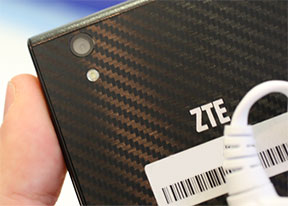 Lenovo Vibe X2 hands-on
The Lenovo Vibe X2 is the "world's first layered smartphone." Besides being made of several distinct layers, you can also "layer on" various accessories to the phone's body that's a slender 7.3mm thick.
Visually, the body of the Vibe X2 is divided into four colorful layers too, which makes for a unique and attractive design. As for the colors you get a choice of White, Dark grey, Gold and Red, the accessories will have matching color options.
The different layers create an unusual feel in the hand but we have to say some of the edges were a little too sharp for us. The rear felt like quality matte plastic that's virtually fingerprint-resistant.







The four color layers are clearly visible on the sides • the back is bright and colorful
One of the Vibe Xtension layers is an extra battery case that adds 5.1mm to the thickness alongside 75% more juice. It's good to see an first-party solution instead of having to rely on aftermarket battery packs.
The second Xtension is more fun, a big loudspeaker by JBL that has a built-in kickstand and an analog volume knob.





The battery pack and the JBL loudspeaker
The Lenovo Vibe X2 has a 13MP main camera with an LED flash and a selfie centric 5MP front-facing camera. You can snap a selfie by blinking (the phone waits for you to open your eyes, obviously) or you can wave your hand in front of the phone.
The phone boasts a 5" IPS LCD of 1080p resolution. It looked great at an angle and was surprisingly bright if a little reflective.
The package is powered by a MediaTek MT6595m True8Core chipset, which combines four Corex-A17 cores with four Cortex-A7 cores. You get 32GB of built-in storage but no expansion slot. There's also a PowerVR G600 GPU and 2GB of RAM.
The Vibe X2 runs Android 4.4 KitKat, skinned with Vibe UI 2.0. It changed a whole lot about the Android interface (so not suitable for purists) but the interface was still snappy, despite all the custom stuff running.





Lenovo has gone to great lengths with the customization
The chipset provides LTE Cat. 4 connectivity for up to 150Mbps downlink speeds and, in the Asia-Pacific market, dual-SIM. The Vibe X2 will be a single-SIM device elsewhere.
The Lenovo Vibe X2 will be available at $400 SIM-free in October starting in China and expanding to Eastern Europe, the Asia-Pacific and the Middle East.