Various brands at IFA 2014
IFA 2014 Various brands: Acer, Lenovo, Prestigio, Alcatel & more hands-on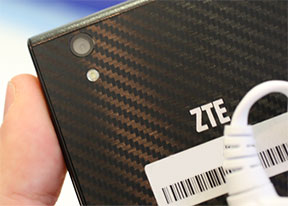 Archos 50b Platinum hands-on
The Archos 50b Platinum is the biggest of the three smartphones Archos had on display today at IFA 2014 in Berlin. It packs a 5" display of qHD (540 x 960px) resolution, quad-core 1.3GHz processor and 8MP camera.
It runs on Android KitKat and will cost just €149.99 but backs it up with an 8MP camera on the back, 2MP one on the front and 4GB of on-board storage expandable via a microSD card slot.
True to its low key specs and affordable price tag the Archos 50b Platinum has some drawbacks like a subpar display. It doesn't have the most impressive colors, the resolution is really thin on the large diagonal and pixels are visible. The panel above the display is very prone to fingerprints and got smudged badly while we we're playing around with it.
The plastic on the back is matte and really nice to touch. The colors are really fresh and pop out. For this price you can really get better quality plastic, mind you.
Archos has gone with a clean, almost stock Android experience and Google purists. The UI works just fine and we didn't notice any stutters.
Archos 45c Platinum hands-on
The Archos 45c Platinum has a 4.5" display of 480 x 854px resolution and it's an IPS unit so viewing angles aren't bad.
The same quad-core 1.3GHz processor runs the show and the user experience is also built around a stock Android KitKat.
The Archos 45c Platinum will cost just €109.99 for what it brings to the table making it an overall good deal.
The display sadly is still as smudge-prone as the one on the Archos 50b Platinum and at around the same density (218ppi) it isn't sharper. Pixels are visible and the colors are unimpressive.
Archos 40 Cesium hands-on
And finally the Archos 40 Cesium which is the cheapest of the three at just €79.99. It's a departure from the rest by bringing the latest Windows Phone 8.1 to the table.
The 40 Cesium is built around a Snapdragon 200 chipset, 4" WVGA (480 x 800px) display and a 5MP/2MP camera duo (back and front).
The Archos 40 Cesium's display isn't as pixelated due to having a slightly better density at 233ppi but the TFT unit isn't impressive on quality. Smudges are, again, an issue and the plastic body isn't as good as on the others, probably to maintain the low price.
On the flip side the performance of the Archos 40 Cesium is good.