Various brands at IFA 2014
IFA 2014 Various brands: Acer, Lenovo, Prestigio, Alcatel & more hands-on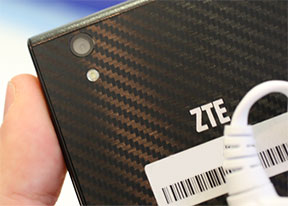 Garmin vivosmart hands-on
The Garmin vivosmart is the latest smart tracker from the famous satellite navigation company. It's able to track health and wellness goals and gives you vibration alerts for calls, texts, and more. It has a 5 ATM water rating for up to 50m.
Because of its hidden OLED display, the Vivosmart band looks like a regular fashion accessory when not in use. It's not a particularly good looking fashion accessory, but it's way better than Sony's SmartBand, for example.
When in use, it displays a line of text containing all sorts of notifications that your phone can display - essentially a tracking view of your notification area. It can also control the VIRB Action camera if you happen to own one of those. The other benefits come courtesy of the app for your smartphone and the built-in sensors which allow you to keep track of your workouts.
The clasp is very easy to adjust and the plastic feels reasonably sturdy, but it's hardly eye-catching. Not for the right reasons, anyway. It charges using an odd looking dock that at least has the benefit of holding it horizontal so it can be used as a nightstand watch.

The vivosmart will go on sale in the US in September at a suggested retail price of $169. Other online retailers will have it starting in November.
META M1 hands-on
The META M1 is an impressively built e-Ink smartwatch that feels nicely heavy on the wrist - there's not a doubt that it's a high-quality product the moment you put it on. Created by a former Vertu designer it, really shows in both the language used and the build quality. It's essentially what the Pebble Steel should have been.
Unfortunately, an e-ink screen is not the ideal choice for either a watch or a smart device and it somewhat spoils the looks of the device. On the positive side it does have a backlight so you can see it in the dark and it allows for the watch to run for 5-7 days between charges.
We doubt this one will be appreciated by woman, despite the few feminine-targeted bands. As for men - it's certainly unorthodox, so it's going to be a love it or hate it affair. We happen to be in the first category but even if you fall in the second, you'll still appreciate the extra weight coming from the premium materials and the excellent build. Still, we would have liked to see a P-OLED screen.
It doesn't have the extensive app database of the Pebble either, but it's so much prettier than it - even the regular rubber band version is better looking than the Pebble steel. The clasps on the all the versions but the metal one are of the cheapest possible type - even though they seem durable. The metal one is the only one with a butterfly clasp, but it will run you a cool $449.
As for what it does - it basically shows notifications and that's that. You get all the notifications from the notification area of your Android/iOS device, but no extra functionality. The META app lets you customize watchfaces and basic notification settings. Windows Phone compatibility is not expected anytime soon.
The META M1 is available now between €249-€449 from the company's online store, with shipments beginning next week.
Withings Activité hands-on
The Withings Activité is a swiss-made watch with a built-in smartband. This is what we hoped smartwatches will look like before they came to the market - something along the lines of already existing watches.
And the Activité is exactly that - a regular Swiss movement watch with a standard 18mm strap that you are free to replace easily with the built-in remove toggle. Better yet, it's waterproof and lasts up to a year with a regular battery.
The catch? Well it's not really a smartwatch - it's more of a strapband with only a few sensors stuck underneath the watchface. Paired with its smartphone app it will allow you to monitor your exercises, but it will not bring you any notifications or vibration alerts for calls or messages and the like.
Is it a good purchase? Well at about €400-450 euro as the guys at the booth say it will cost, it's not a terrible price for a Swiss-made watch, but there are definitely cheaper and better looking offerings out there. And for a smart band it's a proper robbery - quite a few of those come with two digit prices.
Mixing the two together was certainly a challenging task, however, and Whitings have had a good first attempt at it. So, if you like the design, have lots of disposable cash and are a bit of a geek (but don't wont to advertise that side of yours with a proper smartwatch) then it's worth a look.