Various brands at IFA 2014
IFA 2014 Various brands: Acer, Lenovo, Prestigio, Alcatel & more hands-on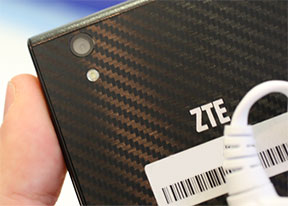 CAT S50
CAT used the IFA floor this year to debut its new rugged Android smartphone called S50. It brings mid-range specs in a military-grade protected shell with shatter-proof glass at the front.
CAT S50 features a 4.7" 720p display and runs on a quad-core 1.2GHz Cortex-A7 processor. The rest of the specs include an 8MP rear camera with 720p video and LED flash, 8GB expandable storage and even LTE connectivity.
The CAT S50 has two different protection ratings - IP67 and MIL-810G. The IP67 certification means the CAT S50 is dust protected and water resistant up to 1 meter for 30 minutes. The MIL-810G means it can withstand salt, dust, humidity, rain, vibration, solar radiation, transport and thermal shock resistance.
Now, of course that ruggedness comes at a price and it's the less than perfectly compact shell of the smartphone. Not only does it have some of the largest footprint among all smartphones of the same screen size, but it's also much thicker than anything we've encountered recently, regardless of screen size.
The good news is build quality or in-hand feel haven't been affected at all and even though it's a bit too large to comfortably manage, it does give a pleasant feel to your fingers. It feels very much like the high-quality work tool it actually is.
The screen is decent with the 720p resolution feeling perfectly adequate, if not overly impressive, on the 4.7" diagonal. Colors are only okay but the viewing angles are wide enough to keep the contents of the screen readable even when looked from its side - it's not a pretty side, but it does the job. We couldn't judge reflectivity in bright sunlight, but the CAT S50 seemed to fare well inside the room we tested it.



Plastic flaps cover all openings
On the software side the CAT S50 offers a largely unmodified Android 4.4 KitKat - something Android purists will really appreciate. All CAT did on top of that was add its newly announced CAT App Store with 1000+ hand-picked apps it feels are most relevant to the specific audience this phone is targeting as well as pre-install a few other apps from its portfolio.
The performance is about right given the screen resolution and the quad-core Cortex-A7 CPU powering the S50. This is to say not everything is happening instantly and some large apps take a while to open, but there's no lag to annoy you.
We've also managed to do a short hands-on video with the CAT S50 that you can check out below.
Generally, the CAT S50 feels like a decent smartphone that can do the job for anyone with moderate app appetite and that is not too much into gaming. And given its target market, we'd say that's not a bad place to be.