Three kings
iPhone 6 vs. Galaxy Alpha vs. Xperia Z3 Compact: Three kings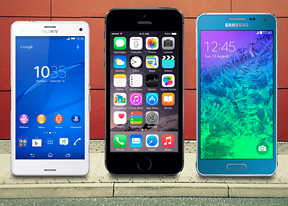 User interface
iOS was always polished but closed off to users wanting to customize their experience, unlike Android, which gives users (and vendors) nearly unlimited control over the system. Well, the latest iOS 8 version loosens up the Apple reins, which tangibly improves the user experience.
iOS 8 itself doesn't change much - the Big Change came with iOS 7 when Apple dropped skeuomorphism and followed the flat UI trend. The major difference between 7 and 8, however, is that users can now have widgets, custom keyboards and better app integration into the OS menus.
The widget system isn't nearly as powerful as the Android one, widgets can only live in the notification area. They have become much more interactive, so you can accomplish more without ever leaving the current app. The homescreen of the OS is still the simple grid of shortcuts and folders.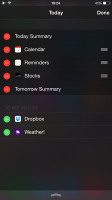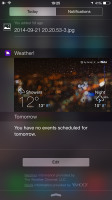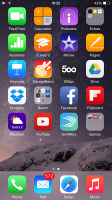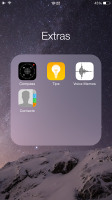 Widgets in the notification area • standard grid of shortcuts and folders
Sony sticks close to stock Android (4.4.4 KitKat in this case) and has a multi-pane homescreen filled with few shortcuts and folders, but mostly widgets. The apps go into the app drawer so only the important ones take up space on the homescreen.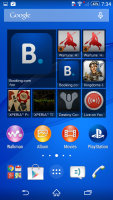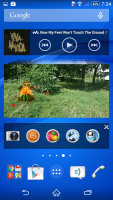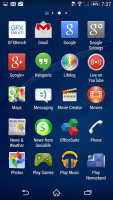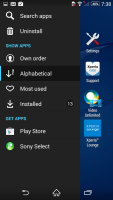 Android keeps widgets on the homescreen • most shortcuts go in the app drawer
Samsung has fiddled with this formula a bit to add the My Magazine pane - subscriptions to Internet news sources go in here so you always have access to a Flipboard-like feed, unless you chose to disable My Magazine.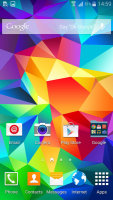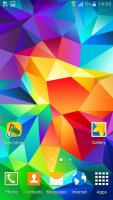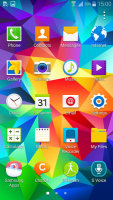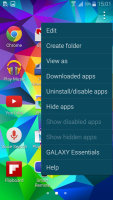 Samsung's homescreen and app drawer
The lockscreens of the three phones agree on one thing - a camera shortcut is all you need, plus playback controls if you're listening to music. Apple and Samsung add an extra layer of security with their fingerprint readers (both on the Home button). They are quicker to enter than a password, arguably more secure too.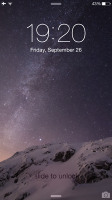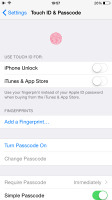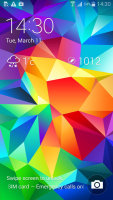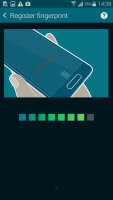 Apple and Samsung lockscreens with fingerprint readers
One key difference here is that the Apple reader only needs you to put your finger on top, while Samsung's needs you to swipe your chosen finger. This can be difficult to get right with the angle your finger (usually your thumb) will be at.
Apple has opened access to the fingerprint reader for third-party apps and it will be a part of the new Apple Pay system. Samsung allowed app access to the reader from the get go and has a deal in place with PayPal for mobile payments.
On the Galaxy Alpha the fingerprint reader can also be used to protect your files, locked away in Private mode, which can only be opened with your finger.
Sony does have a nice lockscreen trick, you can wake the phone with a double tap on the screen, so you don't need to reach for the Power button (not that it's much of a stretch). You can also add widgets to the lockscreen if you wish.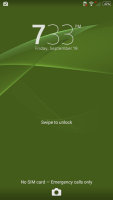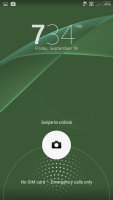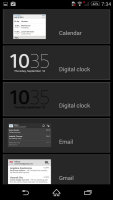 Lockscreen with camera shortcut and optional widgets
On the iPhone Apple decided to split the notification area - notifications go in the top drawer, while toggles and other controls go in the bottom drawer (the so-called Control Center). With iOS 8 widgets can be added in the top drawer by third party developers instead of the few Apple-made stock widgets like stocks.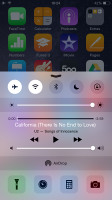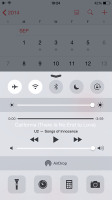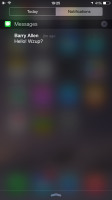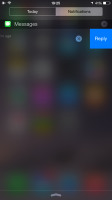 Control Center from below • notification area from the top
Android keeps both notifications and toggles under one roof. In TouchWiz that is literally the case as toggles, two buttons, a brightness slider and notifications are visible simultaneously, though you can switch to a toggles-only view. Sony takes the stock Android approach of splitting notifications and toggles into tabs, which leads to less clutter. You can choose and pick your toggles on both Android phones, while Apple has locked the Control Center layout.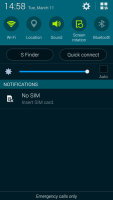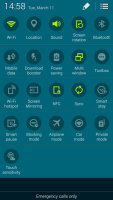 TouchWiz notification area and toggles • Xperia notifications and toggles
Both platforms can multitask but they differ in their approach. Android offers true multitasking with apps running in the background, while iOS is much more restrictive. In practice the user experience isn't too different but this frugal use of resources allows iOS 8 to run smoothly on just 1GB of RAM, while its opponents have 2GB or more. There's only so much that fits in 1GB though, so you might notice some reloading as you switch between apps, say Safari refreshing the page when you return to it.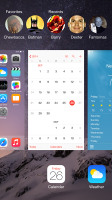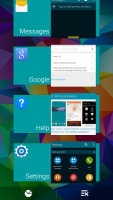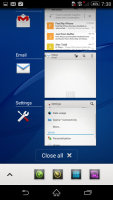 App switchers: iPhone • Galaxy • Xperia
Speaking of multitasking, TouchWiz on the Samsung Galaxy Alpha has the split-screen functionality we've seen on bigger phones. While a 4.7" screen isn't ideal to run two apps side by side you can do it and it's actually useful in some scenarios.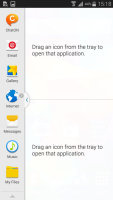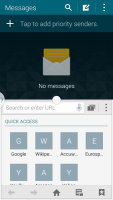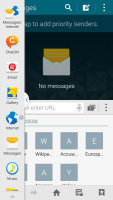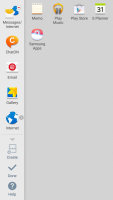 Multi-window split-screen multitasking
Sony takes a slightly different approach, small, floating apps can be launched from the Xperia Z3 Compact app switcher. They take up a precious portion of the 4.6" screen but are good for a quick check and easily dismissed without exiting the current app.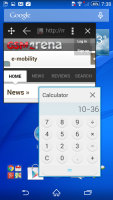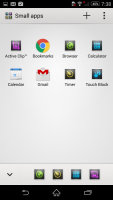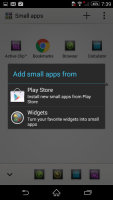 Floating apps for multitasking
iOS on the iPhone 6 has not multitasking improvements - the bigger iPhone 6 Plus got a split-screen interface for some apps in landscape mode (the same app but displaying two panels), but Apple keeps such functionality for larger screens.
The Spotlight feature has been updated and can now search through more resources - Wikipedia, news articles, nearby places, Apple's digital stores and so on. Google Search is quite thorough as well, but also allows installed apps to provide search results, something Spotlight does not. Also, once you search for something, say an address, Google Now will remember it and pop up with helpful info or interaction right on time (e.g. a Navigate to option in your notification area).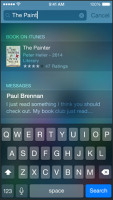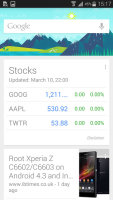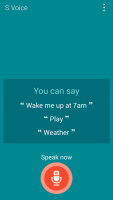 Spotlight • Google Now • S Voice
Siri is the best-known digital assistant and it can now recognize songs with Shazam integration. You just start Siri, you don't even need to say anything. You can activate Siri with a voice prompt too - "Hey, Siri!" - but that only works while the phone is charging.
Samsung has been in the digital assistant game a long time too and while Google Now has overshadowed most vendor efforts, S Voice still provides some helpful options (like toggling settings) that keep the Galaxy Alpha on par with the iPhone. The Xperia Z3 Compact relies on Google voice actions.
As for song recognition, Sony preloads TrackID and you can always get a free app from the Play Store.
A major change in iOS is that apps can insert themselves into the Share with and Open with context menus of the OS. This is one of the most powerful features on Android, allowing for a seamless experience with both native and third-party apps.
Yet another Android-inspired change is that iOS users can now install custom keyboards - alternative typing methods can improve your speed and accuracy or just add a silly, fun feature like responding with GIFs.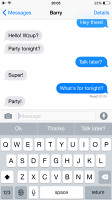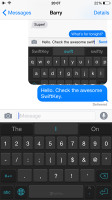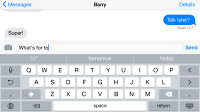 The keyboard was set free with iOS 8
And we're not done yet, iOS 8 also offers an app-by-app breakdown of how the battery charge was spend, something introduced with the ancient Android 2.3 Gingerbread.
Winner: Samsung Galaxy Alpha. The fingerprint reader enables extra security and Private mode pushes it beyond unlocking the phone and securing payments. With a proprietary voice assistant, split-screen multitasking and My Magazine the company went perhaps too far but it can't be accused of not doing enough.
Runner-up: Apple iPhone 6. The new iOS 8 adds many of the features we missed compared to Android and the fingerprint reader setup is better than Samsung's. Siri and Spotlight getting better are welcome additions too.
Third place: Sony Xperia Z3 Compact. Sony did little to mess with the vanilla Android recipe and mini apps aren't quite enough. Some will prefer the aesthetics of the Xperia interface over often-bashed TouchWiz.