Three kings
iPhone 6 vs. Galaxy Alpha vs. Xperia Z3 Compact: Three kings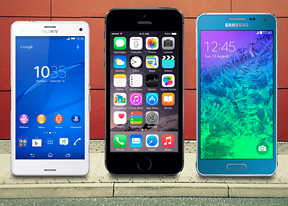 Video camera quality
Apple has yet to join 2160p revolution, but Androids consider it a rite of passage. These videos take up a lot of storage (and are consequently difficult to send over the Internet), require an UHD TV and a capable video player but pay off with much more detail - they have four time the number of pixels compared to 1080p, each frame is 8MP big.
The Sony Xperia Z3 Compact pushes the framerate to 55-60Mbps, so each minute of footage can easily be 400MB. The Samsung Galaxy Alpha stays a little lower at 50Mbps but that's still huge compared to 17Mbps for 1080p videos shot with the Apple iPhone 6.
2160p videos have their issues but Apple's refusal to record stereo audio is more baffling - the iPhone has no less than four microphones on its body, we're sure Apple engineers could have come up with something. And it's 64Kbps, 44.1kHz audio too, nothing special by any measure.
Meanwhile both the Samsung and Sony record stereo audio, sampling at 48kHz. The Xperia uses 156Kbps bitrate while the Galaxy goes up to 256Kbps (Nokia uses this bitrate for its lauded PureView cameras).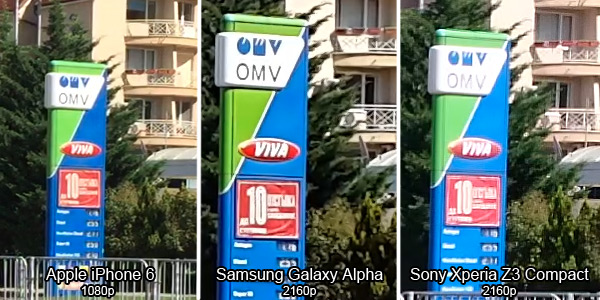 Sony's super-high bitrate doesn't completely pay off, but mostly due to image processing. Some detail gets smudged out, while contrast and color rendering aren't as good as they could have been.
Samsung's heavier processing does pay off, making for a better looking picture even if it doesn't technically have more detail.
The Apple iPhone 6 video has good amounts of detail for 1080p, but the resolution difference keeps it from achieving parity here.
We move to native 1080p - easier to share and easier to compare. The Samsung and Sony have a wider field of view (in part because we disabled their image stabilizations, more on that later) so they are at a bit of a resolution disadvantage.
Here the Apple iPhone 6 comes up on top even if our remarks on colors from the still camera still ring true. The Sony Xperia Z3 edges out the Galaxy Alpha even though video framerates drop to equal the iPhone. The Xperia Z3 Compact could use a boost in contrast but its image is slightly sharper than that of the Galaxy Alpha.
Here's a playlist of the videos we used for the test:
We tried a digital stabilization test between the three phones. The Apple iPhone 6 keeps things very smooth, but the Sony Xperia Z3 Compact fares no worse. Both hunt for focus on occasion. Of the three, the Galaxy Alpha's digital stabilization is the weakest as evident from the video comparisons.
Winner: Samsung Galaxy Alpha. We're looking for the best possible video camera of the three, which means 2160p weighs more than 1080p. And the Galaxy Alpha took that round, though it lost by a bit to the Xperia in 1080p shooting.
Runner-up: Sony Xperia Z3 Compact. Again, 2160p has precedence as it offers a lot more detail than even excellent 1080p. In 1080p mode the Sony has a wider FoV than the iPhone and comparable sharpness.
Third place: Apple iPhone 6. If you're never going to shoot 2160p videos, the iPhone is actually a very good camera. The always-on stabilization eats into its FoV though it's better than the Sony.
High framerate recording
While Apple didn't go up in resolution, the company did at least increase framerates. All three phones can record 1080p@60fps video, which is excellent for fast-paced scenes like sporting events. They all noticeably step down the image quality though so you can't simply always substitute 30fps for 60fps modes.
The Apple iPhone 6 and Samsung Galaxy Alpha still manage a passable quality. The Galaxy Alpha resolves marginally more detail than the iPhone. It's the Sony Xperia Z3 Compact that falls here, the boosted contrast and oversharpening is noticeable and it hampers the image quality.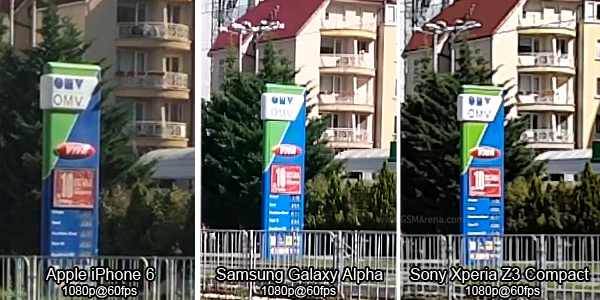 Apple went a step further - it enabled 240fps video recording though at 720p resolution. Still, Androids top out at 120fps, even those that can capture 2160p video. And the results aren't always pretty. Here's how 720p@240fps footage from the iPhone compares to 720p@120 from the Galaxy Alpha.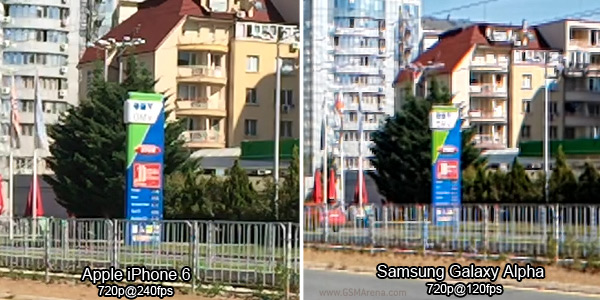 The Galaxy Alpha is just nowhere near actual 720p resolution, it's quite clear the video was upscaled from something much lower than that. The image processing also goes out the window. Meanwhile the iPhone 6 video looks soft for 720p but is actually still very usable.
A note about formats - the iPhone records and saves 720p videos with 240fps framerate so you'll need to either edit them on the phone to create the slowdown effect or use a video editor on your computer, just copying them would only get you an extra smooth normal speed video. The Galaxy Alpha videos are slowed down to 30fps so the slow motion is easy to share. There's an option to slow the videos down to 15fps, which matches the iPhones 8x slowdown but the result isn't as smooth.
The Sony Xperia Z3 Compact also has a 720p@120fps mode, but that one requires you edit the video right after shooting it - it plays at real time except for areas you mark off as slow motion. This means, however, that taking multiple consecutive videos are hard to pull off.
Here's a playlist of the 1080p@60fps videos we took:
Winner: Apple iPhone 6. It maintained good quality in 1080p@60fps mode and is the only one of the three that can go up to 240fps.
Runner-up: Samsung Galaxy Alpha. It recorded slightly better 1080p@60fps video than the iPhone, but the 120fps mode is near useless.
Third place: Sony Xperia Z3 Compact. Video quality at 1080p@60fps leaves plenty to be desired, while 120fps mode requires you edit the image right after you take it.
Video, low light
In the same dark room we took the lowlight camera samples we also shot a few short videos handheld, with the flash both off and on. For this test we used only 1080p, as once again the extra resolution would not have captured any additional detail.
Sony Xperia Z3 Compact didn't see much difference whether the flash was off or on, but the videos have very little noise and good amounts of detail. Noise reduction did take out some of the finer detail, though keep in mind that the wider field of view makes it harder to resolve the same level of detail.
The Apple iPhone 6 videos have a noticeable yellow cast on them (and those two-color LEDs were of no help) but the amount of detail is quite good, while noise is kept relatively low.
The Samsung Galaxy Alpha shows signs of color noise and digital artifacts, which reduce the overall detail.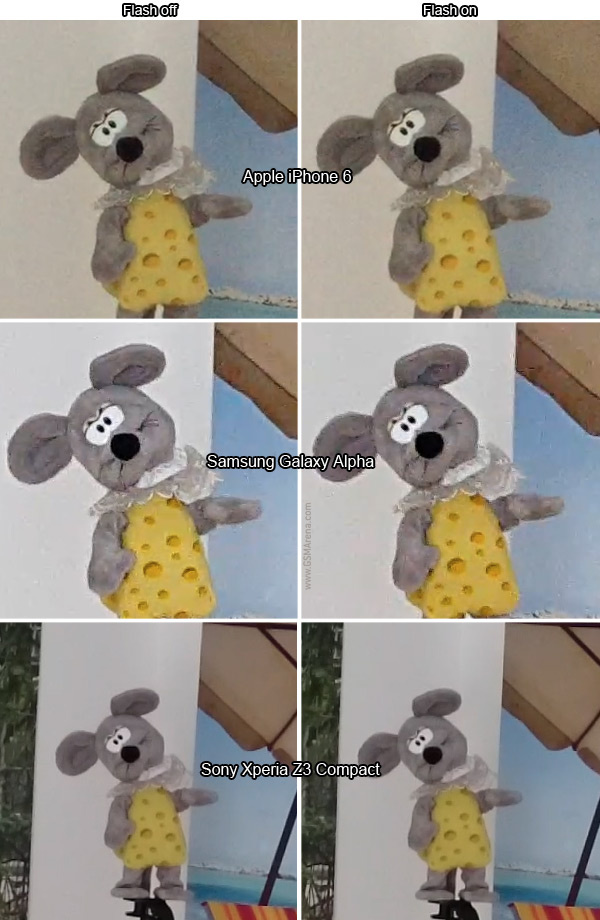 Winner: Sony Xperia Z3 Compact. Videos were fairly sharp and with low noise.
Runner-up. Apple iPhone 6. Yellow tint in the photos and noise cost it a few points, but it does keep a good level of detail.
Third place: Samsung Galaxy Alpha. Some color noise and digital artifacts have crept into the footage, which spoils the final result enough to land the Alpha in third place.