Expanding universe
Lenovo Vibe Z2 Pro review: Expanding universe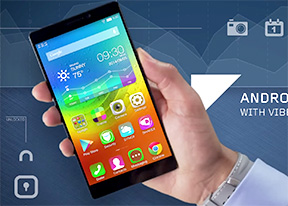 Display
The Lenovo Vibe Z2 Pro sports a 6" IPS LCD screen with a 2560 x 1440 pixel resolution. The pixel density meter stops at the eye-popping 490 ppi.



The 6" QHD display is fantastic
The company has given you a lot of control over its image quality by including a special menu to adjust the display modes. There's the standard configuration, comfort, super bright and the option to manually adjust saturation, tone and contrast.
Finally, you can switch on the Smart brightness option if you want the phone to detect any hard lights hitting the display and adjusting its brightness automatically. The display is covered with a protective layer of Gorilla Glass 3, making it more resistant to breaking and scratches.
The matrix is a standard RGB type with an equally sized red, green and blue pixels. Here's the display matrix of the Lenovo Vibe Z2 Pro shot with our digital microscope.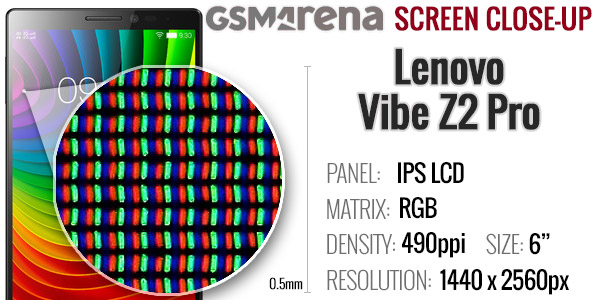 The black levels of the Vibe Z2 Pro display are good and the brightness is adequate at both 50% and 100%. However, the contrast is only average and the colors are a bit too saturated for our taste. Viewing angles are very good with very little shift in color and contrast.
You'll have no problems viewing the display of the phone in direct sunlight, too.
Display test
50% brightness
100% brightness
Black, cd/m2
White, cd/m2
Contrast ratio
Black, cd/m2
White, cd/m2
Contrast ratio
Lenovo Vibe Z2 Pro
0.23
196
846
0.64
562
876
Huawei Ascend Mate7
0.11
149
1428
0.37
530
1428
Samsung Galaxy Note 4
0
291
∞
0
399
∞
LG G3
0.14
109
763
0.72
570
789
Nokia Lumia 1520
0.22
263
1174
0.43
522
1207
Apple iPhone 6 Plus
0.17
208
1197
0.52
705
1361
Sony Xperia Z3
-
-
-
0.65
866
1333
HTC One (M8)
0.2
245
1219
0.46
577
1256
Sunlight contrast ratio
Nokia 808 PureView
4.698
Samsung Galaxy Note 4
4.033
Samsung Galaxy Note 3
3.997
Apple iPhone 5
3.997
Apple iPhone 6
3.838
Samsung Galaxy K zoom
3.675
Nokia Lumia 930
3.567
Apple iPhone 5s
3.565
Samsung Galaxy S5
3.549
Alcatel Idol X+
3.527
Apple iPhone 5c
3.512
Samsung Galaxy Alpha
3.509
Samsung Galaxy Note 3 Neo
3.487
Motorola RAZR MAXX
3.42
Samsung I9300 Galaxy S III
3.419
Nokia Lumia 925
3.402
Gionee Elife S5.5
3.386
Samsung I9505 Galaxy S4
3.352
Samsung Omnia W
3.301
Samsung Galaxy S5 mini
3.174
Samsung I9000 Galaxy S
3.155
Samsung Ativ S
3.129
Samsung I9190 Galaxy S4 mini
3.127
Samsung Galaxy S4 zoom
3.118
Nokia N9
3.069
Apple iPhone 6 Plus
3.023
Samsung Galaxy Note
2.97
Samsung Galaxy Premier
2.958
Sony Xperia Z1
2.95
HTC One S
2.901
Samsung I8730 Galaxy Express
2.861
BlackBerry Q10
2.856
Samsung I9100 Galaxy S II
2.832
Samsung Galaxy S II Plus
2.801
BlackBerry Z30
2.79
Sony Xperia ZR
2.672
Huawei Ascend P1
2.655
Sony Xperia Z3
2.618
Sony Xperia Z3 Compact
2.616
Sony Xperia T3
2.609
BlackBerry Passport
2.595
Nokia Lumia 900
2.562
Motorola Moto G 4G
2.546
HTC One Max
2.537
Nokia Lumia 720
2.512
HTC One
2.504
Motorola Moto G
2.477
Sony Xperia Z
2.462
Xiaomi Mi 4
2.424
Samsung Galaxy S III mini
2.422
Lenovo Vibe Z2 Pro
2.416
LG G Flex
2.407
HTC One (M8)
2.371
Motorola RAZR i
2.366
Sony Xperia ZL
2.352
Samsung Galaxy Note II
2.307
HTC One (M8) for Windows
2.291
Oppo Find 7a
2.279
Alcatel One Touch Hero
2.272
Apple iPhone 4S
2.269
HTC Desire 600 dual sim
2.262
Nokia Asha 311
2.25
LG Nexus 5
2.228
Nokia Lumia 820
2.193
HTC One (E8)
2.185
Nokia Lumia 920
2.17
HTC One X
2.158
Nokia N8
2.144
Nokia Lumia 620
2.142
Nokia 515
2.134
HTC Desire 500
2.129
Xiaomi Redmi Note
2.119
Sony Xperia acro S
2.119
Nokia Lumia 1020
2.103
Oppo Find 5
2.088
Sony Xperia SL
2.078
Nokia Lumia 630
2.056
BlackBerry Z10
2.051
Huawei Ascend Mate7
2.024
Samsung I9295 Galaxy S4 Active
2.022
Apple iPhone 4
2.016
HTC One mini
2.003
Xiaomi Mi 3
2.001
Huawei Ascend P7
1.992
LG G2
1.976
OnePlus One
1.961
Oppo R819
1.957
Sony Ericsson Xperia ray
1.955
Sony Xperia Z2
1.944
Sony Xperia E3
1.943
Nokia Lumia 1320
1.941
HTC One mini 2
1.94
Samsung Galaxy Camera
1.938
Sony Xperia J
1.932
Acer CloudMobile S500
1.931
LG Nexus 4
1.926
LG G Pro 2
1.922
Samsung Galaxy Mega 6.3
1.913
Nokia Asha 308
1.911
HTC Butterfly 2
1.905
Sony Xperia T
1.894
HTC Desire X
1.878
HTC Butterfly
1.873
HTC Windows Phone 8X
1.873
HTC Butterfly S
1.867
Huawei Ascend P6
1.865
Huawei Ascend Mate
1.845
LG G2 mini
1.838
LG G3
1.82
Nokia Lumia 1520
1.813
HTC Desire 616 dual sim
1.797
Sony Xperia V
1.792
HTC Desire 816
1.783
Sony Xperia Z1 Compact
1.772
HTC Desire 700 dual sim
1.769
Sony Xperia U
1.758
Meizu MX3
1.754
LG Optimus G
1.753
Sony Xperia T2 Ultra
1.74
Sony Xperia Z3 Tablet Compact
1.735
Sony Xperia SP
1.733
Oppo Find 7
1.691
LG Optimus 4X HD
1.691
HTC One V
1.685
BlackBerry Q5
1.682
LG Optimus Vu
1.68
Xiaomi Mi Pad 7.9
1.672
LG Optimus GJ
1.666
LG Optimus 3D Max
1.658
HTC Desire V
1.646
Samsung Galaxy Xcover 2
1.632
Samsung Galaxy Ace 3
1.622
Jolla Jolla
1.605
Sony Xperia Z Ultra
1.578
Sony Xperia go
1.577
Samsung Galaxy Ace 2 I8160
1.566
Samsung Galaxy Core
1.563
LG Optimus G Pro
1.552
Motorola Moto E
1.545
LG Optimus 3D
1.542
Nokia Asha 302
1.537
BlackBerry Curve 9320
1.488
Sony Xperia M
1.473
Oppo N1
1.47
Meizu MX 4-core
1.462
Nokia Lumia 610
1.432
Samsung Galaxy S Duos
1.4
Sony Xperia M2
1.393
Samsung Galaxy Grand Neo
1.393
Samsung Galaxy Grand 2
1.38
Sony Xperia E1
1.372
Nokia Lumia 625
1.371
Gigabyte GSmart G1355
1.361
Sony Xperia L
1.351
Xiaomi Redmi 1S
1.35
Samsung Galaxy Mega 5.8
1.35
Sony Xperia M2 Aqua
1.331
Sony Xperia miro
1.324
Samsung I9082 Galaxy Grand
1.321
Samsung I8530 Galaxy Beam
1.315
HTC Desire C
1.3
Nokia X
1.291
Sony Xperia C
1.283
Nokia Asha 503
1.281
Nokia Asha 501
1.27
LG Optimus L7
1.269
Nokia Lumia 510
1.268
Samsung Galaxy Fame
1.245
LG Optimus L9
1.227
Meizu MX
1.221
Samsung Galaxy Young
1.22
Sony Xperia E
1.215
Nokia XL
1.204
Sony Xperia E dual
1.203
Asus Memo Pad 7 ME176C
1.198
Samsung Galaxy Pocket
1.18
Nokia Asha 305
1.178
Nokia Asha 306
1.175
Sony Xperia neo L
1.169
Sony Xperia tipo
1.166
Nokia Lumia 520
1.161
Samsung S6802 Galaxy Ace Duos
1.148
Samsung Galaxy mini 2
1.114
Battery life
Since the Vibe Z2 Pro has a lot of space inside it, Lenovo has managed to fit a whopping 4,000mAh battery. And while that number is certainly impressive, it's worth pointing out that it's not the largest in the segment - the Huawei Ascend Mate 7 sport a 4,100mAh battery.
Still, we are very pleased with what the power autonomy of the Vibe Z2 Pro. We ran our usual set of battery tests: 3G talk time, video playback, web browsing and stand-by. While the huge pixel-dense screen meant scores in the video and web browser department were good, but not quite record-breaking, the excellent stand-by endurance gave the Vibe Z2 Pro a solid score of 76h.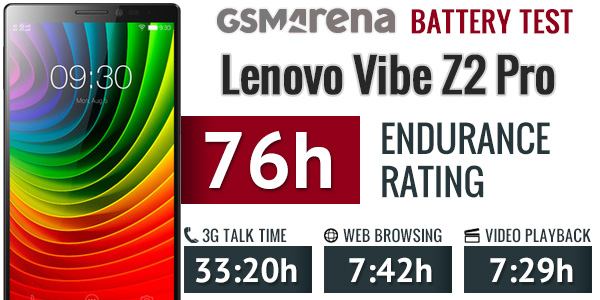 You can find more about our battery testing procedure here.
On top of that, the company has baked in a handy power manager app. It gives you a clear reading of what battery power you have left and an estimation of how much usage it will give you. There are also three modes you can pick from: normal, power saving and emergency. Power saving mode will block apps running in the background and also downclock the CPU a bit to make the phone more economical, while still retaining most of its functionality.
Emergency mode goes a bit extreme by enabling only calling and messaging. Anything else on the phone is disabled, allowing it to spread that remaining charge over several hours or even days.
Another cool feature of the Power manager app is the Power saving engine, which optimizes the phone's brightness by using "sine wave power-saving technology". Lenovo estimates it can reduce power consumption by 5-30%. There's a similar option for the GPU and its power reduction goes as far as 25%. If you want to get even more juice out of the battery, the app allows you to schedule a timed shut down of the phone.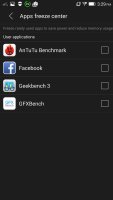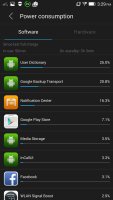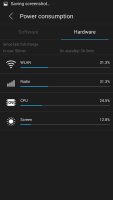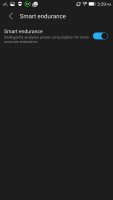 Freezing apps from drawing power
You can freeze apps and see a detailed graph of the power consumption. The latter is separated into software and hardware. The software part is akin to the stock Android battery graph, while the hardware shows you how much power the CPU, screen, radio, Wi-Fi and other hardware components draw out.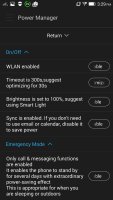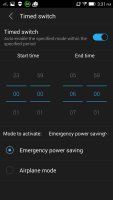 Turning the phone automatically on and off is a cool feat
Finally, there's the option to optimize power consumption. The button is located at the bottom and upon pressing it the app detects what draws the most power and offers you advice on how to fix it. It's clear that Lenovo has turned special attention to getting the most out of the Vibe Z2 Pro battery.
Connectivity
The Lenovo Vibe Z2 Pro comes with truly global quad-band 2G/GPRS/EDGE and penta-band 3G with HSPA (up to 42Mbps downlink and 5.7Mbps uplink). The six-band Category 6 LTE support (50Mbps of uploads and 300Mbps downloads) is not the best around, but it still covers plenty of big names in the 4G business.
The phone is available in single SIM a Dual SIM configurations. The latter has a dedicated SIM management section in its settings menu. It allows you to choose which SIM card is active and the default SIM to place voice calls, use data connection or send messages.
Local connectivity is covered by dual-band Wi-Fi a/b/g/n with DLNA, so you can easily play media (photos, videos, music) from DLNA-enabled storage devices or push content from your phone to a DLNA-compatible TV or music player. There's also a Wi-Fi display app to connect the phone to an external display using Micracast.
Bluetooth 4.0 is also on board with A2DP, EDR, and LE. The microUSB 2.0 port supports USB host so you can attach USB flash drives or connect peripherals.
GPS and GLONASS support is enabled. There's an FM radio and NFC on board, leaving infrared blaster as the only connectivity feature missing.