Expanding universe
Lenovo Vibe Z2 Pro review: Expanding universe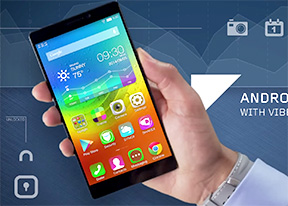 User interface
The Lenovo Vibe Z2 Pro runs Android 4.4.2 KitKat out of the box complete with Lenovo's thoroughly skinned Vibe 2.0 user interface layer. As is often the case with Chinese phone makers, we can't help but notice a lot of similarities between the UI skin and Apple's iOS as far as general organization is concerned.
Nevertheless, Lenovo's approach is clean and unobtrusive. It features a lot of additions to the stock Android functionality, without making everything too cluttered.
Check out our quick walkthrough of Lenovo's custom Android work in the video below.
Starting with the lockscreen, it's the standard Android affair displaying a date widget and, depending on the theme you've chosen, up to four shortcuts for the phone dialer, camera and messaging apps. Lenovo has ditched the lockscreen widgets that come stock with Android, though.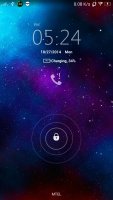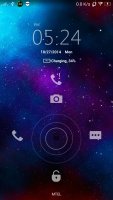 The lockscreen doesn't offer much customization
Beyond the lockscreen we find a fairly standard Android homescreen with up to 18 homescreen panes available at your disposal. That's a lot of space, but then again, Lenovo doesn't have a dedicated app drawer, so you might need more of it than you expect. With no app drawer, anything you install pops up on the homescreen, akin to a Xiaomi smartphone, where it coexists with your widgets.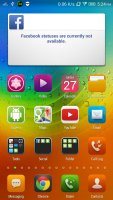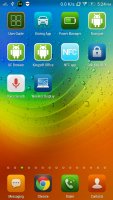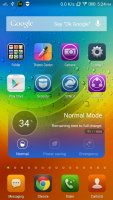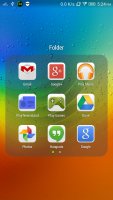 The homescreen doubles as an app drawer
You can group the app in folders, which look a lot like the folders on iOS 8. Anyway, a pinch gesture on the homescreen gets you to the management screen - from there, you can rearrange, delete and add panes. That's where you also choose the default homescreen that you go to when you press the home button.
Tapping the Menu button on the homescreen gives you quick access to themes, wallpapers, desktop settings and screen manager. From here, you can also add and remove widgets.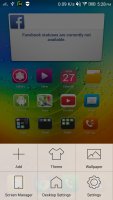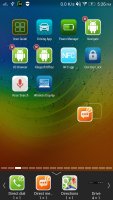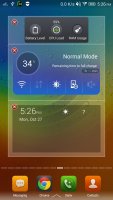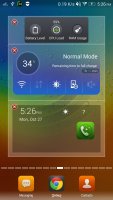 Tapping the menu button gives you more options
Theme center allows you to change the look and feel of the user interface. There are several built-in themes, which change the wallpaper, the boot animation, ringtones, user interface elements and app icons. You can also change boot animations and lockscreen styles separately.
The notification area features a row of five user-selectable shortcuts and can be expanded by a swipe down to unveil ten more. You can specify their order from the notification bar settings menu.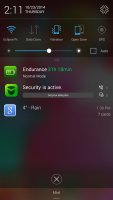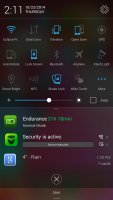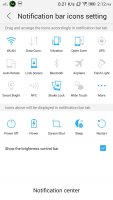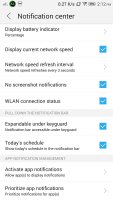 The notification area and its settings
We can't help but notice that Lenovo hasn't added a dedicated Do Not Disturb mode. Still, there are four customizable audio presets so you can quickly change your ringtone and notification settings.
The Lenovo Vibe Z2 Pro is literally a handful and as such often requires two-handed operation. To get around it, you get Micro screen, which allows you to make the UI more suitable for one handed use by shrinking its size. To enable it, draw the letter C from the top right corner down..
The Features tab of the Settings menu contains the interestingly sounding 3D gestures, which let you perform gestures to control the Vibe Z2 Pro. You can answer or decline calls by swiping up or down the screen and also control video playback.
However it didn't quite work for us and proved to be quite buggy. Here's hoping Lenovo polishes those in upcoming firmware updates.
A long tap on the Menu capacitive key reveals the app switcher. Swiping an app up removes the app from memory and closes it. A slide to the right shows you the available RAM and a button to clean all open apps from it.
The custom Lenovo launcher sports a number of features such as wallpaper scrolling and replacing the wallpaper at will. The latter enables you to change the wallpaper from the homescreen by sliding from the top right corner diagonally. Other settings include desktop transition animation as well as backup and restore.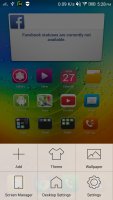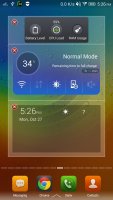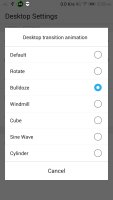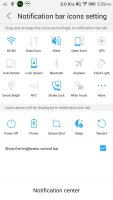 The advanced custom launcher settings
Adding a widget is straightforward. You have to long press on an empty spot on the homescreen and the widget bar surfaces. Then, it's simply a matter of tapping the widget you want to appear after selecting a homescreen with enough free space on it.
Finally, Google Now integrates with your Google account and can access your daily routine, internet searches, email, etc. and give you information relevant to your interests and daily needs.
It provides traffic information to your work or home, knows the scores of sports teams you follow and gives you the weather forecast for your location. It's great for at-a-glance info, but can handle voice input as well. It also has a dedicated homescreen/lockscreen widget.