Connectivity gets LTE at last
The LG Nexus 5 starts off with the basics - quad-band GSM/GPRS/EDGE and penta-band 3G globally and dual-band CDMA and six HSDPA bands for the North American model. LTE is finally making its way to the Nexus family with seven supported bands in North America and six bands for the global model.
Google's latest Android flagship uses Bluetooth 4.0 alongside Wi-Fi support which includes a/b/g/n, as well as the new ac standard, with both 2.4GHz and 5GHz band compatibility throughout.
The Nexus 5 allows you to share all sorts of media via NFC by simply touching the device and other NFC-capable devices back-to-back.
USB on the go is a here too, although its implementation is far from ideal. You get to use all sorts of USB-connecting peripherals like mice and keyboards, but we couldn't get it to read any external storage - USB sticks, card readers and external hard drives were a no-go. There's a workaround to this using third-party apps, which suggests that for some reason Google disabled the functionality on purpose.
The LG Nexus 5 also offers wireless display streaming, which uses the Miracast standard. In essence it allows you to share the Nexus 5 screen content to a Miracast-supporting device via Wi-Fi.
Google Chrome is solo
The Nexus 5 comes with Google Chrome as its solitary preinstalled browser. The interface hasn't changed since Chrome's launch for Android and is clean and minimalist.
At the top there's an URL bar with a refresh/stop buttons next to tabs and settings buttons. You can switch between tabs with a wide swipe from either the left or right of the top bar.
Opening the tabs area reveals a list of tabs which can be closed again with a left or right swipe. The animation accompanying this action is neat, too.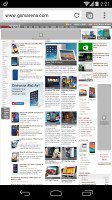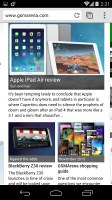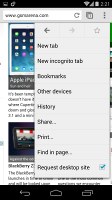 Google Chrome
Of course, one of Chrome's strengths is its ability to seamlessly sync with its desktop version, using nothing but your Google account. This allows you to open an article on your PC and finish reading it on your mobile phone. It also syncs your bookmarks and favorite sites.
Google Chrome is generous on settings as well. You can control almost every aspect of your web browsing from choosing what content you want to allow to load like JavaScript, images, cookies and pop-ups.
If you are out of Wi-Fi access, you can, for example, choose temporarily not to load images. Digging into Chrome's options, you'll also have the option to turn the auto-fill of forms and storing passwords on or off.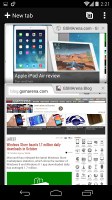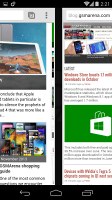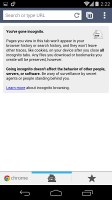 Switching between tabs • An incognito tab
Unfortunately, while Chrome excels in many areas, it falls short on the one that could be a deal-breaker for many of Android users and this is Flash. Sadly, viewing Flash content is the one thing you won't be able to do here.