Still camera
The LG Nexus 5X comes with a new camera geared for low-light shooting. The Sony IMX377 sensor is not very high resolution - 12.3MP - but it has 1.55µm pixels (for comparison, the iPhone 6 has 1.5µm pixels). Physically, it is a large sensor, 1/2.3", matching the Xperia Z series, which pumps out a lot more megapixels than the Nexus 5X.
It also has a relatively wide aperture of f/2.0, dual-LED flash and laser autofocus. All of that should enhance its performance in the dark.
There's no Optical Image Stabilization though, like the 2013 model had. Also, there doesn't seem to be phase-detection AF, just contrast + laser.
The selfie camera uses a 5MP sensor (from OmniVision), also with an f/2.0 aperture. Both main and front camera have HDR+ mode.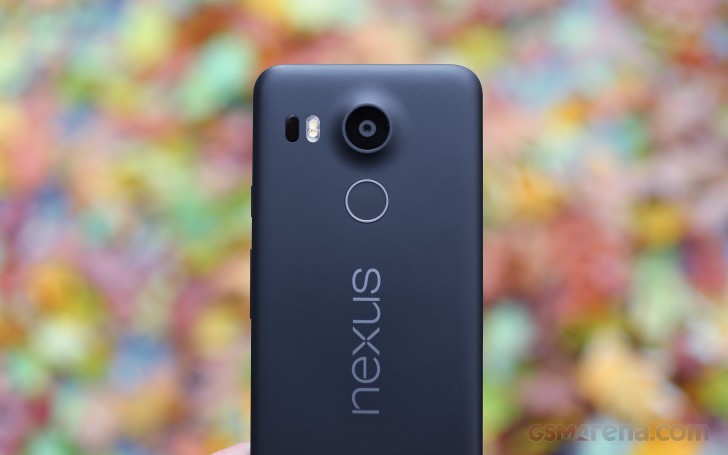 The camera UI is fairly simple, only really giving you access to flash mode, HDR and self-timer. There are no manual controls, but Android 6.0 has the necessary APIs so you can grab a camera app from the Play Store (there are both free and paid alternatives). Those would give you manual focus, shutter control (1/8,000s - 1/5s) and other options, too.
A fast way to start the camera is to double tap the Power key when the phone is locked.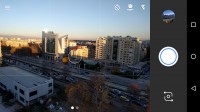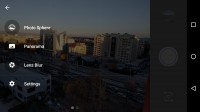 The Google Camera • switching modes
The Google camera does have a couple of tricks of its own though - Photo Sphere to supplement the usual panorama and lens blur (simulated shallow depth of field). You tap a hamburger menu to view the modes, but swipe left/right to switch between still and video camera. It's not a very common UI and it takes some getting used to.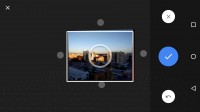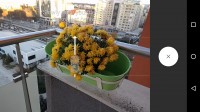 Shooting a Photo Sphere • a lens blur image
The LG Nexus 5X camera does not have many pixels, but the per-pixel quality is quite high. Noise is kept low and photos come out rich in detail without being over-sharpened. Even foliage is rendered well. The colors are very accurate, though the dynamic range seems to be somewhat limited.
HDR+ mode
You'll probably want to leave the HDR mode on Auto, but keep in mind that it really slows down the shot to shot time so it's a tradeoff. What you get is a massive improvement in highlights, though shadows lose some detail with HDR on, which is the opposite of what we expect to happen.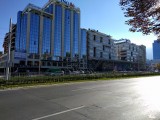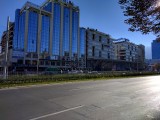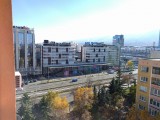 HDR off • HDR on • HDR off • HDR on
Selfies
The selfie camera does a good job too - it uses slightly stronger noise reduction, but still leaves a lot of detail (especially for a 5MP shooter). You can enable HDR if the sun is behind your back.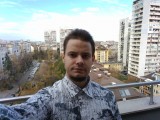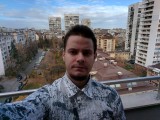 Selfie HDR off • Selfie HDR on
Low-light samples
We've prepared a short, impromptu low-light comparison between the Nexus 5X, the Samsung Galaxy S6 and the HTC One A9. From our experience, the built-in HDR modes are not as helpful in low light on the other two phones, so Google is definitely on to something with the Nexus HDR+ mode.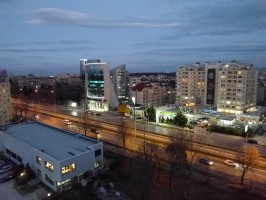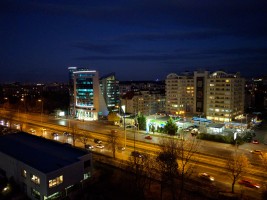 HDR+ Off on LG Nexus 5X • HDR+ On on LG Nexus 5X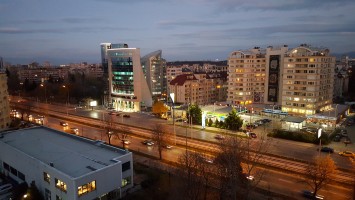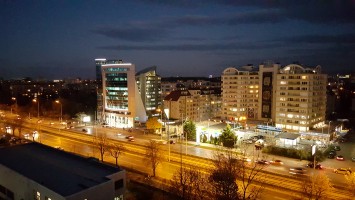 HDR off on Samsung Galaxy S6 • HDR On on Samsung Galaxy S6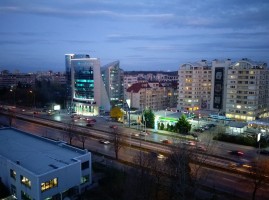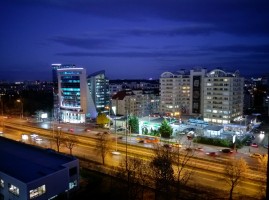 HDR Off on HTC One A9 • HDR On on HTC One A9
The LG Nexus 5X performs very well in the dark, rendering sharp images with relatively little noise, colors remain accurate. We discovered that enabling HDR+ improved the low light image quality greatly, though it takes longer to capture the scene so it's perhaps better suited to still scenes.
The panorama mode is a bit slow (you have to aim for dots instead of just sweeping), but the results are satisfactory. Vertical resolution is around 2,500px and the stitching is very accurate.
Photo quality compare
The Nexus 5X camera doesn't go overboard with resolution, like say the Xperia Z series, but prefers to improve the per-pixel quality. The Apple iPhone 6s and HTC One A9 are also in the 12MP-13MP range with similar ideals, here's how the 5X compares to those two.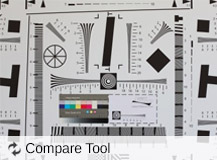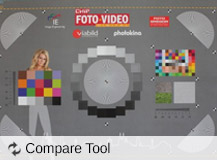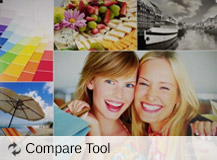 LG Nexus 5X in our photo compare tool
Video camera
Video mode gives you a choice of 2160p @ 30fps and 1080p @ 30fps for common shooting with a 720p @ 120fps option if you want some slow-motion effects. There's no 1080p @ 60fps mode though, which would make a big difference for fast-paced scenes. Also, changing resolution involves going into the settings, which isn't all that convenient.
Anyway, the 2160p videos are captured at 42Mbps bitrate and have rock solid 30fps. The audio quite surprisingly came back mono-only. The Nexus 5X has two mics (one on top, one on bottom) so 96KBps mono is really not what we had in mind. Yes, the iPhones do it too, but that's no excuse.
The video quality is very high, with sharp, detailed imagery. The colors seem slightly oversaturated now and the low-ish dynamic range is still a problem. Audio quality is not as good as Android flagships and the lack of stereo is noticeable.
1080p videos are shot at the standard 17Mbps bitrate and the same audio. The video quality is great for 1080p, apart from the oversaturation and dynamic range.
Note that the Nexus 5X stores video rotation as metadata and unless your video player supports it, your videos may come out upside down (VLC did okay, Media Player Classic failed).
The slo-mo 720p @ 120fps videos are shot at a measly 7Mbps. The quality turns out surprisingly good though and the motion is very smooth (though refocusing can take a couple of seconds in playback time).
Video quality compare
The LG Nexus 5X topped out at 1080p, but in the intervening years 2160p has become the norm, even for mid-rangers. Apple recently took the plunge, while HTC straddled its premium-looking A9 with a weak chipset that bounds the resolution at 1080p so we swapped it out for the Galaxy S6 in the video comparison below. Of course, you are free to choose any of the phones we've tested so far to compare against the Nexus 5X.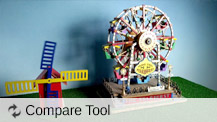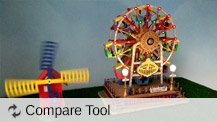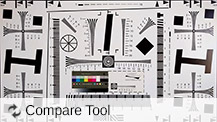 LG Nexus 5X in our video compare tool: 2160p resolution