User interface
The Q6 runs Android 7.1.1 Nougat, with LG's own UI layer plastered on top. If you've used an LG device this year you're probably familiar with what this looks like, but let's dive in nevertheless.
LG's version of Android has its own icons and a launcher that lets you display every single app that's installed across your home screens, iPhone-style, but if you like the standard Android way better, you can choose to get an app drawer too. Long-pressing on an empty space in a home screen brings up a menu that lets you quickly add a shortcut to an app, a widget, or a new wallpaper. By default, the launcher encases app icons into a rounded square, but you can turn this off.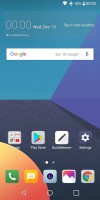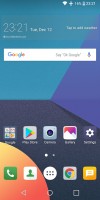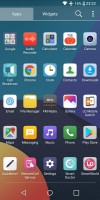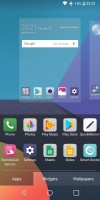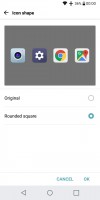 Launcher: no app drawer • with app drawer • the app drawer • long-press for options • icon shape selector
The Settings area uses a tabbed interface, with four main categories that each have loads of options nestled inside. It's definitely not the lightest version of this menu that we've ever seen, but once you learn where each subsection lives, navigating it becomes pretty quick.
Up top on the right side you have a bell icon that basically alerts you towards suggestions regarding your current settings. Next to it is a search icon - of use if you know what setting you're looking for, but not where exactly it is to be found. Finally, if you don't enjoy LG's tabbed UI, the three dots menu will let you switch it to a more Googley "list view", tabs be gone.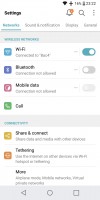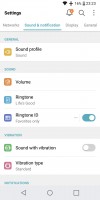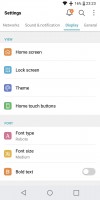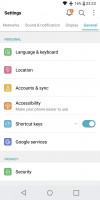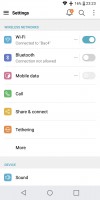 Settings: Networks • Sound & notification • Display • General • Tab-less version
Because of the tall aspect ratio of the screen there's an App scaling setting you can use on a per-app basis if you ever come across one that looks weird or letterboxed. That shouldn't be an issue you encounter every day, since in general Android automatically deals with this pretty well.
The lock screen has a couple of app shortcuts in the bottom corners, which by default launch the phone app and the camera once you swipe up from the icon. Not only are these shortcuts customizable in terms of what app they take you to, but you can have up to five on the lock screen at the same time. The swipe up gesture works for unlocking the phone too when you don't grab any of the icons, and you'll probably be using this a lot since the Q6 doesn't come with a fingerprint scanner.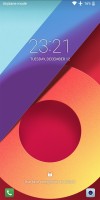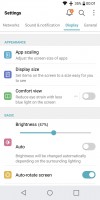 Lock screen • App scaling in Settings
The alternative is face unlock, which works alongside a secure authentication method such as a PIN or password. This functions well enough once you set it up, but since it only uses the front camera it's definitely not as secure as Apple's Face ID, nor Samsung's iris scanning tech. LG's implementation is as convenient, though, since you don't even need to press any buttons before the face scanning occurs, just pick up the phone and point it at your face, give it a second or two, and you're in, taken straight to your home screen. A more secure version of this can be enabled in Settings, and that will make it take even longer while still not matching the aforementioned competing systems in terms of security.
LG's Knock On tech is present in the Q6, and it lets you wake up the screen as well as turn it off - with a double tap.
The handset has five pre-installed themes, which change colors throughout the UI. Each comes with its own app icons too. More themes are available in SmartWorld, LG's own store that also has fonts, ringtones, videos, games, and wallpapers for download.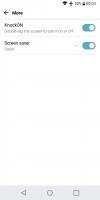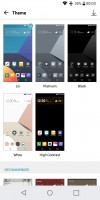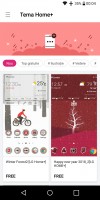 Knock On • Themes • Theme store
Notifications behave like you'd expect from a Nougat device, but they are styled to fit in with LG's UI design of course. The notification pane shows the first six Quick Settings tiles when you go into it with one swipe, under which the brightness slider resides. A second swipe down will expand those tiles.
If you find this area hard to reach with your fingers because of the tall screen, there's a solution: LG lets you add a button to the Android navigation bar that will pull down the notification pane when you tap it. You can also rearrange the buttons in the navbar, by the way, and choose its background color (though only between white and black).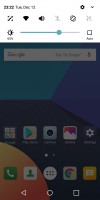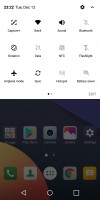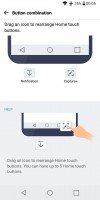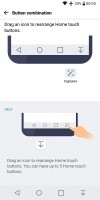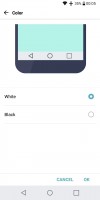 Notification area • Quick Settings • Navbar customization • Notification button added • Navbar color selector
The task switcher is of the rolodex-like vertically scrolling variety with big app cards, though once again styled to LG's specifications. A Clear All button is always visible while you're in this menu, which makes it easy to instantly dismiss every single app that you have opened. On the other hand, if you use the pin icon on an app, then that onre will be 'spared' when you kill the others.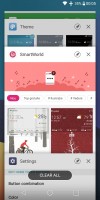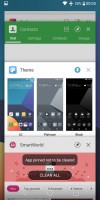 Task switcher with Clear All button • Pinned app
Split screen multitasking is a go on the Q6, and its screen's aspect ratio means that if you split the apps in the middle each will get a square to work with. That said, the handset's display isn't exactly big enough to inspire you to use this feature at all times, but it's still there if you need it. Since LG has given up on its own implementation of this and is just using Google's, it works exactly as it does on Nexuses and Pixels and other Android devices, you simply press and hold the square button while you're inside an app that supports this. That will then be relegated to one half of the screen, and you get to choose an app to fill the other half.
A blue light filter is included, under the Comfort view moniker. Its intensity is only adjustable in three steps: low, medium, and high. In the same Settings menu you can choose to have the UI displayed in black and white, if you prefer that for whatever reason. The blue light filter can only be turned on and off manually, there are no automatic rules.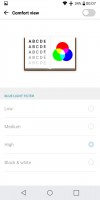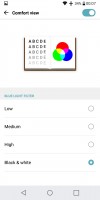 Comfort view blue light filter settings
The Q6 has LG's Ringtone ID on board, which automatically composes a ringtone in real time through an algorithm based on the phone number. You can turn this on for favorites only, contacts only, or all incoming calls. It will override any other group or individual ringtones you may have set. If you like your phone to vibrate while it's ringing, note that you have five vibration types to choose from. A full-featured Do Not Disturb mode is baked in, complete with priority setting and a scheduler.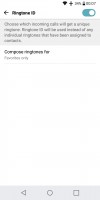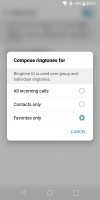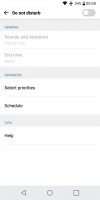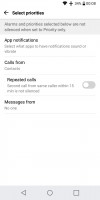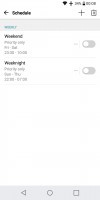 Ringtone ID and Do Not Disturb mode
As with every recent Android phone, the Q6 comes with the Google Assistant on board too. While this is probably the best performing such service for most people, it's still not something that many are going to end up using multiple times a day. Sometimes, though, it can be quite handy - while driving, for example.