Gallery
LG's bundled Gallery app has an Albums view that you're taken into once you load it up. This will automatically create an album for camera shots, downloaded content, and screenshots. You can choose a preferred album, create new ones, and pick the sort order to either be newest first or oldest first. When inside an album, you can pinch zoom to fit more thumbnails on the screen, or use the zoom out gesture for less - you won't get fewer than three thumb columns though, or more than six.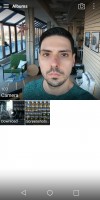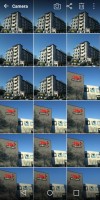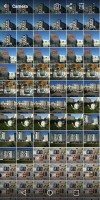 Gallery: main view • album view zoomed in all the way • album view zoomed out
So it's pretty basic as far as Gallery apps go, but if glancing at the image and video files you have on your Q6 is all you're after, it will work very well. For anything more extreme than that you're probably better served by a third party app.
Music player
Shipping on the Q6 is a stripped-down version of the music player we saw on the G6. It's identical, save for the fact that cloud services aren't supported. So on the Q6 this only shows the songs you have on the device, and doesn't reach into your Google Drive, Dropbox, Box, or OneDrive to grab tracks from there.
It does work with Android Wear, however, by having the ability to sync a playlist with your smartwatch. Otherwise it's a pretty basic package. It starts up in Songs view, which shows a list of every track on your handset. Alternatively you can switch to Albums, Artists, or Genres displays. You can create playlists and mark things as favorites. If you'd rather browse your songs by the folder they're in, that's possible too, but you have to access the dedicated option in the navigation drawer that appears when you swipe from the left.
The Now playing interface makes use of the squares concept with the album art on top, and controls on the bottom. Go into landscape and a playlist shows up in the right square. There's no equalizer, but you can mess around with pitch and speed controls if you're so inclined.
FM radio
This app is one of the slickest-looking we've seen. It supports RDS so it will pull the current station's name along with whatever gibberish it's broadcasting. It only does it for the current station and not for the entire list of stations. You can name six favorite stations, there's an option to output through the speaker (headphones still needed for reception), and there's a sleep timer as well. No recording though.
Video player
There's no dedicated video player, you launch videos from the Gallery or the File browser. You get controls for playback speed and a GIF maker included (5, 10, or 15 seconds length).
The video player has a few options for using the 2:1 display: Original, Fit, Zoom, and Fill. One of these should suit every Q6 owner out there. You cycle through these by using the icon that's on the left above the seek bar.
While watching a video, swiping up anywhere in its right half will up the volume, while if you do the same in the left part you'll adjust brightness. These modes of operation are pretty handy, we have to admit.
There's a basic video editor built-in too, which you get to by tapping the pencil-shaped Edit icon while watching a video file. This gives you the ability to quickly cut a video and not much else aside from changing the playback speed for parts of the video to create a dramatic effect.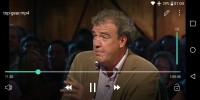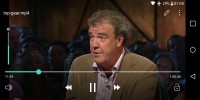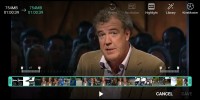 Video player: Volume control slider • Brightness control • Editing interface
Audio output is nicely clean, but rather quiet
The LG Q6 audio output is alright in terms of clarity. It was perfectly accurate with an active external amplifier, while the distortion caused by the pair of headphones wasn't too bad. Stereo crosstalk wasn't great any more, but we've seen worse, while the other readings were barely affected.
The part about the Q6 audio that gives away its budget nature is the volume, which was rather disappointing in both test scenarios. So donning a pair of high-impedance headphones might not be an option for the owners of the smartphone, as it might not be able to go loud enough with those.
| | | | | | | |
| --- | --- | --- | --- | --- | --- | --- |
| Test | Frequency response | Noise level | Dynamic range | THD | IMD + Noise | Stereo crosstalk |
| LG Q6 | +0.03, -0.05 | -85.0 | 88.8 | 0.0014 | 0.0065 | -92.9 |
| LG Q6 (headphones) | +0.14, -0.04 | -91.8 | 91.8 | 0.0031 | 0.113 | -56.8 |
| Oppo F5 | +0.06, -0.08 | -93.5 | 93.3 | 0.0020 | 0.0071 | -93.2 |
| Oppo F5 (headphones) | +0.64, -0.07 | -89.3 | 91.3 | 0.0093 | 0.361 | -52.0 |
| Samsung Galaxy J7 (2017) | +0.01, -0.03 | -92.8 | 92.8 | 0.0032 | 0.031 | -92.3 |
| Samsung Galaxy J7 (2017) (headphones) | +0.23, -0.15 | -92.1 | 91.8 | 0.013 | 0.223 | -77.3 |
| Huawei P10 Lite | +0.04, -0.02 | -88.2 | 88.6 | 0.011 | 0.021 | -84.3 |
| Huawei P10 Lite (headphones) | +0.13, -0.05 | -87.4 | 87.7 | 0.014 | 0.084 | -75.9 |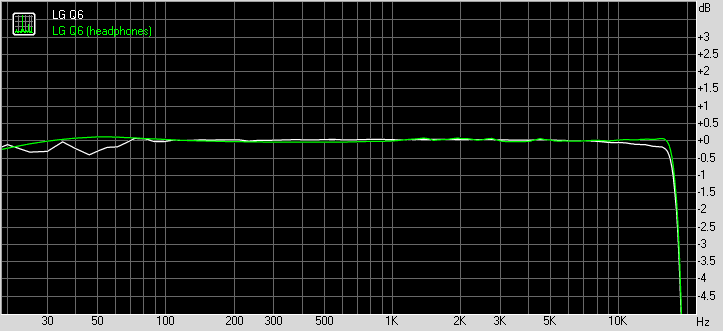 LG Q6 frequency response
You can learn more about the tested parameters and the whole testing process here.