Telephony
The Q6 can be had in single-SIM or dual-SIM iterations, though depending on where you're located you might not get a choice and only have one model available. Our unit is single-SIM for what it's worth.
LG's phone app has support for smart dial so you can search for names in your address book by simply tapping the number that has the associated letter, T9-style. This results in very quick lookup times once you get the hang of it.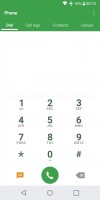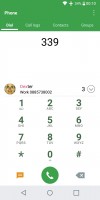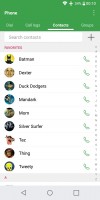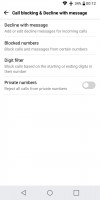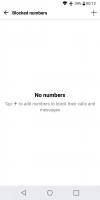 Phone app • Smart dial • Contacts • Call blocking • Blocked numbers
Nougat offers native number blocking and call screening. You can block numbers based on their initial or final digits or just specific numbers. Third-party apps can ask Android which numbers are blocked, so apps that use them to identify users (like WhatsApp and Viber) can also reject calls and messages from those numbers.
Loudspeaker
The Q6 managed to score a Good mark in our standardized loudspeaker test. This puts it on par with the G6, interestingly. That said, the output sounds quite metallic when you go all the way up to maximum volume, and you shouldn't expect any significant level of bass at any point. You also need to keep in mind that this speaker's position on the back of the phone is a pretty rare sight in this day and age, and so if you want to put the handset on a flat surface, the sound will be muffled.
| | | | | |
| --- | --- | --- | --- | --- |
| Speakerphone test | Voice, dB | Pink noise/ Music, dB | Ringing phone, dB | Overall score |
| Sony Xperia XA1 | 61.7 | 69.7 | 71.8 | Average |
| Oppo F5 | 63.5 | 70.8 | 71.5 | Average |
| Xiaomi Redmi 4 | 64.8 | 70.1 | 72.0 | Average |
| LG Q6 | 67.0 | 69.3 | 76.1 | Good |
| Oppo R11s | 67.8 | 72.9 | 73.3 | Good |
| Nokia 6 (Global version) | 63.1 | 70.9 | 82.5 | Good |
| Motorola Moto X4 | 67.2 | 71.1 | 80.7 | Good |
| Xiaomi Redmi Note 4 (S625) | 67.3 | 70.3 | 81.5 | Very Good |
| vivo v7+ | 66.5 | 73.1 | 79.6 | Very Good |
| Huawei P10 Lite | 68.5 | 72.5 | 80.1 | Very Good |
| Xiaomi Mi A1 | 74.0 | 73.9 | 90.4 | Excellent |
Messaging
The bundled SMS app looks clean and does its job well. It can preview messages in its notifications, it comes with a full assortment of message blocking capabilities, and quite a few pre-written canned responses (though you can add more of course).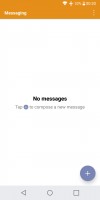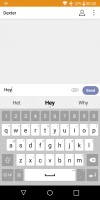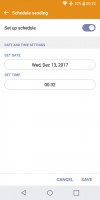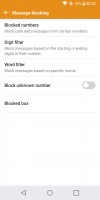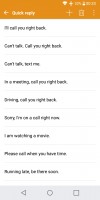 Messaging app • Writing a text • Scheduled sending • Message blocking • Canned responses
It can automatically delete old messages and allows you to set a limit of messages per conversation - independently for texts and MMS. Speaking of which, multimedia attachment support is full-featured. You also get scheduled sending of messages.
Text input
The LG keyboard offers extensive customizations. You can change its size, hide/show the number row, add/remove some buttons and more.
In landscape you get two possible layouts - either spread across the whole width of the screen, or condensed in the middle. The third, and most logical split option is a separate setting that needs to be enabled. Once you do, swiping out from the center of the display with two fingers brings the keys closer to the edges.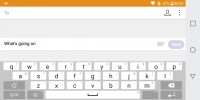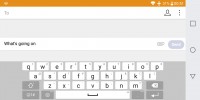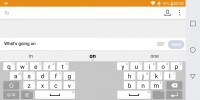 Keyboard in landscape: spread out • condensed • split
Other apps
Smart Doctor takes care of your storage and battery. It can free up both RAM and internal storage. It also serves as a portal to Android's battery saving features. The Diagnose feature goes a bit further and will look for issues with apps, network connectivity, storage and battery and point you to the right section of the online Help documents.
LG's backup app is now part of LG Mobile Switch. It has two main functions - backup and transfer. Using the latter, you can copy most data off your old phone onto the G6, simplifying the upgrade process. Backups store personal data and settings, data from the internal storage and downloaded apps. There's no cloud backup solution, though - you have to manually upload the backup file to your cloud storage provider of choice.
The Audio Recorder app does exactly what you'd expect it to, but it's more basic than the HD version that ships with LG's flagships. It still gets the job done if you want to create a quick audio note or two, even though it lacks any quality settings - any settings whatsoever, in fact, with the exception of picking the location where the recordings should be saved (internal storage or a microSD card if one's inserted).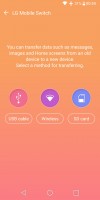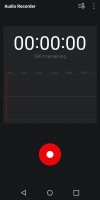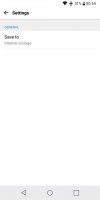 LG Mobile Switch • Audio Recorder • The lone Audio Recorder setting
QuickMemo+ is LG's note-taking app that comes with two 'paper styles' and the ability to customize the color of that 'paper' you're 'writing' on. You can enter text in it (with full formatting options), but also draw and doodle. It even has a built-in 'eraser' tool. You can insert images, videos, or audio recordings into your notes too, as well as location info. It supports many 'categories' (don't call them folders or labels), though by default only one is auto-created - My memos. You can add more of course and place different notes into different categories as you see fit.
LG chose to make its own Calendar app instead of using Google's. This opens up straight into Month view, but that can easily be changed with a swipe from the left. It has all the usual options and looks decidedly like an LG app, thus fitting the Q6's UI very well.
A simple File Manager app is included, which works as intended though some users may find it too limited in terms of functionality and options. If you see it this way, the solution is to grab one of the many third-party file managers from the Play Store.
Of course you're also treated to a full board Google app package, they're even put inside their own Google folder when you first turn on the phone. We're talking Google, Gmail, Maps, YouTube, Drive, Play Music, Duo, Photos, Docs, Sheets, and Slides.