Benchmarks
The Snapdragon 435 chipset that powers the LG Q6 is definitely placed squarely in the lower-midrange segment, and the way it performs in benchmarks reflects this, unsurprisingly. The SoC has an octa-core Cortex-A53 CPU clocked at up to 1.4 GHz. An Adreno 505 GPU is in charge of graphics. Depending on whether you buy the Q6a/Q6/Q6+, you will get 2/3/4GB of RAM.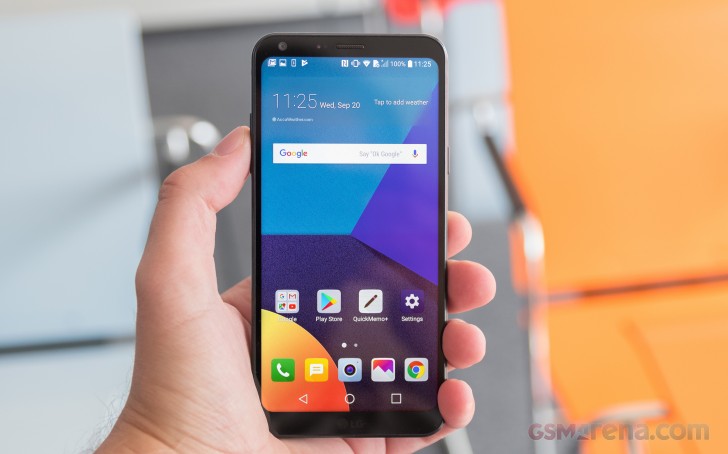 Unfortunately this chip choice, paired with the 2,160x1,080 resolution screen, is something you might regret while using the Q6 day-to-day. Although general UI performance in the launcher, Settings, and some built-in apps is passable, you will encounter slowdowns and choppy scrolling in media-intensive apps - and we don't mean YouTube here, even Twitter and Facebook suffer from the lack of hardware resources on offer.
Let's get on with the benchmarks then. The Q6 manages a 652 single-core score and 2244 for multi-core in Geekbench 4.1. That's not great, and once again reveals that one of the big downsides to the Q6 is its SoC. The Q6 is outperformed slightly even by the Nokia 6, which has the older Snapdragon 430 but an identical CPU arrangement. The Xiaomi Redmi 4 features the same SoC as the LG Q6 and in single-core results overtakes it, but interestingly the Q6 does better when it comes to the multi-core score. The Samsung Galaxy J7 (2017) has a higher-clocked CPU than the Q6 and this translates into its results as you can see. The vivo V7's Snapdragon 450 takes that to a whole new level.
GeekBench 4.1 (single-core)
Higher is better
Sony Xperia XA1
887
Xiaomi Mi A1
877
Motorola Moto X4
866
Moto G5S Plus
843
Huawei P10 lite
834
vivo V7
775
Samsung Galaxy J7 (2017)
734
Xiaomi Redmi 4
670
Nokia 6 (Global version)
665
LG Q6
652
GeekBench 4.1 (multi-core)
Higher is better
Xiaomi Mi A1
4292
Moto G5S Plus
4193
Motorola Moto X4
4136
vivo V7
3935
Samsung Galaxy J7 (2017)
3779
Sony Xperia XA1
3611
Huawei P10 lite
3344
Nokia 6 (Global version)
2841
LG Q6
2244
Xiaomi Redmi 4
1819
The Adreno 505 GPU built into the Snapdragon 435 chipset isn't the best at handling even 16:9 1,920x1,080 screens, but LG's added some extra pixels by stretching the display to 18:9 2,160x1,080. The fact that the GPU can barely keep up with the added resolution becomes pretty obvious when you look at the results in graphics benchmarks.
Plainly put, you aren't going to be playing any graphics-intensive games on the Q6, with perhaps the exception of very old ones. Also the very casual titles that don't need almost any GPU power. For anything else you'll always be counting frames and dealing with hiccups here and there.
GFX 3.1 Manhattan (onscreen)
Higher is better
Sony Xperia XA1
15
vivo V7
13
Motorola Moto X4
11
Xiaomi Redmi 4
10
Oppo F5
6.8
Moto G5S Plus
6.8
Xiaomi Mi A1
6.3
Xiaomi Redmi Note 4 (S625)
6.2
Huawei P10 lite
5
Nokia 6 (Global version)
4.5
LG Q6
3.6
Samsung Galaxy J7 (2017)
3.3
Basemark X
Higher is better
Motorola Moto X4
14479
Moto G5S Plus
10488
Xiaomi Mi A1
10472
Xiaomi Redmi Note 4 (S625)
10446
vivo V7
9987
Sony Xperia XA1
9714
Oppo F5
9205
Xiaomi Redmi 4
7608
Huawei P10 lite
7588
Nokia 6 (Global version)
7516
LG Q6
6336
Samsung Galaxy J7 (2017)
5489
The compound tests such as AnTuTu and BaseMark OS put the Q6 at the bottom of the charts. The scores are not bad, but they are not on par with the Q6 competitors. It's the SoC that lets it down, because depending on which model you get RAM can be as high as 4GB. The Snapdragon 450 would have been a better choice for the Q6 for sure.
AnTuTu 6
Higher is better
Motorola Moto X4
71224
Moto G5S Plus
64554
Oppo F5
63889
Xiaomi Mi A1
61762
Xiaomi Redmi Note 4 (S625)
61616
Huawei P10 lite
60895
Sony Xperia XA1
60707
vivo V7
54970
Nokia 6 (Global version)
47495
Samsung Galaxy J7 (2017)
46822
Xiaomi Redmi 4
44089
LG Q6
40558
Basemark OS II
Higher is better
Motorola Moto X4
1743
Huawei P10 lite
1521
vivo V7
1393
Xiaomi Mi A1
1392
Sony Xperia XA1
1367
Xiaomi Redmi Note 4 (S625)
1290
Oppo F5
1286
Samsung Galaxy J7 (2017)
1171
Nokia 6 (Global version)
978
Xiaomi Redmi 4
946
LG Q6
907
The benchmarks show that the Q6 will definitely not be featured in any Top 10 list when it comes to performance. But you were probably expecting something along those lines when taking into account that this isn't a flagship in any imaginable way aside from its screen's aspect ratio. The phone performs adequately for day-to-day tasks, though pushing it even a little, be that in image and video-intensive social media apps or more demanding games, will result in some choppiness that you'll have to learn to live with. The handset's performance basically tracks the choices made for its spec sheet, and there's no way around that.