Medium extra large
Samsung Galaxy Mega 5.8 review: Medium extra large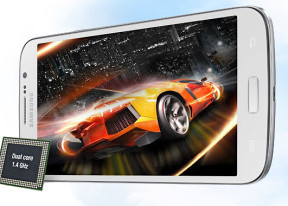 Connectivity is nothing spectacular
The Mega 5.8 may have mostly midrange specs, but Samsung didn't skimp on the connectivity features. The Samsung Galaxy Mega 5.8 has the basic quad-band GSM/GPRS/EDGE and 3G connectivity for both SIM cards.
The phablet has Wi-Fi support which includes a/b/g/n, with both 2.4GHz and 5GHz band compatibility. There's also the low-power Bluetooth 4.0 on board.
The AllShare DLNA functionality, which used to be a standalone application, is now more tightly integrated into the respective Samsung applications. To share or access content on nearby DLNA-enabled devices, you do this directly from the My Video app and the Music Player.
Web browser on a near tablet-sized screen
The Samsung Galaxy Mega 5.8 has a large enough screen to almost rival 7" tablets in terms of comfortable web browsing. The pixel density of the screen isn't very high, but that only matters if you like reading text at low zoom levels (it gets fuzzy).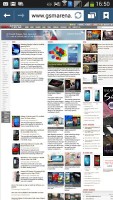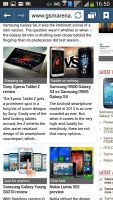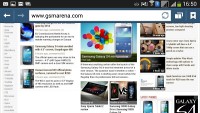 Browsing GSMArena.com on the Samsung Galaxy Mega 5.8
The browser supports both double tap and pinch zooming along with the two-finger tilt zoom. There are niceties such as multiple tabs, incognito tabs, text reflow, find on page and so on. You can also tell the browser to request the desktop version of web pages if you don't want to meddle with mobile pages design for the smaller ~4" screens.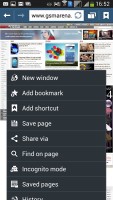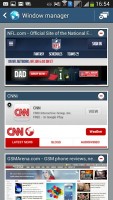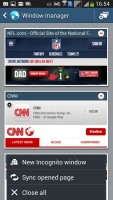 Page options and settings • tabs
The brightness and colors option gives you four different presets to adjust the display according to your preferences. Automatic brightness is an option, too, and works only within the browser.
The web browser also works nicely with Multi-window and there's a translate option in case you come across a website in a language you don't speak.
Flash cannot be enabled even in the stock Android browser as support for plug-ins has been dropped.
S Apps and more
The Samsung Galaxy Mega 5.8 features a wide array of advanced features and applications out of the box.
One of the coolest apps is called Group Play. It shares various multimedia across multiple devices in the same room, but unlike DLNA it's interactive.
Unfortunately, the Group Play app on the Mega 5.8 lacks the ability to share music, due to the fact that it does not have NFC connectivity to pair with other devices.
Nevertheless, the more useful share document and picture options are enabled - you can have the same picture appear on everyone's phone and you can draw over it if you need to highlight a certain element of the image.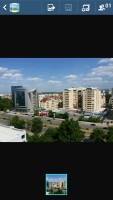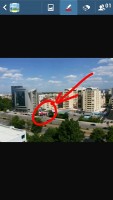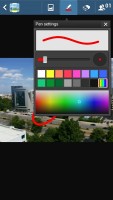 Sharing a photo and drawing over it
Finally, perhaps the coolest feature of Group Play is that it allows for multiplayer games to be played on several phones simultaneously. Of course, only supported games work.
Moving on, there's Samsung Link, another way to share content between devices. Unlike Group Play, Samsung Link is intended for personal use. You can link the phone to a computer that is synced with Dropbox, SkyDrive or SugarSync and remotely access content on that device.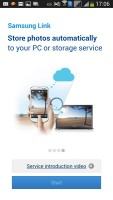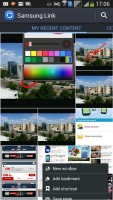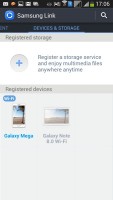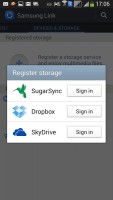 Samsung Link lets you access content from your computer remotely
S Translator will help travelers - it can translate between two languages using either typed text or by using speech recognition. It can read out the resulting translation too, if you don't think your Korean accent can cut it. S Translator supports all the widely-spoken languages - English, Chinese, Spanish, Portuguese, French, German, Italian, Japanese and, of course, Korean.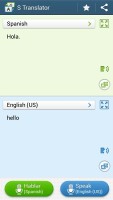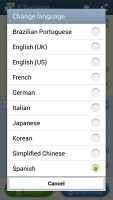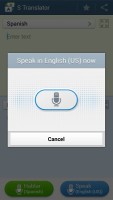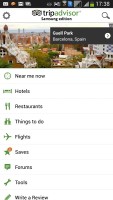 S Translator can be invaluable while traveling
Finally, the Mega 5.8 comes preloaded with a special "Samsung edition" of the TripAdvisor app. Besides the ability to have rotating lockscreen images, the Samsung-specific version of the app allows you to login with your Samsung account, use the S Travel widget for a quick peek at certain popular travel destinations, as well as automatically add relevant travel information to your photos.
Otherwise, the app lets you find interesting things to do if you're in a new city, as well as hotels, restaurants and even flight information. Most locations have reviews posted by other TripAdvisor users, so you can quickly see if a place is worth it or not.