Medium extra large
Samsung Galaxy Mega 5.8 review: Medium extra large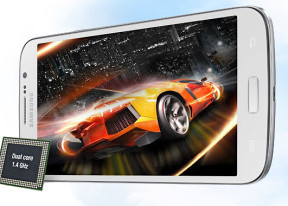 Office Editor is limited out of box
As to Office functionality out of box, the Galaxy Mega 5.8 gives you only the Polaris Office viewer, rather than the full-fledged editor. The viewer does not show up in your app drawer, but instead only opens when you select the relevant document from the My Files app.
Nevertheless, you can view most document types, including PowerPoint, Word, Excel as well as PDF. If you want full editing capabilities, you can download the full version of Polaris from Samsung Apps for free. We suspect Samsung included only the viewer to save on space, as it's 26 MB worth of a download.
Organizer is as robust as ever
The Calendar can be viewed by Day, Week, Month or Year, or by a list of all your upcoming tasks or events. The small date cells display only limited info on the events for the day, so you'll have to select the event for more relevant information. Adding a new event is quick and easy, and you can also set an alarm to act as a reminder.
There is also a calculator on board. It is nicely touch optimized - the buttons are big enough and easy to hit, and there's advanced logarithm functions if you rotate it to landscape mode.
The Samsung Galaxy Memo 5.8 features a decent alarm clock application which allows a huge number of alarms to be set, each with its own start and repeat time. There's also a World clock, a stopwatch, and a timer. They are easy to work with and can come in handy.
We've been familiar with the S Memo app ever since its debut on the Galaxy Note, and its functionality remains more or less the same. It allows you to create notes either via a virtual keyboard or simply by doodling with your finger. Samsung even sells a special display-friendly ball pen for enthusiasts.
Google Maps and Navigation give you the most out of GPS
The Samsung I9152 Galaxy Mega 5.8 comes with a GPS receiver, which got a satellite lock in couple of minutes with A-GPS turned off. A-GPS can speed this up quite a bit, but requires Internet access. We didn't experience any issues with GPS performance.
The Galaxy Mega 5.8 comes with Google Maps and Navigation. Voice-guided navigation has become a viable solution since the v5.0 update. Vector maps are smaller and easier on the data traffic and reroute is an option if you go off course without the need to connect to the Internet. In fact, the only time you need a data connection is when you initially plan the course - Navigation will cache the needed maps.
Quite naturally, the app also supports the Street View mode. If it's available in the area you're interested in, you can enjoy a 360-degree view of the surroundings. When the digital compass is turned on it feels like making a virtual tour of the location.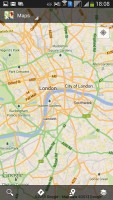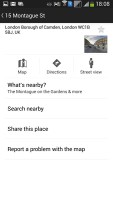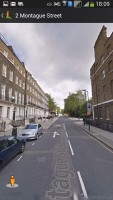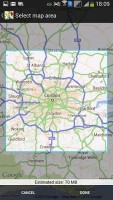 Google Maps includes Street View as well
If Google Maps Navigation doesn't do it for you, you can grab an alternative app from the Android Market - there are both free and paid ones.
Google Play backed up by the Samsung Apps store
The Google Play Store has had a minor visual update recently, and the tiled interface allows app thumbnails to more effectively scale on larger displays like the Mega 5.8's. The functionality of Google Play is just as before; you have apps laid out across several scrollable tabs - categories, featured, top paid, top free, top grossing, top new paid, top new free and trending. Apps usually have several screenshots (some even offer a demo video) so you can get an idea of what the app looks like before installing it.
You can also check out comments and ratings, as well as the number of downloads and so on, to help you decide whether the app is worth it.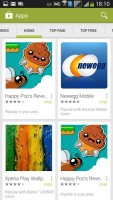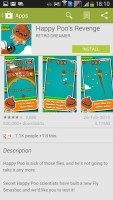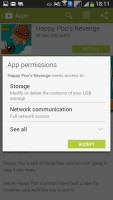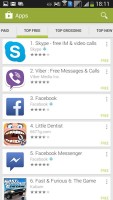 The Android Market will give you access to hundreds of thousands of apps
The Google Play Store is full of all sorts of apps. From music / video players, to file managers and various tools, you'll always see something worth a try.
Samsung has added its own app store to the mix. It features largely the same type of interface as Google Play, except here you'll find a far smaller number of apps. The good news is Samsung uses this repository to distribute some exclusive titles and some promotional offers available only to its customers, like the abovementioned Polaris Office editor.