Medium extra large
Samsung Galaxy Mega 5.8 review: Medium extra large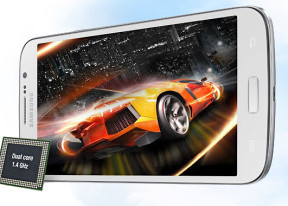 Final words
The Samsung Galaxy Mega 5.8 is the smaller member of a pair that leads the "go-big-or-go-home" campaign. If you're looking for a device that gives you big screen action without breaking the bank, it's a device worthy of your consideration as it falls in just short of the tablet range.
The dual-SIM support is also a huge plus in this regard, as many emerging markets have users who are keen on having not only the ability to wield a larger screen around, but also be able to place calls across multiple carriers. That being said, the dual-SIM functionality may not be without its fair share of sacrifices.
The Galaxy Mega 5.8 comes with a dual-core Broadcom chipset that gives you less than stellar performance, particularly when compared to its larger Qualcomm Snapdragon-wielding counterpart, the Galaxy Mega 6.3. Whether Samsung determined that the Broadcom chipset manages dual-SIM functionality more effectively, or if it's used to simply keep the price down is anyone's guess, but the fact remains that you'll get no better than last year's midrange performance from the Galaxy Mega 5.8. Good thing is Jelly Bean goes a long way towards masking the deficiencies and UI navigation is pretty smooth.
If you're looking for an even more affordable dual-SIM big screen alternative to the Mega 5.8, another in-house solution can be found with the Samsung Galaxy Grand. While it also sports the less-than-stellar Broadcom chipset, you'll be getting a 5-inch screen, with the same amount of onboard storage, 1 GB of RAM, and the same 8MP camera capable of 1080p video recording, alongside a 2MP front-facer.
If dual-SIM support isn't that important, but a large screen is, why not check out the Samsung Galaxy Note II? It's got an HD-resolution screen that's only slightly smaller at 5.5 inches, and you'll be getting more storage space, 2 GB of RAM, and the great S-Pen functionality, all powered by a much more capable 1.6 GHz quad-core Exynos chipset. 4.2.2 Jelly Bean update for the Note II has still not been released by Samsung, but it should come in the following months.
Arguably the most interesting alternative is the Huawei Ascend Mate. Packing an even larger 6.1" display, the Chinese smartphone has 720p screen and a quad-core chipset without costing more than the Galaxy Mega 5.8.
Acer also announced a huge phablet of its own with the Liquid S1. The 5.7" handset will have a dual-SIM version and while its four Cortex-A7 cores aren't all that great, the 720p resolution of its screen is definitely a huge upgrade over what the Mega 5.8 has.
For the Samsung Galaxy Mega 5.8 to be relevant to a smartphone user, it comes down to a very specific set of needs. First, you just have to have a large screen, second, you need to have dual-SIM support and finally, you have to value Android 4.2 Jelly Bean pretty high. If this is you, then the Mega 5.8 offers a package that few can match.
If at least two of the above three conditions aren't set in stone, however, take a look at the above recommendations for some alternatives. By the way, the Mega 6.3 is clearly a superior package but it seems it runs a greater risk of being cannibalized by the Notes - the upcoming model and the current second generation. The Mega 5.8 is seemingly playing it safe and keeping it simple. Dual SIM on a massive screen may not be the most compelling combo but one that might be in demand in select markets.