Medium extra large
Samsung Galaxy Mega 5.8 review: Medium extra large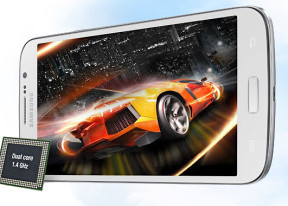 Synthetic benchmarks
The Samsung Galaxy Mega 5.8 uses a dual-core Broadcom SoC clocked in at 1.4 GHz alongside a VideoCore IV GPU. While we have seen the Broadcom chipset before in a Samsung device (most notably in the Samsung Galaxy S II Plus), we haven't seen it clocked at 1.4 GHz. It's curious why Samsung chose the generally low-end Broadcom chipset for the Galaxy Mega 5.8 while sticking to a far more capable Qualcomm Snapdragon SoC for the Galaxy Mega 6.3, but we assume price is a factor.
With the notable exception of web browsing, it's been our experience that the Broadcom SoC generally performs worse than its Qualcomm equivalents - even those with lower clock speeds - so we're not expecting anything spectacular in terms of performance.
BenchmarkPi tests single-core CPU performance, and the 1.4 GHz processor scores towards the bottom of the pack in this benchmark, right around the previous generation Samsung flagship, the Galaxy S III.
Benchmark Pi
Lower is better
Samsung Galaxy S4
132
LG Optimus G Pro
147
HTC One
151
Sony Xperia SP
184
Sony Xperia ZL
264
Sony Xperia Z
264
HTC Butterfly
266
Oppo Find 5
267
HTC One X+
280
LG Optimus G
285
Samsung Galaxy Note II
305
HTC One X (Tegra 3)
330
LG Optimus 4X HD
350
Samsung Galaxy S III
359
Meizu MX 4-core
362
Samsung Galaxy Mega 5.8
364
Nexus 4
431
The AnTuTu CPU benchmark is where the Mega 5.8 really struggles. Granted, it's pitted against mostly quad-core competition, but the device is far behind the pack by a large margin.
AnTuTu
Higher is better
Samsung Galaxy S4
24716
HTC One
22678
Sony Xperia Z
20794
Sony Xperia ZL
20743
LG Optimus G Pro
20056
HTC Butterfly
19513
Sony Xperia SP
15874
Samsung Galaxy S III
15547
Oppo Find 5
15167
Samsung Galaxy Mega 5.8
7338
We ran GLBenchmark off-screen, which means we're testing at a fixed resolution, which lets us test the raw GPU power. The VideoCore IV is one of the less popular mobile GPU's around, and the one found in the Galaxy Mega 5.8 did not impress.
GLBenchmark 2.5 Egypt (1080p off-screen)
Higher is better
Samsung Galaxy S4
41
HTC One
37
Oppo Find 5
32
Google Nexus 4
32
Sony Xperia Z
31
Sony Xperia ZL
31
Sony Xperia SP
31
Apple iPhone 5
30
LG Optimus G Pro
30
LG Optimus G
21
Samsung Galaxy Note II
17
Samsung Galaxy Mega 5.8
12
HTC One X
11
But most games are rendered at native resolution, so we're including Epic Citadel, which uses Unreal Engine 3 - a popular game engine for mobile developers. Here, the Galaxy Mega 5.8 matched the performance of the other devices and just as them often ran into the 60fps limitation of its screen, so you can count on pretty great gaming performance.
Epic Citadel
Higher is better
Sony Xperia SP
58.0
Samsung Galaxy S4
57.1
Samsung Galaxy Mega 5.8
56.8
HTC One
56.4
Sony Xperia Z
55.6
Sony Xperia ZL
55.4
LG Optimus G Pro
54.2
Nexus 4
53.9
Asus Padfone 2
53.4
LG Optimus G
52.6
Samsung Galaxy S III
41.3
Oppo Find 5
38.6
Broadcom chips usually punch above their weight when it comes to web browsing performance, and the one inside the Galaxy Mega 5.8 is no exception. In both the Sunspider and Browsermark 2 web benchmarks, the phablet scored towards the top of the charts - a notable improvement over the previous benchmarks.
SunSpider
Lower is better
Samsung Galaxy S4
810
Samsung Ativ S
891
Apple iPhone 5
915
Nokia Lumia 920
910
Samsung Galaxy Note II
972
HTC One X+
1001
LG Optimus G Pro
1011
Motorola RAZR i XT890
1059
Samsung Galaxy Mega 5.8
1062
Sony Xperia SP
1116
HTC One
1124
Samsung Galaxy S III
1192
Sony Xperia ZL
1290
Meizu MX 4-core
1312
Sony Xperia Z
1336
LG Optimus G
1353
HTC Butterfly
1433
Nexus 4
1971
Oppo Find 5
2045
BrowserMark 2
Higher is better
LG Optimus G
2555
Samsung Galaxy S4
2438
Samsung Galaxy Mega 5.8
2285
Sony Xperia SP
2263
HTC One
2262
Sony Xperia ZL
2107
Sony Xperia Z
2093
LG Optimus G Pro
1801
Oppo Find 5
1797
Nexus 4
1794
Nokia Lumia 920
1774
Nokia Lumia 820
1760
Samsung Omnia W
1632
HTC Butterfly
1475
Samsung Galaxy S III
1247
With the exception of web browsing, we were generally the Galaxy Mega 5.8 chipset is hardly anything worth writing home about. Whether it's due to getting better dual-SIM performance or simply cutting down on costs, the Broadcom chipset used by Samsung in the Galaxy Mega 5.8 is not up to par when compared to the Qualcomm Snapdragon mobile SoC's we find in most recent Samsung smartphones.
However, the difference isn't huge when talking real-life scenarios as Jelly Bean's Project Butter delivers smooth UI navigation even here. App loading times, on the other hand, could be much better.