Medium extra large
Samsung Galaxy Mega 5.8 review: Medium extra large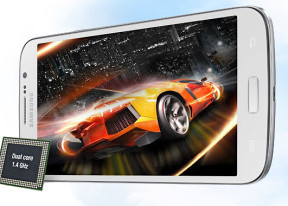 Eco-friendly retail package
The Samsung Galaxy Mega 5.8 comes in Samsung's latest retail packaging, made entirely of recycled paper and printed with soy-ink. It's 100% recyclable and eco-friendly.



The eco-friendly packaging houses the standard set of accessories
The Samsung Galaxy Mega 5.8 has the standard set of accessories. The A/C adapter, to be used with the supplied microUSB cable, are joined by a pair of earphones. All of the above are painted white.
360-degree spin
The Samsung Galaxy Mega 5.8 stands 162.6mm tall and 82.4mm wide. That's a tad more compact than the 6.3-inch counterpart (measuring 167.6mm x 88mm), but a millimeter thicker. Either way, the 5.8-inch diagonal still results in a larger device than both the LG Optimus G Pro and Samsung Galaxy S4.




Samsung Galaxy Mega 5.8 next to the Optimus G Pro (left) and Samsung Galaxy S4 (right)
Compared to Samsung's famous Galaxy Note II phablet, the differences in thickness (9mm vs. 9.4mm) and weight (182g vs. 183g) are virtually nonexistent.
Design and handling
The Samsung Galaxy Mega 5.8 runs by the Galaxy S4's playbook in terms of design, just like the Mega 6.3. It is a facelift of the Galaxy S III, a bit more angular and with slimmer bezel. Unlike the Mega 6.3, the LED flash of the Mega 5.8 is located to the left of the camera, rather than underneath it.




The updated Galaxy design language
The screen on the Samsung Galaxy Mega 5.8 is bigger than most phones (including the Galaxy S4). It's so big it barely fits on the device - the bezels are very thin, especially on the side. It also makes very efficient use of the front surface, rivaled only by the Mega 6.3, the S4 flagship, and the Sony Xperia ZL.
The device is slightly more compact than the Mega 6.3 and some will possibly find it comfortable enough to hold. The slim bezels look good but offer no proper rest for your thumb and the slippery back doesn't help much either. Single-handed use is only possible for a limited number of tasks.



The Galaxy 5.8 is large even for big hands
Samsung has enabled a smaller keyboard in some places (the QWERTY keyboard, the dialer keyboard), which does improve usability a bit. However, the notification area is completely out of reach and the lower corners are tough too - both areas of high importance when working with Android.
You can pocket the Mega 5.8 and since it's slim and fairly light it won't bulge in your pocket or feel like a brick, but sitting down with such a large device in your pocket can be uncomfortable.