S goes Dual
Samsung Galaxy S Duos review: S goes Dual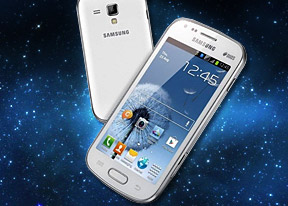 User interface: as seen on the Galaxy S III
The Samsung Galaxy S Duos comes with Android 4.0.4 Ice Cream Sandwich and the latest TouchWiz UI, dubbed Nature UX. It's the same custom launcher that runs on the company's premium offerings like the Galaxy S III and the Galaxy Note II but slightly trimmed down. Nevertheless, it gives Ice Cream Sandwich on the S Duos a pleasant look and feel.
We did a quick demo of the user interface to give you a better idea what it looks like.
The lockscreen is the first place we noticed some differences: the ripples and water-drop sound are disabled. More importantly, the four customizable shortcuts at the bottom of the lockscreen are in place. In case of missed calls or incoming messages for example you can drag to unlock the device and directly launch the call log or the messaging app.
The dock at the bottom of the homescreen now fits five custom shortcuts or folders. The rightmost one opens the app drawer as usual, but you can change the other four to any shortcut you like or even a folder full of shortcuts.
As usual, you can pinch to zoom out and easily manage homescreen panes - add, delete or just reorder them. You can have 7 panes at most, which are enough to fit plenty of content even if you use widgets that cover an entire pane.
The notification area offers quick toggles for Wi-Fi, GPS, Silent mode, Screen rotation, Power saving. Only five toggles fit the screen at a time, but you can scroll them sideways to reveal more functions - Notifications (toggles icons in the top row of the screen), Mobile data, Bluetooth, Driving mode and Sync.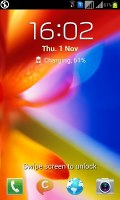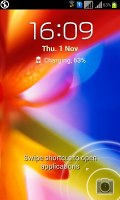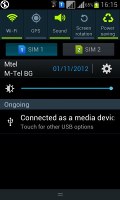 The lockscreen • Notification area
The app drawer has a tab that lets you pull out widgets straight to the homescreen. Unlike stock Jelly Bean, you cannot move between tabs by swiping through the pages - you have to explicitly hit the widgets tab. Some will find this more logical (scrolling past the available apps to find yourself in the widgets takes some getting used to).
Using pinch-to-zoom reveals an overview of the pages and lets you rearrange them, but you can't create new ones. Hitting the menu key reveals some more options, including hiding apps or enabling tap-to-uninstall mode.
The app drawer has three view modes - Customizable grid (where you can freely rearrange icons), Alphabetical grid (if you think you can find apps quicker when they're ordered alphabetically) and Alphabetical list (this one makes shortcuts easy to hit, but isn't very space efficient). You can also view just the downloaded apps by hitting the Downloaded apps icon.
Android Ice Cream Sandwich comes with various widgets and Samsung have added even more. Some widgets are resizable too - a feature we've previously seen in some custom UIs is now natively available in Ice Cream Sandwich.
Once you get several apps running, you can use the task switcher to go back and forth between them. It's an ICS-style vertical list with a screenshot and a name for each app. Swiping an app sideways removes it from the list.
There's a button at the bottom of the list to bring out Samsung's home-brewed task manager with a Remove all button. This is the quickest way to clear up both the list and some RAM.
Synthetic benchmarks
The Samsung Galaxy S Duos features the Qualcomm S1 SoC, which relies on a single-core Cortex-A5 processor, clocked at 1 GHz. Graphics are handled by the outdated Adreno 200 GPU and there's 768 MB of RAM on board.
This is one of the slowest chipsets around, so we couldn't really see it acing any of our benchmark tests. BenchmarkPi stresses the CPU's math skills and the Galaxy S Duos scored 748ms in its best attempt, which is in line with our expectations.
Benchmark Pi
Lower is better
Samsung Galaxy S Advance
530
HTC One S
306
Samsung Galaxy S II
452
HTC Sensation XE
536
Sony Xperia S
536
Sony Xperia go
543
Samsung Galaxy S Duos
748
Sony Xperia sola
551
The Galaxy S Duos Linpack score was also rather disappointing. The smartphone managed a score of just 30.3 - way worse than most of the other mid-rangers.
Linpack
Higher is better
Samsung Galaxy S Advance
64.74
HTC One S
210
Samsung Galaxy S II
77.6
HTC One V
34.4
Sony Xperia S
86.4
Sony Xperia go
69.95
Samsung Galaxy S Duos
30.3
Sony Xperia sola
68.1
SunSpider is a JavaScript benchmark - the good JavaScript engine of Android ICS stock browser helped the S Duos stay closer to the the more capable contenders out there.
SunSpider
Lower is better
Samsung Galaxy S Advance
2663
HTC One S
1708
Samsung Galaxy S II
1849
HTC One V
3299
HTC Sensation XE
4404
Sony Xperia S
2587
Samsung Galaxy S Duos
3665
Sony Xperia go
3228
Sony Xperia sola
2837
Apple iPhone 4S
2217
The next benchmark is BrowserMark, which tells a similar story to SunSpider - the Galaxy S Duos is again off the pace, but not by much.
BrowserMark
Higher is better
Samsung Galaxy S Advance
81557
HTC One S
98435
Samsung Galaxy S II
111853
HTC One V
42342
Sony Xperia S
74990
Samsung Galaxy S Duos
64321
Sony Xperia go
76820
Sony Xperia sola
73840
Apple iPhone 4S
88725
The Galaxy S Duos GPU showed its age in the NenaMark 2 test. The smartphone scored managed to achieve just over 20fps, which means that only games way lighter than the benchmark will be playable here.
NenaMark 2
Higher is better
HTC One S
60.5
Samsung Galaxy S Duos
20.1
Sony Xperia go
42.8
Sony Xperia sola
27.7
Samsung Galaxy S II
51.6
Samsung Galaxy Note 10.1
43.6
Sony Xperia S
37.5
Samsung Galaxy Nexus
24
HTC Sensation XE
23
So the Galaxy S Duos is no race horse when it comes to synthetic benchmarks. It's designed to be power efficient and battery friendly so if you're in it for the most potent smartphone out there, this isn't it.
Overall, the Nature UX dressing on top of Android 4.0.4 looks great and the Galaxy S Duos does offer a fair amount of features. It's rare to see a dual-SIM droid having most of the bells and whistles.
However, there's no getting away from the fact that the device is at times sluggish to get around the Nature UX and load some heavier apps. A slightly speedier CPU (a NovaThor perhaps) would have probably been a better choice here as it would have provided a smoother ride around the UI, without rising the price too significantly.