S goes Dual
Samsung Galaxy S Duos review: S goes Dual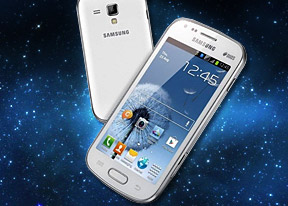 GPS, Google Maps and Navigation
The Samsung Galaxy S Duos managed to get a GPS lock in just under a minute without A-GPS. A-GPS can speed up the lock (but it involves data traffic). Cell-ID and Wi-Fi positioning are also available if all you need is a rough location, but they need a data connection too.
Google Maps is a standard part of the Android package and we've covered it many times before. It offers voice-guided navigation in certain countries and falls back to a list of instructions elsewhere. You can plan routes, search for nearby POI and go into the always-cool Street View.
The app will reroute you if you get off course, even without a data connection. Note that voice-guided navigation is not available in all countries.
If you want to really minimize data usage, you can cache whole areas of the map, it doesn't use up too much internal storage (e.g. all of London is around 30MB).
3D buildings are shown for some of the bigger cities and you can use two-finger camera tilt and rotate to get a better view of the area.
Google Play Store and Samsung Apps
The Google Play app store features several tabs that sort apps in categories: Top Paid, Top Free, Top Grossing, Top New Paid, Top New Free and Trending (the ones with growing popularity). Other interesting sections are Recommended for You, Staff Picks and Editor's Choice.
Each app has several screenshots and some even have videos that show the app in action. Downloads are easy and before you agree to download an app, the Store will show you what features the app requires access to (e.g. Internet connectivity, access to the file system, etc.).
Samsung Apps works in much the same way; there's a featured interface which shows the more popular app highlights, as well as pages which display the newest and most downloaded applications.
There's also the option to browse through app categories, and installing an app is done exactly the same way as in the Play Store.