Elemental
Sony Xperia Z2 Tablet review: Elemental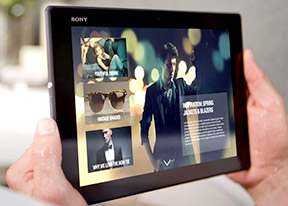 Organizer and apps
The Sony Xperia Z2 Tablet comes with the OfficeSuite 7 Pro document editor, which handles viewing, creating and editing of Word, Excel and PowerPoint documents. It can also view PDFs. The interface is clutter-free but there are still plenty of features (font formatting, formulas, you name it).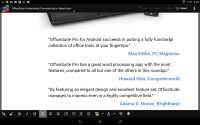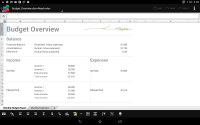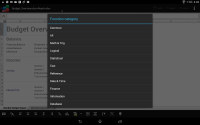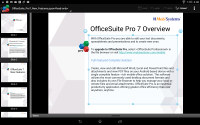 OfficeSuite 7 Pro handles all your documents
The calendar has been reskinned by Sony to match the looks of the other native apps, and there's been some new functionality added. The calendar displays the weather forecast for each day.
Entering a new event is quick and easy, and you can also set an alarm to act as a reminder. The Calendar also pulls info on upcoming events from your Facebook account. The calendar can also display the national holidays for a long list of countries and your contacts' birthdays too.
The Alarm & clock app supports multiple alarms, each with its own sound and repeat pattern. You can also set whether the side buttons would snooze the alarm, dismiss it or do nothing. There's also a desk clock option and a world clock (which shows the weather forecast for each city, not just the time).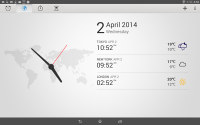 The Clock app shows the weather in each city
Sony's own Socialife News is a news reader that pulls headlines from web sites and RSS feeds. If you sign into Facebook, Twitter and YouTube, the app will include updates from those services as well. The app repackages the article in an easy to read format with selectable font sizes to make reading a breeze.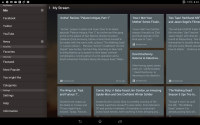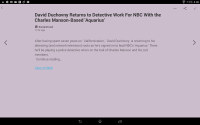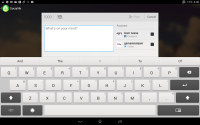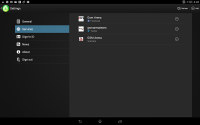 Socialife News combines a newsreader with a social networking app
Sketch is pretty simple to use - you can select the color of the note/sketch and just start typing or doodling. You can customize a wide variety of drawing modes, backgrounds, and stencils. You can use the app to draw a sketch to send with the Messaging app and there's even Evernote integration.
If you want to edit photos rather than draw, Pixlr Express is available out of the box. It has a ton of image editing options for individual photos, but can also create highly customizable collages too.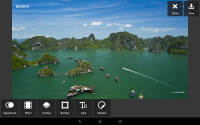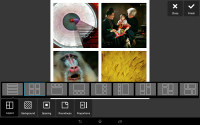 Pixlr Express edits photos and makes collages
There is a nicely touch-optimized calculator aboard. The buttons are really big, too big, and it also offers advanced functions (trigonometry, logarithms).
The Power Saver helps you extend your battery life by toggling things like Wi-Fi, GPS, Bluetooth screen brightness, auto sync and background data on and off automatically when the battery charge falls below a certain user-defined threshold. You can also turn off the Wi-Fi if there is no saved Wi-Fi network in range or turn off mobile data when the screen is off, and more. What about Stamina mode?
The File Commander app (by the same devs as OfficeSuite) is a capable file manager that features batch operations, ZIP file support and cloud storage (Google Drive, Dropbox, Box, SugarSync, SkyDrive).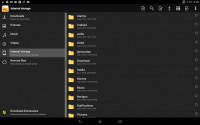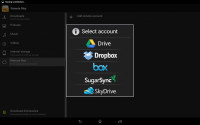 File Commander handles all the popular cloud storage services
Sony has added its own Backup & Reset feature for Android OS. It works for apps you've uninstalled and then reinstalled again, all of your multimedia content is saved too, and all system apps such as messaging, call logs, etc. get their data stored safely. Restoring is easy so you can easily bring back anything you may've lost.
When it comes to keeping your data safe, the ability to delete everything and lock the tablet if you lose it shouldn't be underestimated. My Xperia will help you locate the Z2 Tablet on a map, make it sound an alert (if you just lost it somewhere at home) and lock and erase private info if you cannot get to it. Just make sure you've backed everything up off device.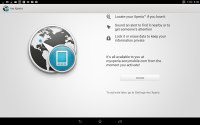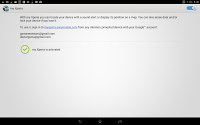 My Xperia can be invaluable if you lose your tablet
Another helpful tool is the Update center, which checks for updates for your device and your apps. You can enable automatic download with the option to only do it over Wi-Fi.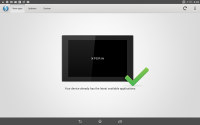 Update center keeps your phone's software up to date
Google Maps finds your way
The Sony Xperia Z2 Tablet has a built-in A-GPS receiver with GLONASS support, which managed to get a lock in about a minute. If all you need is a rough idea of where you are (within 150 meters) you can use the Cell-ID and Wi-Fi network estimation, which is very fast as well.
Maps offers voice-guided navigation in an ever-growing list of countries and falls back to a list of instructions elsewhere. You can also plan routes for bicycle and public transport (this one is more limited in availability). Maps shows you a couple of alternative routes like the desktop version of Google Maps.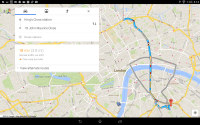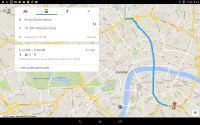 Navigation with car or public transport
For navigation, the map will cache the data it needs and will reroute you offline (so you don't need a data connection along the way). The Navigation app itself had its UI polished to match the rest of Maps.
If you do decide to use the Xperia Z2 Tablet for in-car navigation, remember to check if your car's head unit supports MirrorLink.
You can also search for nearby POI and go into the always cool Street View. Popular places around the world feature pictures and reviews by people. Street view isn't available everywhere, but its coverage is expanding and is the coolest thing we've seen on a Maps app to date (that includes Aerial view in iOS).
Garmin's Navigon app is also available out of the box, so you can use that if you prefer it over Google Maps.
Google Play Store, Sony stores
The Google Play Store content is arranged across several scrollable tabs - categories, featured, top paid, top free, top grossing, top new paid, top new free and trending. You can also check out the Play Picks, Apps to Watch, Apps Highlights and Editor's Choice categories on the Home tab for more curated app lists. The Recommended for you list is based on what apps you've installed and what your Google+ friends have liked.
Apps have several screenshots (many even offer a demo video) so you can get an idea of what the app looks like before installing it. You can also check out comments and ratings, as well as the number of downloads and so on, to help you decide if the app is worth it.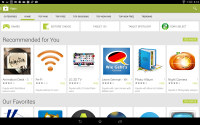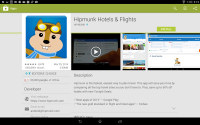 The Play Store will give you access to hundreds of thousands of apps
Some other "stores" will be useful in finding cool apps - Sony Select and What's New. We put stores in quotes since those two only help with discovery but will open the web browser to actually download the item.
The Xperia Lounge app promises to deliver exclusive multimedia content (music, film and sports), promotions and games. The items tagged with VIP are exclusive, but you'll need to answer a trivia question for some of them.