Elemental
Sony Xperia Z2 Tablet review: Elemental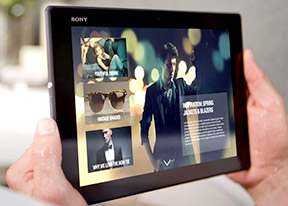 Phonebook
The Sony Xperia Z2 Tablet phonebook uses a split-screen interface - the contacts go on the left, individual details on the right. Contacts can come from multiple online services and there are fine-grained filters to avoid clutter.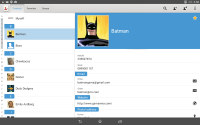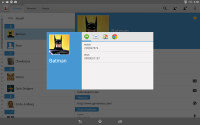 The phonebook • The quick contact shortcuts
The contact list can be sorted by either first or last name. There are two contact search options - a dedicated search field at the bottom of the contact list, and an alphabetical scroll bar to jump to names starting with a specific letter on the right.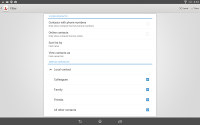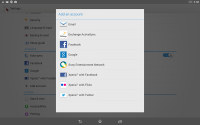 Filtering contacts • syncing with multiple online phonebooks
If a contact has accounts in multiple services, you can "link" their details to keep everything in one place. The tablet can automatically find and suggest potential duplicates to be linked.
Each contact can have a variety of fields (and repeat fields of the same type). There's an Add field button and the X button lets you remove fields as needed. The fields cover anything from names (including a field to write the name down phonetically) to addresses, nicknames and notes.
Loudspeaker
The Sony Xperia Z2 Tablet features two loudspeakers on the front, flanking the screen. There are the usual Sony audio enhancements (Clear Stereo, Clear Bass, Clear Phase) plus the new S-Force surround sound.
There are also loudspeaker-specific options like xLOUD. We tested with all of them off, then with xLOUD on, but that made virtually no difference.
The Xperia Z2 Tablet manages only a Below Average score - we guess the waterproofing really took its toll as the two speakers were very quiet. Not that you need a loud ringer for incoming calls (there's no telephony), but the movie watching experience suffers from the quiet speakers too.
| | | | | |
| --- | --- | --- | --- | --- |
| Speakerphone test | Voice, dB | Pink noise/ Music, dB | Ringing phone, dB | Overal score |
| Sony Xperia Z2 Tablet | 62.5 | 62.1 | 60.7 | Average |
| Amazon Kindle Fire | 66.6 | 63.7 | 66.9 | Below Average |
| Microsoft Surface RT | 61.7 | 60.2 | 64.2 | Below Average |
| Sony Xperia Tablet Z | 66.0 | 64.6 | 70.1 | Below average |
| Google Nexus 10 | 68.3 | 66.1 | 67.8 | Average |
| Samsung Galaxy Tab Pro 10.1 | 67.7 | 66.2 | 69.8 | Average |
| Asus Google Nexus 7 | 68.6 | 65.9 | 75.8 | Good |
| Apple iPad mini | 68.2 | 65.7 | 75.7 | Good |
| Apple iPad Air | 67.9 | 65.9 | 76.6 | Good |
| Samsung Galaxy Tab Pro 8.4 | 75.7 | 66.6 | 76.8 | Very Good |
| Samsung Galaxy Note 10.1 2014 | 75.7 | 66.6 | 77.2 | Very Good |
| LG Optimus G | 74.6 | 71.3 | 82.7 | Excellent |
You can find more on the testing procedure here.
Messaging and text input
The Sony Xperia Z2 Tablet comes with Google Hangouts preinstalled to handle your instant messaging needs. The good thing about it is that you can chat with Hangouts users right inside Gmail or with a Chrome plugin. You can chat with multiple people and even do video calls.
The Gmail client has the trademark conversation style view and can manage multiple Gmail accounts. Batch operations are supported too, in case you need to handle email messages in bulk. A cool feature in Gmail is that you can swipe left or right to move between messages in your inbox.
The generic Email app has been reskinned by Sony. It can handle POP and IMAP, do batch operations and offers a Combined inbox for all your email accounts (which Gmail does not).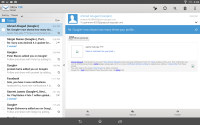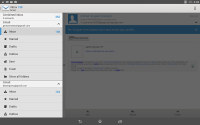 The generic Email client has a combined inbox option for multiple services
As for text input, the Xperia Z2 Tablet offers an on-screen full QWERTY keyboard with multiple customization options. It has three skins preinstalled and three different view modes - big, small and split keyboard. The last two float above the app and can be moved around.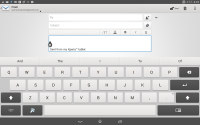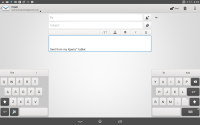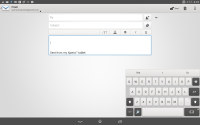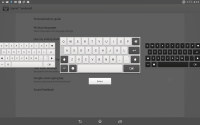 Xperia Z2 Tablet on-screen keyboard: skins and modes
Additional options allow you to add/remove the coma and period button, the smiley and voice input buttons and also enable things like bilingual word suggestions if you have more than one language enabled. If you're going to enable auto correction, you might want to let the keyboard learn your writing style by reading your Gmail, Facebook, Twitter or messages you've sent (each of these can be used individually).
You can also try the so-called Gesture input if hitting those keys individually doesn't give you the desired typing speed. It's similar to Swype, and even if you've never used a Swype-like input before you'll quickly get used to it.
Sony also has a bespoke keyboard cover that measures 17.5mm thick when closed around the tablet. The keyboard pairs via NFC and connects over Bluetooth and can be used separately from the case itself (which doubles as a stand) or you can use it as a laptop of sorts.