Elemental
Sony Xperia Z2 Tablet review: Elemental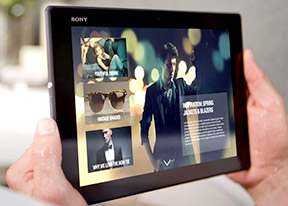 User interface
The Sony Xperia Z2 Tablet runs Android 4.4.2 KitKat with Sony's latest software. We say latest though with the company's minimal changes it can be hard to tell - along with Motorola, Sony has one of the thinnest skins over stock Android.
Here's a quick tour of the interface on video:
The lockscreen has moved away from multiple widgets and back to clean looks. All it shows is the time and a camera shortcut. Sony has enabled double tap to wake, so you don't even have to reach for the Power key.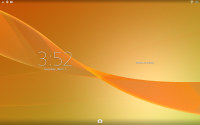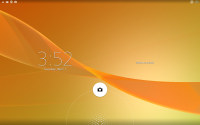 The lockscreen and its options
The homescreen is the familiar shortcuts and widgets affair. As usual, Sony offers Themes, which set the wallpaper and some of the system colors. There are several beautiful themes preloaded (plenty of wallpapers too) and you can download more from Sony Select.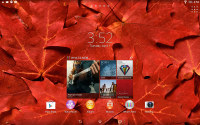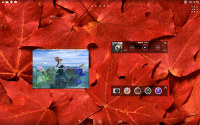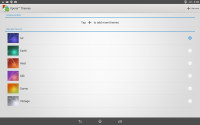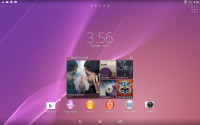 Sony Xperia Z2 Tablet user interface • applying a different theme
The notification area is split in two, which is the norm for tablets. On the left you get all notifications, while the right side holds exclusively toggles. You can rearrange, hide and add toggles.
The toggles don't quite work as expected, a long press displays an option to take you to the related settings (e.g. Wi-Fi settings for the Wi-Fi toggle) instead of just taking you there.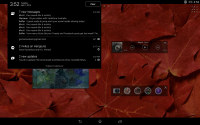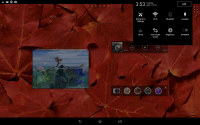 The notification area offers two customizable rows of quick toggles
The app drawer is laid out across multiple pages and you can sort the apps manually, alphabetically, by the most used or most recently installed. The menu with those settings is accessible via a swipe from the left edge of the screen and you can also search and even uninstall apps from there.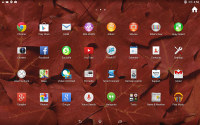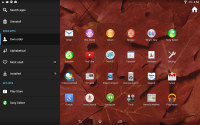 The app drawer and its swipe-able settings
The Xperia Z2 Tablet uses a customized app switcher. The first change is a Close all button, the other is Sony's Small Apps.
They are similar to Samsung's Mini Apps, and pop up tiny widget-like applications on your homescreen, which you can move around and use without having to open the full-fledged app.
So far, there's a default set of nine: Active Clip, Chrome Bookmarks, Browser, Calculator, Calendar, Gmail, Timer, Notes, and Voice Recorder.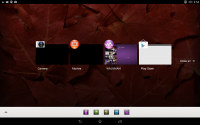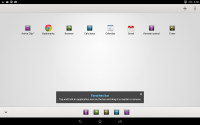 The modified app switcher serves as the Small app launcher
You can download more Small Apps off the Play Store or use the option to turn your favorite widgets into Small Apps. Just hit the Plus key at the top of the list and choose a widget.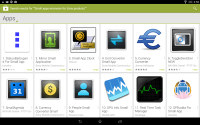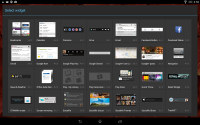 Turning a widget into a Small App
You can launch only one instance of a Small App, but you can open multiple Small Apps simultaneously.