Elemental
Sony Xperia Z2 Tablet review: Elemental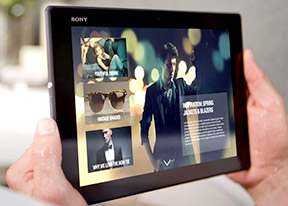 Smooth gallery with great features
The Sony Xperia Z2 Tablet comes with the custom Sony gallery, called Album. Images are organized into groups of thumbnails and sorted by date. You can resize the image thumbnails with a pinch gesture all the way from a grid of tiny, tiny thumbnails to a single image view. The Snapdragon 801 chipset breezes through the task with impressive speed.
There is a second tab here, My Albums, which includes online albums (PlayMemories, Facebook, Picasa, Flickr) along with albums stored on devices in the local network. Alternatively, you can turn the Z2 Tablet into a DLNA server and view photos from the device on a computer or compatible TV.
Also here are some special albums - Maps and Globe, which use the geotagging info to sort photos by where they were taken, and faces, which groups photos by the faces of the people in them.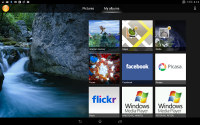 My albums • photos from around the world • facial recognition in action
Images can be cropped or rotated directly in the gallery. Quick sharing via Picasa, Email apps, Facebook, Bluetooth or MMS is also enabled. Albums can automatically scan a photo for faces.
There's a SensMe-like mode for slide shows which, much like the music player feature, scans files and groups similar photos together.
HTPC-style video player
The video playing app is dubbed Movies and it too has a great custom UI, reminiscent of HTPC interfaces. It's connected to Gracenote, which helps you find additional information about the movies and TV shows you have on the phone. It will even download posters, as well as movie metadata like genre, synopsis, director and cast.
Unfortunately, this doesn't work very well for TV shows - it doesn't recognize the S01E02 format and won't pull info about individual episodes. It gets worse, Gracenote seems to be lacking info on TV shows in general, we couldn't find even popular shows like The Big Bang Theory.
The good news is that Sony has fixed up its codec support and the Xperia Z2 Tablet plays just about everything - AVI (DivX, XviD), MP4 and even MKV. Just about. DTS, DD and AC3 audio are not supported.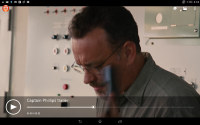 Watching a video on the Xperia Z2 Tablet
The video player does support fully-customizable subtitles and gives you access to both sound effects (the same as the Walkman music player) and display settings (X-Reality, White balance and Brightness are of interest here).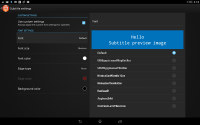 The looks of subtitles is highly customizable
A special version of TrackID, TrackID TV, is available out of the box. As the name suggests, it can recognize what show is currently on or you can just check the TV guide. For each show or movie that's on you can view details, images, a cast list with photos and even tweets about it.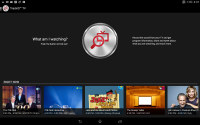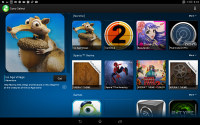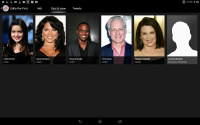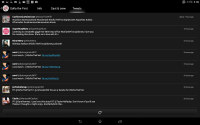 TrackID TV recognizes TV shows and movies, offers a ton of info
Walkman music player
The Walkman music player is part of the equipment of all recent Xperia devices. It has Music Unlimited integration and will try to sell you songs, but you can hide the Music Unlimited stuff.
The Walkman interface is based on tiles that sort your music collection by Artist, Albums, Playlists, all songs and even the songs your friends are listening to (but you need to link your Facebook account).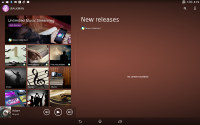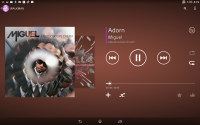 The music player is decent looking and snappy
The Music Unlimited stuff includes ways to discover new music - Charts, New releases and Channels. Those can be hidden individually (same goes for the artist/album/playlist tiles) or you can disable the service altogether.
The Now Playing screen shows a carousel with the tracks in the current playlist and the usual music controls below that. You can swipe left and right to move between tracks. The Infinite button will help you find the music video on YouTube, look up info about the artist on Wikipedia and search for lyrics on Google.
There's a Thumbs up button that lets you post to Facebook directly from the music player or you can let it post automatically for you. You can also turn on a visualizer that flips album art images in 3D.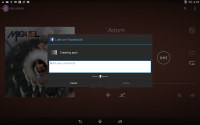 Posting about a song on Facebook
Gracenote is used here too and it can automatically download information about your tracks and album art or you can edit it manually.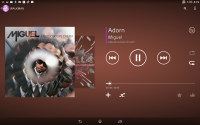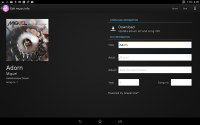 Manually editing a song's info • automatic info and album art download
Sony has improved the Walkman player's settings. There's the familiar ClearAudio+ option, which determines the best audio quality settings depending on the song you're listening to. We liked how it changed the music and carefully accentuated various details.
Dynamic normalizer evens out the volume differences between tracks, which is great if you've mixed multiple albums from multiple sources.
The Sound enhancements offer even more settings. There's an equalizer with presets and manual settings (including tweaking Clear Bass). There's Surround sound mode too, which imitates the Studio, Club or Concert Hall experience. The Clear stereo mode enhances the perceivable stereo channel separation. Dynamic normalizer minimizes the difference in volume between songs (great if you're playing a shuffled mix).
Speaker settings include Clear Phase, which adjusts the quality, while xLOUD boosts up the internal speaker.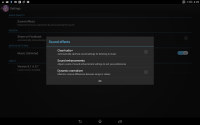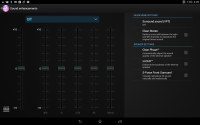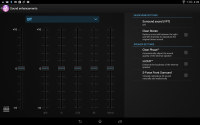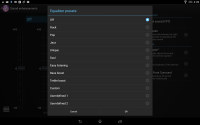 A multitude of sound-enhancing features
There are music controls the lockscreen. Swiping them to either side brings back the clock. The notification area also offers the now playing screen with music controls and the option to jump into the Walkman player.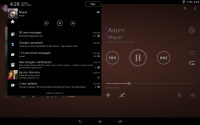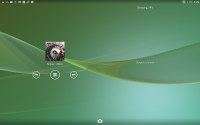 Music player controls on the lockscreen and notification area
The traditional TrackID is available here too, it needs a few seconds worth of a sample to tell you the name and the artist.
FM radio with RDS and social networking
The Sony Xperia Z2 Tablet features an FM Radio aboard, complete with RDS support. The app has multiple skins and integrates with TrackID to recognize the currently playing song. You can even directly send an "I'm listening to..." post to Facebook.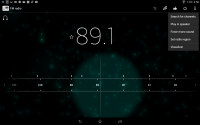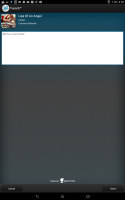 The FM Radio • recognizing a song and posting about it on Facebook
Audio quality is good but somewhat quiet
The Sony Xperia Z2 Tablet did quite well in the first part of audio output test. It demonstrated a somewhat quiet output and lower than most of its competitors, but it was a perfectly clean one.
Things were still looking good when we plugged in a pair of headphones, but the output wasn't quite so perfect. The stereo crosstalk increased quite a lot and some distortion crept in, although the latter is virtually undetectable to the naked ear. The volume remained pretty low, though.
Check out the table and see for yourself.
| | | | | | | |
| --- | --- | --- | --- | --- | --- | --- |
| Test | Frequency response | Noise level | Dynamic range | THD | IMD + Noise | Stereo crosstalk |
| Sony Xperia Z2 Tablet | +0.02, -0.08 | -88.3 | 90.2 | 0.0046 | 0.011 | -89.9 |
| Sony Xperia Z2 Tablet (headphones attached) | +0.01, -0.07 | -88.2 | 89.8 | 0.010 | 0.103 | -48.6 |
| Sony Xperia Tablet Z | +0.11, -0.10 | -87.0 | 89.2 | 0.033 | 0.030 | -87.8 |
| Sony Xperia Tablet Z (headphones attached) | +0.21, -0.36 | -86.6 | 88.8 | 0.114 | 0.233 | -45.4 |
| Samsung Galaxy Tab Pro 10.1 | +0.02, -0.08 | -93.2 | 92.6 | 0.0022 | 0.011 | -94.4 |
| Samsung Galaxy Tab Pro 10.1 (headphones attached) | +0.21, -0.13 | -93.5 | 92.3 | 0.030 | 0.049 | -66.9 |
| Apple iPad Air | +0.09, -0.29 | -93.9 | 93.9 | 0.0016 | 0.0067 | -89.9 |
| Apple iPad Air (headphones attached) | +0.05, -0.32 | -94.0 | 94.0 | 0.0040 | 0.015 | -66.2 |
| Google Nexus 10 | +0.03, -0.04 | -82.3 | 82.2 | 0.011 | 0.022 | -81.4 |
| Google Nexus 10 (headphones attached) | +0.09, -0.24 | -82.7 | 82.7 | 0.067 | 0.204 | -77.9 |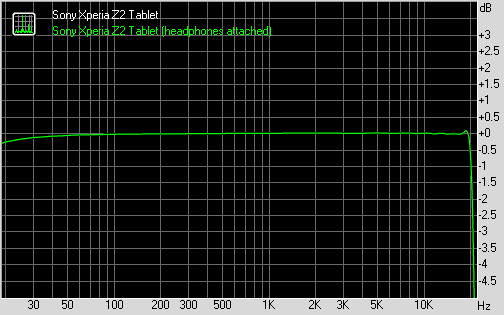 Sony Xperia Z2 Tablet frequency response
You can learn more about the whole testing process here.