Elemental
Sony Xperia Z2 Tablet review: Elemental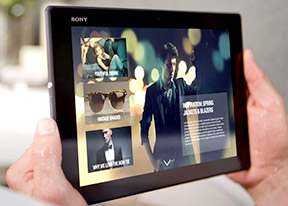 Connectivity excels at entertainment functions
The Sony Xperia Z2 Tablet comes in two flavors - Wi-Fi only and Wi-Fi + LTE. The latter has quad-band 2G and penta-band 3G connectivity across all regional models. It also supports more LTE bands than you can shake a stick at.
The LTE is Cat. 3 meaning it can theoretically reach 100Mbps of downlink and 50Mpbs uplink. Outside LTE coverage, the Z2 Tablet is rated for mobile data speeds of up to 42Mbps HSDPA and 5.76 Mbps HSUPA.
If you have the Wi-Fi only version and an Xperia phone with a data plan, you can use Xperia Link to share the phone's internet connection over Bluetooth (which uses less power than a Wi-Fi hotspot).
If you're experiencing connectivity problems, the Wi-Fi checker app can try and detect issues with the connection. We're not sure if this app will see much use, but it's there if you need it.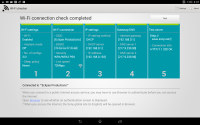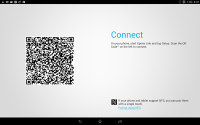 Piggybacking on your phone's data connection • checking for issues with the Wi-Fi
Local connectivity is covered by dual-band Wi-Fi a/b/g/n/ac with DLNA and Wi-Fi Direct, so you can easily share content from your phone on a DLNA TV or music player. If a media app supports the Throw function (like the video player), you can use it with the Smart Connect app for DLNA functions (sharing screen, etc.).
There's also Bluetooth 4.0 with A2DP, which can be used for low-power accessories (e.g. sports trackers). There is also support for the ultra-low power ANT+ connectivity protocol, which is usually used for connecting to various sports accessories such as heart rate monitors or bicycle speed & cadence meters.
The Xperia Z2 Tablet features NFC too, but there's no app to handle the NFC functions out of the box. Luckily, there are plenty of capable NFC apps in the Play Store.
MicroUSB handles charging and PC connectivity, and there's also USB On-the-go support, so you can attach external flash drives as well. The MHL-enabled microUSB port also supports HDMI connections to an external monitor.
A rarer feature is MirrorLink - it uses the USB cable to connect to a car's multimedia system and display a custom UI, plus you can access the basic functions with the car's usual controls. The Z2 Tablet is perhaps too big to be your in-car accessory, but it's certainly possible.
Anyway, if you're going to use the tablet at home, the IR blaster will come in handy. It can control a wide range of devices - anything from VCR through Wi-Fi wireless speakers to TVs, disc players and so on.
The app can also learn new control codes from an existing remote if something isn't working. Plus you get to record macros to handle multiple actions on multiple devices - if you need to fire up the TV, the HTPC, the amp and other devices, the Xperia Z2 Tablet can do it all in a single tap.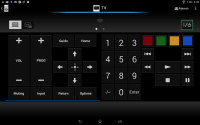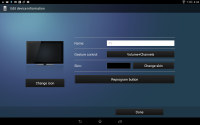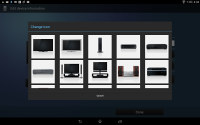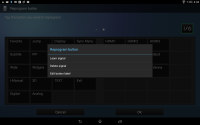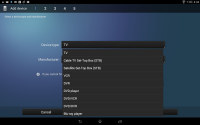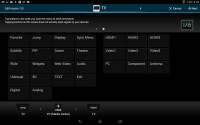 The Remote control app has tons of preloaded codes, but can learn new ones too
The tablet itself can serve as an entertainment center - we already looked at the HTPC-like video player, but you can also connect a Dualshock 3 controller from a PlayStation 3 and play games (with the tablet on a dock or hooked up to a TV).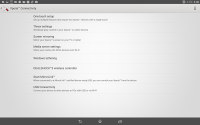 You can play games on the tablet using a Dualshock 3 controller
If you have a PlayStation 4, you can use the PlayStation app to connect to it and chat with friends, get alerts and notifications, pick and download games for the PS4 from the tablet and even use the tablet as a second screen if the game supports it.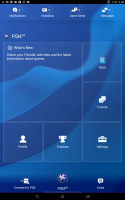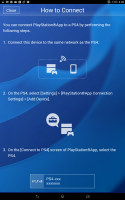 The Xperia Z2 Tablet can connect with your PlayStation 4
The Xperia Z2 Tablet comes with Sony's Smart Connect app, replacing the former LiveWare manager. With Smart connect, you can set your device to do a variety of things, like launch an app or set an alarm, whenever you connect an accessory, e.g. a headset or a charger, or during a time interval (e.g. mute alarms at night). It doesn't work with NFC tags though, which is very disappointing.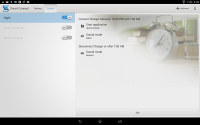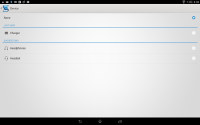 Smart Connect manager can, for example, launch the music player as soon as you connect a headset
Unmatched browsing with Google Chrome
The Sony Xperia Z2 Tablet comes with Google Chrome as the default web browser out of box, skipping the generic Android browser altogether. Chrome's now powered by the Blink rendering engine (a fork of WebKit), so underneath the minimalist UI it's still the same as desktop Chrome.
At the top there's an URL bar with a refresh/stop button next to tabs and settings. A mic icon allows you to dictate a query instead of typing it.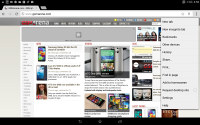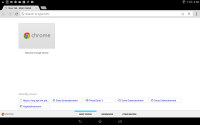 Browsing GSMArena.com with Chrome
One of Chrome's strengths is its ability to seamlessly sync with the desktop version, using nothing but your Google account. This allows you to open an article on your PC and finish reading it on handheld. It also syncs your tabs and bookmarks.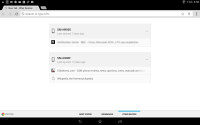 Syncing bookmarks and open tabs with other devices
Opening the tabs area reveals a list of tabs, which can be closed, again with a left or right swipe. The animation accompanying this action is neat, too. You can switch between tabs with a wide horizontal swipe in either direction.
Incognito tabs, which let you browse without saving history or cookies, show up right next to regular tabs.
Google Chrome is generous with the settings as well. You can control almost every aspect of your web browsing from choosing what content you want to allow to load like JavaScript, images, cookies and pop-ups.
An Opera-like feature, Reduce data usage, does what it says - Google servers compress the webpage (using Google-developed tech like SPDY and WebP) and send them to the phone. You can check the graph to see how much data you've saved. Unlike Opera Mini, this mode keeps the full functionality of web pages. Also, secure connections bypass the Google servers for privacy reasons.
The Xperia Z2 Tablet features a second browser, the Small app browser, which lets you surf while doing other things. You can hit Open in another app to view the page in Chrome, but there's no easy way to switch from Chrome to the floating browser. Also, there's a Chrome Bookmarks small app that just shows your bookmarks (i.e. it's not a small app version of Chrome).