Notifications unchanged
The Notification center is mainly unchanged in iOS 6. Users have great flexibility in configuring how either app notifies them. You can opt to disable a notification, set it to be a banner, which will shortly pop up over the status bar or an alert showing up at the center of the screen.
There are options to disable badges on app icons or disable lockscreen notifications.
As before, you can interact with notifications straight on the lockscreen. If a notification has just arrived, sliding to unlock will open up the relevant app - upon a missed call, unlocking will take you straight to the phone app. You can also swipe a notification to perform a task - swipe to call back or text.
The banner notification is very subtle. If you receive a text in the middle of something, it will briefly pop up over the status bar and disappear in a couple of seconds, and not distract from what you're doing.
You can choose which apps you want to show up in the pull-down Notifications and in which order. What's new here are the Tap to Tweet and Post buttons. You can choose where you want them to be. You can also disable them.
The Facebook status update pop up gives you the option to include a location and select who you wish to share your status with. It will automatically get your lists of contacts. The tweet pop up gives you only the option to include your location.
Phonebook gets a whole lot of Facebook
The Phonebook is a lot more social with iOS 6. Although there have been workarounds to adding Facebook information to your contacts (including Facebook's native iOS app) this is the first time users can have Facebook details to their contacts without much hassle.
If you choose to send your contact information to Facebook it will cross-reference all the names in your friends list with those from your contacts and add missing information like profile pictures, birthdays, addresses, etc.
In case you have two contacts with the same name in both services iOS will automatically join them. Overall it did a good job of finding people and improving their contact information. Facebook will add all the people from your friends list into the Phonebook so if you want to remove them but still keep the new data on your existing contacts you can disable Facebook's contact access - the new data remains untouched.
Otherwise the Phonebook has retained its excellent usability. Editing a contact is intuitive and gives you the option to include lots of additional fields, like several addresses, related people, web, email, birthdays, etc.
You can set different ringtones, message tones and vibration to your favorite contacts.
In iOS 6 your iMessage and FaceTime ID is joined and the phonebook will automatically detect if either service is available with each contact.
Telephony improved
The Phone app has had a few tweaks and touches too. The dialpad itself looks different, though it brings no new usability features.
A new (well, new to iPhone) feature is Reject call with SMS. You can use any of the suggested templates or create a custom one. Alternatively, you can set a reminder to call back.
You can also set the phone to remind you to call back a person at a location or when you're leaving the current one, which is a nifty trick. Keep in mind that doing so will invoke constant use of GPS, which could in turn lead to a significantly reduced battery life.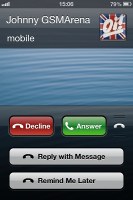 The new incoming call context menu
In iOS 6, FaceTime is finally operational over the cellular network.
We gave the service a spin over 3G and got a clean video and a stable connection, though the video quality is not something to write home about.