Messaging
Messaging on iOS hasn't seen any changes, which means you can count on the usual solid experience.
The iMessage service lets you exchange instant messages between iOS 5-running iGadgets over Wi-Fi or 3G. You can send plain text as well as multimedia (pictures, sounds, videos) messages. The iMessage conversations are color-coded to differ from the standard SMS/MMS - their bubbles are blue instead of green. A cool thing about them is that each conversation is synced with the iCloud so you'll have it right there and available on all your iDevices, including your Mac.
The rest is pretty simple - you type, you add content (optional) and hit send. Adding multimedia is done either by hitting the small picture icon next to the text field or through the sharing menu in the gallery or supported apps (Voice Memos, Notes, etc.).
To activate the iMessage you just need to go to Settings->Messages and turn it on.
VIP contacts and Flagged emails
The Mail app got a few new tricks as well. You can set a VIP list, and emails from people on the list will be delivered to a dedicated VIP mailbox and will appear highlighted in the regular inbox. You can also set a different notification regime for VIP emails - so they appear on the lockscreen, for example.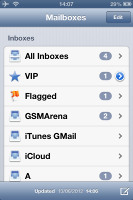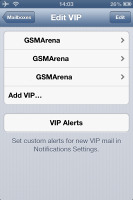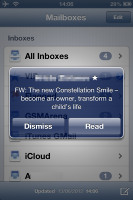 The new Mail box with VIP contacts and Flagged section • A VIP email notification • Emails
You can also flag important emails. After you flag your first message, a new Flagged mailbox will appear gathering all of your flagged emails.
If you use multiple email accounts, with the iOS 6 you can have different mail signatures for each of them.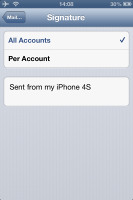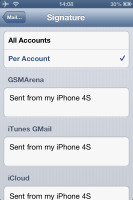 Assigning different signatures
The update button is now gone and there's pull to refresh instead. Another new feature lets you insert pictures or videos while composing an email - just tap and hold on an empty space and use the popup menu.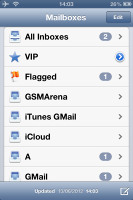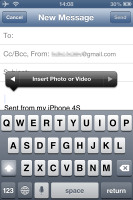 Refreshing the mail • Uploading multimedia is now easier
If you open your Inbox and hit the Edit button, you now have a Mark key alongside Move and Delete. You can also mass mark emails as read/unread or flag them as important. Unfortunately, a "Select All" option is still missing.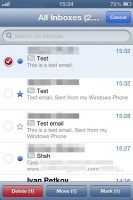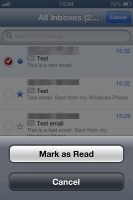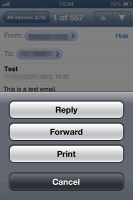 Email flagging
You can add or delete Mail folders - just hit the Edit button while in an account.
Bold, Italic and Underline font styles are available in the text editing options, as well as quote font size levels. Text selection works the usual way (tap&hold and select) and the available options will appear as soon you've made the selection: Cut/Copy/Replace/Bold Italic Underline/Quote Level. Quote Level will increase / decrease the quote symbols before the text you're quoting.
A built-in dictionary is very rich in content and conveniently works offline.
The keyboard has remained unchanged, which we don't mind. It's a very comfortable keyboard with adequately-sized buttons and amply spaced too. Turning the device over to landscape mode makes things even better.
Dictation is also available courtesy of Siri. Just hit the dictation button on the left of the space bar and fire away. Keep in mind that the feature's performance degrades in noisy environments.